The Projection Studio London, United Kingdom
The Projection Studio are specialists in 3D video mapping and audio installations. We have been producing stunning projections onto buildings, interesting spaces and structures since 1994. The Projection Studio works worldwide and has representation in India.
We are renowned international artists with a longstanding reputation for our unique architectural sound and light installations. Our works can be site specific commissions that speak to the place, the people and the architecture. We work on many different scales, from the intimate to the large scale, both interior and exterior. We are fully conversant with the technology used to create meaningful works in this medium, from conception to final installation.
We have created artworks for the following national and international festivals: Berlin Light Festival Lumiere Durham Napa Lighted, California USA HOP 50 – Dartmouth University, USA Light Night Leeds e-Luminate Festival, Cambridge Illuminating York Cheriton Festival Pittsburgh Light Festival, USA Enchanted Parks, Gateshead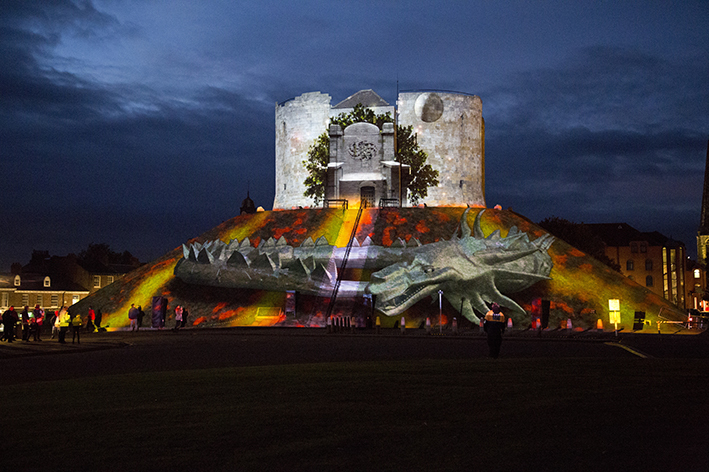 Projects and exhibitions
Details

LINE

08/12/2017 — 17/12/2017

LINE at the Napa Lighted Art Festival, California. by projection artist Ross Ashton (UK) and sound artist Karen Monid (UK)

This exterior work is a study of a single movement of lines. Like a piece of music, this visual 'theme' is explored through a series of variations that retains the original line movement and integrates that with the...

[Read more]
Napa Lighted Art Festival, Napa, CA, USA
Details

THE WORLD MACHINE

12/11/2015 — 15/11/2015

Projection artist Ross Ashton and The Projection Studio produced another spectacular work "The World Machine" onto Durham Cathedral in the UK for the 2015 Durham Lumiere light festival which attracted upwards of 200,000 people to the city over four nights of amazing light installations. The projection system involved 14 Christie 20K...

[Read more]
Durham Cathedral - Lumiere Festival, Durham
Details