Fiona Gray Tyne and Wear, United Kingdom
I returned to college age 24 & completed a Degree in 'Combined Studies in Crafts' at Crewe and Alsager college. After graduating I started making wooden boxes, cabinets clocks etc. Then I designed large scale public art projects, taught workshops & residencies. I now concentrate on botanical & tree prints created with multiple layers. I also have a range of plaster cast flower plaques.
I have been a Self employed artist / designer / maker since graduating in 1990 After leaving college I designed & made a range of mirrors, trophies, cabinets, boxes, clocks furniture & mixed media collages. Combining wood, metal, stone, slate & glass. I sold widely both in the UK & abroad via trade shows & exhibitions
2000 - 2017 - Large scale public art commissions - Sculpture, gates, signage, seating, and clocks are made using a variety of materials – metal, glass, wood, slate, brick, polymer and stone, often mixing two together. Fabrication is subcontracted out, while I design & project manage. Clients include - Newcastle Council, Gateshead Council, Sunderland Council, Easington Council, North Tyneside Council, Northern Rock Plc, Northern Rock Foundation, Equality North East, DFDS Ferries, Tyne & wear Passenger Transport Authority, various Schools & Arts Council North East
Workshops / Residencies I have over 20 years experience of running a wide range of workshops with children from pre school age up to adults, people with disabilities, excluded children, young offenders & prison inmates. Past workshops / residencies include:- Clocks, Sundials, Masks, Costumes, Models, Sculpture, Seating, Recycling junk, Banners, Silk painting, Mosaics, Tree dressing, Plaster casting, Lanterns They have been run in schools, museums, community centres and youth clubs.
2015 onwards. Designing a range of plaster relief flower plaques. Using real flowers to create an impression in clay, removing them & pouring plaster over to make a 3D cast that picks up an amazing amount of detail. From this I make a silicone mould so I can cast multiples.
2017 onwards. The botanical prints started as a direct result of the plaster flower plaques. Recently due to Arthritis & back problems, I have had to find less physical ways to produce my art. For the last few years I have been developing a range of fine art - botanical & landscape prints. I combine photography with painting, drawing & digital manipulation to create unique images featuring plants, flowers & trees. Multiple layers are built up to create texture, colour & depth, often incorporating text that has been deliberately made feint, drawing the viewer in to read it.
2022 After having mentor sessions through the VAA I embarked on painting originals using acrylic paints and real Gold leaf on canvas, using some of my smaller digital images & painting them much larger. This is still in the early stages but is very satisfying. My paintings are a huge learning curve as I have never done any acrylic painting before & I am submitting them into various high profile exhibitions to gain exposure.
Many of my images feature silhouettes, when plants, flowers & trees are viewed in this way, the distraction of full colour is removed, allowing an almost hidden beauty to be revealed. Trees look so fragile & breathtakingly beautiful in their winter skeletal state, every twig on their branches exposed. Complex & delicate lace patterns are created with tangled stems, foliage & branches.
The changing light of the landscape never fails to amaze & inspire me with its vast pallet of colours. From bold dramatic winter skies to ethereal watery sunlight & the elusive colours of dusk & night-time. My absolute favorite light is when you get intense sunshine combined with a dark sky, creating intense shadows. I'm trying to capture a perfect moment in time before it changes & fades away.
Along with the change in my work comes a new love of gardening, at first merely to grow flowers I could use in my art, but now a passion I could not be without. Each morning I wander round my garden to see the changes in the plants. It gives me an enormous sense of wellbeing & inner peace before facing the rest of the day.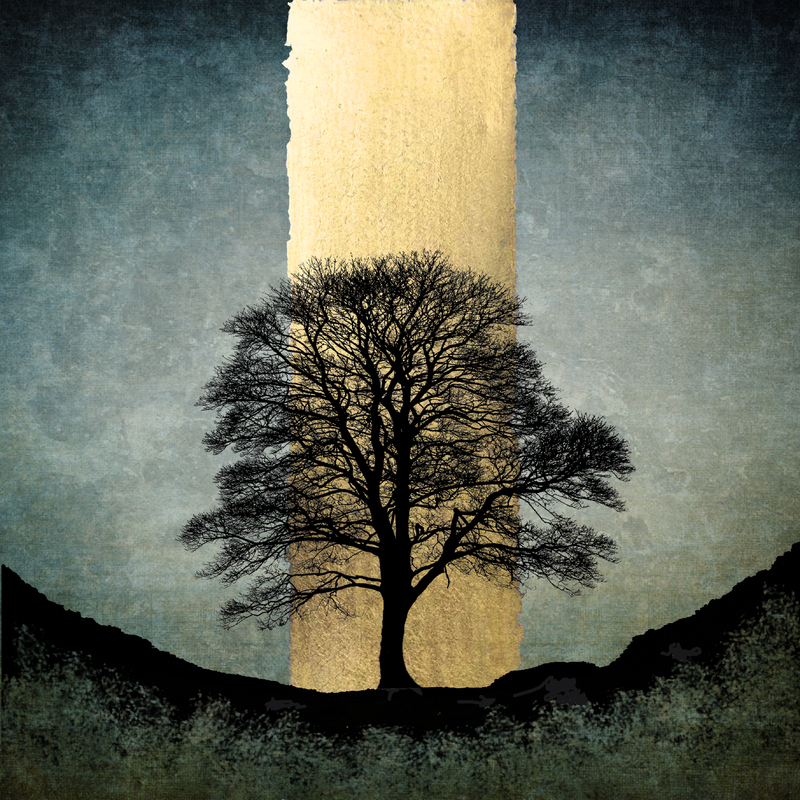 Projects and exhibitions
Details

Shifting Tides

15/06/2016 — ongoing

'Shifting Tides' is made from Corten, a high Copper content Steel, which has a rusted appearance, ideal for the harsh environment of North Shields Fish Quay, where it is situated. The name of the site 'Swan Quay' is a new housing development built on a very interesting site. The sculpture depicts the latitude & longitude position of the site...

[Read more]
North Shields Fish Quay, North Shields, Tyne and Wear, UK
Details