Geraint Edwards South Yorkshire, United Kingdom
I am a Welsh artist based in Sheffield, working in various media (video, found objects, sculptural installation, painting & web-based art). Recent work explores the relationship between our physical and virtual worlds and interrogates our experience and behaviour within and between them, considering themes of space, objectivity, erasure and connection.
Much of my work comes from a curiosity about virtual/physical hybridity and its potential as a source of creativity and commentary. Through constructing metaphors for the evolving behaviours, relationships and experiences which we encounter in our increasingly hybridised lives, I believe we can catch a glimpse into the post-dimensional sublime, at a time when humanity is increasingly shifting from being the subject to the object of activity.
A lot of my other work doesn't fit into the category outlined above and can be characterised as usually quite playful or absurd, and in some way connected to systems. My instinct when encountering a system is to see how it breaks, and when faced with chaos is to organise it. I find I'm generally trying to make the kind of work that I get the most out of when I encounter it - work that focuses down on some small moment and elevates it, points at some sort of truth (often the unseen connectedness of things), or work that presents the viewer with a gift: a starting-off point for thinking.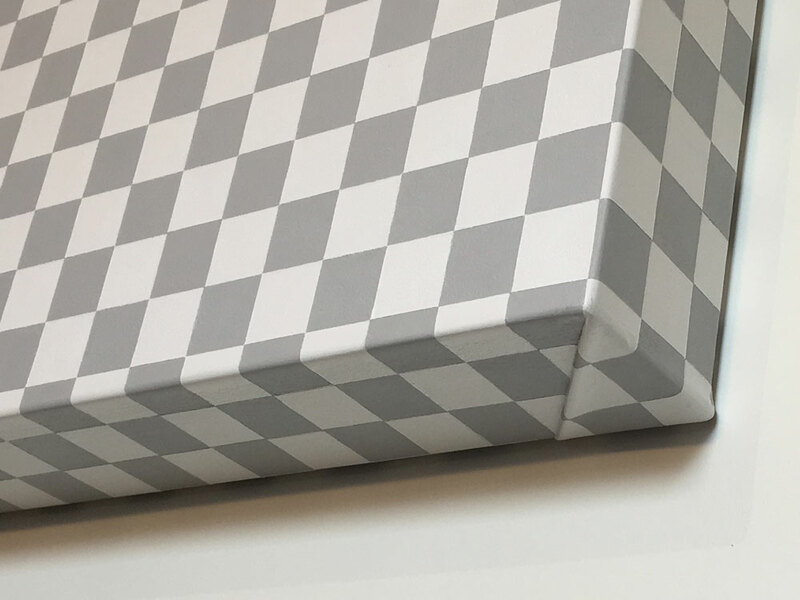 Projects and exhibitions
Details

Photo Opportunity installation

01/11/2022 — ongoing

A post-Covid installation of "Photo Opportunity", meaning it can be interacted with.

Galeri Caernarfon, Caernarfon
Details

"Act II Scene II" shown at Soundstripes, Yorkshire Silent Film Festival

15/07/2021

"Act II Scene II" shown at Yorkshire Silent Film Festival, live-scored by Frame Ensemble.

Abbeydale Picture House, Sheffield, UK., Sheffield
Details

Photo Opportunity installation

01/09/2020 — 31/12/2020

An exhibition of "Photo Opportunity" at the Warrington Open exhibition.

Warrington Museum and Gallery, Warrington
Details

Impossible Material

01/06/2019 — 27/07/2019

Joint exhibition with artist Dewi Williams, showing works concerned with virtual/physical hybridity. Here's the exhibition leaflet: http://geraintedwards.com/wp-content/uploads/2019/06/Impossible-Material-exhibition-leaflet.pdf

Galeri Caernarfon, Caernarfon
Details

Digital Artists Residency

01/05/2019 — 31/05/2019

An online residency in which I produced 55 videos of "Google Translations / Cyfieithiadau Google", showing the navigation by hyperlink only from one word to its opposite meaning, bouncing between Welsh and English.

Online: https://digitalartistresidency.org/artists/geraint-edwards/
Details

"Circuit-bent jigsaw" (Residency)

01/02/2018 — 31/03/2015

This performance & exhibition was the subject of a documentary by SIX Project Space, was covered on local TV station Sheffield Live, and was listed in the Guardian Guide.

More info: http://geraintedwards.com/?page_id=46

Bank Street Arts, Sheffield, UK.
Details

Galeri Caernarfon Open

01/10/2016 — 30/11/2016

"November 2005" selected in Galeri Caernarfon Open

Galeri Caernarfon, Caernarfon, Wales, UK.
Details

"Art, Language, Location" festival/exhibition

01/10/2016 — 30/11/2016

"Conflux" appears in "Art, Language, Location" festival/exhibition, Cambridge, UK (Super-text section at Anglia Ruskin University).

Cambridge, UK
Details

REthink digital art festival

01/09/2016 — 30/09/2016

"Conflux" shown at REthink digital art festival, Crete, Greece.

Crete, Greece.
Details

Concordia Video Art festival

01/08/2016 — 31/10/2016

"Conflux" shown at Concordia Video Art festival in Enschede, Netherlands.

Concordia, Enschede, Netherlands.
Details

ArtMap

01/07/2016 — 31/08/2016

"We Stood On The Bridge" appears as part of ArtMap, Ponte de Lima, Portugal.

Ponte de Lima, Portugal
Details

WROUGHT

01/04/2016 — 30/04/2016

"Conflux" and "Month-long sentence" shown as part of WROUGHT (a one-to-one performance festival) in Sheffield, UK. "We Stood On The Bridge" also appeared as a work in progress.

Sheffield, UK
Details

"A Letter in Mind"

01/10/2015 — 31/10/2015

"Every letter you have ever written or will ever write" in "A Letter in Mind", gallery@oxo, London, UK.

This work was created for "A Letter in Mind" in aid of The National Brain Appeal. All artworks were done in or on an envelope and sold anonymously for £80, with artists' identities & biographies revealed upon sale.

Mine...

[Read more]
gallery@oxo, London, UK.
Details

"Work in Progress"

01/07/2015 — 31/08/2015

"November 2005" exhibited in group exhibition "Work in Progress" at Bank Street Arts, Sheffield, UK.

Bank Street Arts, Sheffield, UK.
Details

Jury's Selection at 4th International Artist's Book Prize 2013

01/10/2013 — 30/11/2013

"Rock, Paper, Scissors" exhibited in Jury's Selection at 4th International Artist's Book Prize, Sheffield, UK. Oct-Nov 2013.

More info: http://geraintedwards.com/?page_id=22

Sheffield, UK
Details

Thirty-One

01/12/2012 — 31/12/2012

Solo installation at The University of Sheffield, UK (simultaneously online) More info here: http://geraintedwards.com/?page_id=7

n/a
Details