Jack Weller South Yorkshire, United Kingdom
I am an multidisciplinary artist from Chesterfield who graduated from Sheffield Hallam University with a Fine art degree in 2018. I have been based at S1 Artspace since, being awarded a studio there by Making Ways. I have previously worked with Mercedes-Benz of Sheffield (JCT600) and was nominated for the Keith Hayman biennial award for public art in Sheffield in 2019.
I make paintings, prints, drawings, murals, installations and sculptures which celebrate creativity, especially when challenging institutional, educational and social barriers. I often continually subject my practice to the material of everyday life in order to explore my own identity, and the journey my own cultural surroundings has pushed me through. My works often visually reference specific sources that excite me. Rather than explicitly sample this pre-existing imagery, my work alters or distorts such citations, with a focus on how through human-nature we seek to create (and update) symbols every day and create a short hand for new advances in technology. I aim to use my satirical approach to blend together my love for abstract expressionist forms and idiosyncratic narratives that are both self reported and observed through interactions involving strangers, peers, close friends and family. I currently work in student outreach, helping students navigate ideas for their potential future by detailing my own steps so far and introducing opportunities to be productive.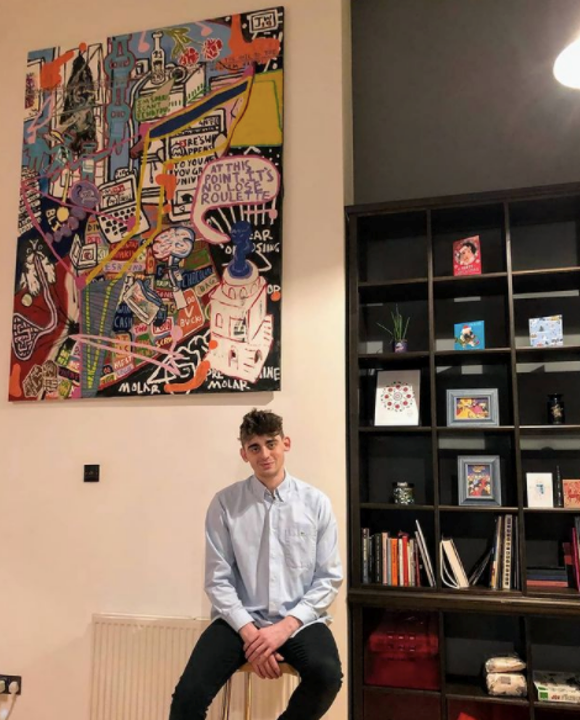 Projects and exhibitions
Details

Young Artist Collective Exhibition

18/03/2022

Young Artists Collective is freshly formed in the heart of Derby, bringing young artists from Derbyshire and Midlands together to support them in their early arts careers as well as blossom their creativity. As part of Artcore, they strive to create a space of mutual support, critical engagement, open discussions and playfulness. Together they...

[Read more]
Artcore - The Cabin, Derby
Details

Screenshot

19/02/2018 — 19/02/2020

Screenshot was a 2 year drawing project that started with drawing a random screenshot from my photo library. 25 more drawings were then commissioned by Friends family and strangers, each selecting a random screenshot from their phone which they would submit to be drawn. The drawings would be numbered in order of completion, and each...

[Read more]
S1 Artspace, Sheffield
Details

ds2

01/01/2018 — 31/07/2019

ds2 was a collaborative project centred around the design, production, use, and touring of an open-source, adaptable, mobile kit of parts, called ds2. ds2 acted as both a physical and conceptual framework for a number of activities of exchange, making, and performance which explored ideas of commoning, air pollution and the climate...

[Read more]
TINSLEY, SHEFFIELD
Details