Katie Greenbrown // Spoken Word Poet United Kingdom
I'm a York-based spoken word poet with an incurable appetite for playing with language. I have a huge interest in creating multi-media, immersive storytelling experiences that stretch the bounds of what poetry can be. I've been performing live and making film-poems with musicians, artists and film-makers since 2016. Collaboration is big part of what interests me.
I'm a Say Owt Slam and York Culture Awards winner, and have supported both Kate Fox and Hollie McNish live. Recent projects include a digital poetry trail for York City Council, Rust for the Great Yorkshire Fringe and interruptive performances for York Art Gallery.
In 2020, I have begun the process of putting together a first print collection in the form of a graphic novel. I am also exploring how poetry can be used with VR to create deep, sensory experiences that bring poetry to non-poetry audiences.
I also continue to write, publish and perform live.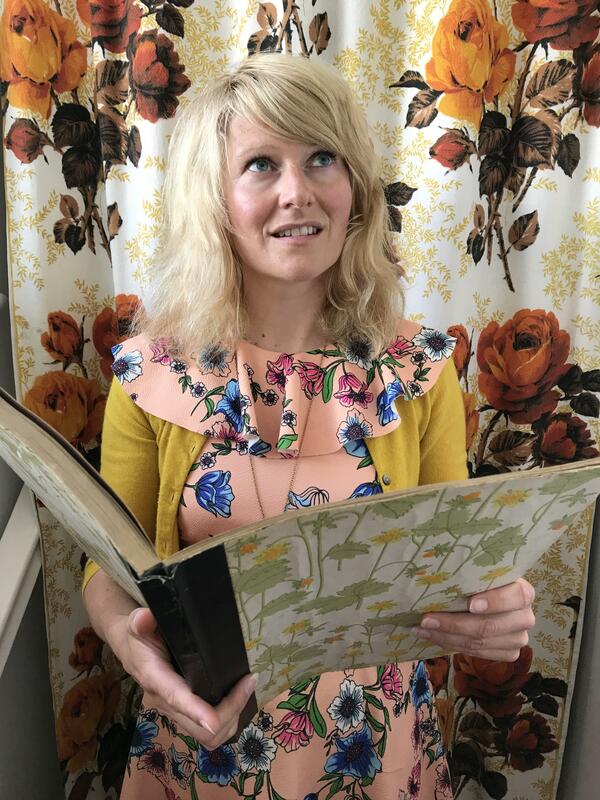 Projects and exhibitions
Details

Chocolate Box: a poem for Visit York, August 2020

14/08/2020

Poem commissioned by Visit York to go with their new film promoting our beautiful, surprising, multi-layered city. Read here by Jamie McKellar and brought to life visually by the super-talented Hewitt & Walker. https://www.youtube.com/watch?v=vPXe2ymMaVs

York
Details

What Does it Take to Create? Poem for York Explore Libraries, July 2020

12/07/2020

Poem commissioned by York Explore Libraries to summarise their Explore Labs project. I worked with Hewitt & Walker and Dave Fleming of York Explore to tease out the high points of the project and turn them into an engaging poetic script.

Watch the film-poem here - https://www.youtube.com/watch?v=QCxUGwgil7w

York
Details

Let the Music Play: film-poem for Music Venues Trust, July 2020

01/07/2020

Let the Music Play is a film-poem created with The Fulford Arms and Hewitt & Walker to support Music Venues Trust as they launched the music industry hashtag #LetTheMusicPlay. Watch the poem here - https://www.youtube.com/watch?v=HmAp-nzE35E&feature=youtu.be

n/a
Details

Interruptive spoken word for Harland Miller at York Art Gallery, April 2020

18/04/2020 — 30/04/2020

I was commissioned to create and perform interruptive spoken word performances to run alongside the Harland Miller exhibition York, So Good They Named It Once at York Art Gallery. The theme is northern life and the work will be delivered in the autumn once the gallery is up and running again.

York Art Gallery, York
Details

Featured artist, Sofar Sounds, York, January 2020

27/01/2020

It was great to be asked to be one of three featured acts at the January edition of York's lovely Sofar Sounds – the monthly word-of-mouth arts showcase in quirky venues across the city. There was a brilliant crowd at Sotano's, who braved the cold and glum to support live performance. Big thanks to Danny Knight and the team who organise...

[Read more]
Sotano, York
Details

Featured artist at Rebel Soapbox, December 2019

19/12/2019

Rebel Soapbox is a rambunctious Spoken Word night on Brick Lane. They have some of London's best Spoken Word artists performing in feature slots and also offer the chance for budding poets and spoken wordsmiths out there to turn their hand to the mic in an Open Mic. I was a featured artist at their 2019 Christmas edition. It was a great night.

Monty's, Brick Lane, London
Details

Anthology: The Result Is What You See Today by Smith | Doorstop, October 2019

01/10/2019

My poem Someone Else's Bum was selected for inclusion in the anthology The Result Is What You See Today by Smith | Doorstop. It was a running-themed anthology and explored the connection between poetry and running.

n/a
Details

Featured artist at Verse Matters, Sheffield, September 2019

05/09/2019

Verse Matters is an inclusive, feminist spoken word and arts event that runs every other month in Sheffield. In September 2019, I was delighted to be one of their featured artists.

Theatre Deli, Sheffield
Details

Featured artist at Float Tank #5, Riverside Festival, August 2019

06/08/2019 — 07/08/2019

I was delighted to be invited to perform a spoken word set for an audience of 100 in the pitch black of a specially-created sensory deprivation chamber. Unnerving. Weird. And incredibly powerful.

Artsbarge, York
Details

Stargazers, film-poem for Apples & Snakes, July 2019

20/07/2019

I was commissioned to make the film-poem Stargazers for Apples & Snakes' Deranged Poetesses event Space Exploration in July 2019. The event brought together a collection of artistic responses to the 50th anniversary of the moon landings from female writers and performers. Stargazers featured artwork by Peter Roman.

Stockton Arc, Stockton-on-Tees
Details

Post Modern Love Story Part 2: Rust, July 2019

17/07/2019 — 19/07/2019

Rust is an immersive, multi-media spoken word show taking audiences back to the early decades of the 20th century when the Ouse teemed with working barges and the fortunes of every town between York and Hull rose and dipped with the tide.

I created Rust for Great Yorkshire Fringe in partnership with York Theatre Royal and performed it...

[Read more]
Artsbarge @ Great Yorkshire Fringe, York
Details

Support slot for Hollie McNish, June 2019

20/06/2019

I supported Hollie McNish at her show at The Crescent in York in June 2019. It was a great opportunity and allowed me to share work with an audience of over 200.

The Crescent, York
Details

Commended in York Poetry Competition, March 2019

21/03/2019

Judge Claire Shaw selected my poem Long Weekend for commendation in 2019 York Poetry Competition. She remarked that it was 'one of those niggling poems that won't get out of your head'. I think she meant it as a compliment :)

n/a
Details

Green In Our Memory, November 2018

01/10/2018 — 19/12/2018

A digital poetry installation commissioned as part of York's WW1 Centenary commemorations. I brought together art, music, spoken word and the memories of local people in a location-triggered app which took visitors on a journey through one of the city's green memorials.

The installation ran from October until December and had an uptake of...

[Read more]
Rowntree Park, York
Details

Ignite R&D funding, York Theatre Royal, October 2018

01/10/2018

I was awarded R&D funding by York Theatre Royal to develop the spoken word show Rust in October 2018. As part of the support, I was also given the chance to scratch a section of the show at their Black Box showcase in March 2019.

York Theatre Royal, York
Details

York Culture Award for Best Performing Artist, November 2017

23/11/2017

This was an amazing thing to win. It came after a year of working so hard to raise my profile as a spoken word performer and it gave me a new sense of purpose. It was freezing in the Minster that night. I ill-advisedly wore a jumpsuit with mermaids on.

York Minster, York
Details

Post Modern Love Story Part 1 : Metronome, July 2017

18/07/2017

This was my first film-poem, created for Artsbarge and PechaKucha and made in collaboration with artist Peter Roman and musician James Rotchell. I performed it at PechaKucha Vol 17. and 2017 Great Yorkshire Fringe. It was also pivotal in landing me the 2017 York Culture Award for Best Performing Artist.

PechaKucha @ Angel on the Green, York
Details

Finding the Words, York Explore, May 2017

25/05/2017

Finding the Words is a regular poetry evening hosted every month at York Explore Library. Each evening brings together three poets to share new work with audiences. I was really pleased to be able to add a spoken word element to the evening.

York Explore, York
Details

Words & Whippets #5: support slot for Kate Fox, May 2017

25/04/2017

Words & Whippets at York Theatre Royal is an annual showcase of the finest Northern-bred poets. Each year a handful of spoken word artists are invited to perform in their unique styles as the theatre gives a platform to the northern voice. In May 2017, I was one of three poets selected to support headliner Kate Fox.

York Theatre Royal, York
Details

Say Owt Slam #12 Winner, November 2016

12/11/2016

Say Owt Slam #12 was my first pro poetry slam. I was delighted to fend off stiff competition to be crowned the winner.

Basement @ City Screen, York
Details