Katrina Mansfield North Yorkshire, United Kingdom
Inspired by her home county of Yorkshire, Katrina works in a wild and free manner such as the laws of nature demand. The motive behind these stimulating paintings is the exploration of beauty in our surroundings. Taking patterns and colours from flowers, water, earth and sky and using them as stand alone designs or to decorate a variety of creatures, transforming them into hypnotic beings.
I've worked in the arts for as long as I can remember. Trained at various institutes including York College, the University of Lincoln, Goldsmiths University London, RADA scenic art summer course, Royal Opera House scenic art work experience and much on the job scenic art training with artists such as Anthony Lamble and Rohan Harris. Most recently though i've moved back to York and set up in a studio called PICA with 26 others. Its in the centre of York and the creatives there do everything from painting to ceramics to jewellery making to knitwear. My work here has been exploring the technique of Fluid Art using first acrylics and now alcohol based inks. This process is incredibly unpredictable which is what I love about it. Just like nature it can create some wonderfully beautiful results but also turn on you at the last minute and destroy all the wonder in front of you. It can also deliver some wonderful surprises within that creation, disaster and destruction. Learning to 'control' and manipulate it has been a challenge that has ultimately changed how I approach life itself. It was Thomas Merton who said "Art enables us to find ourselves and lose ourselves at the same time." I now truly understand what he means.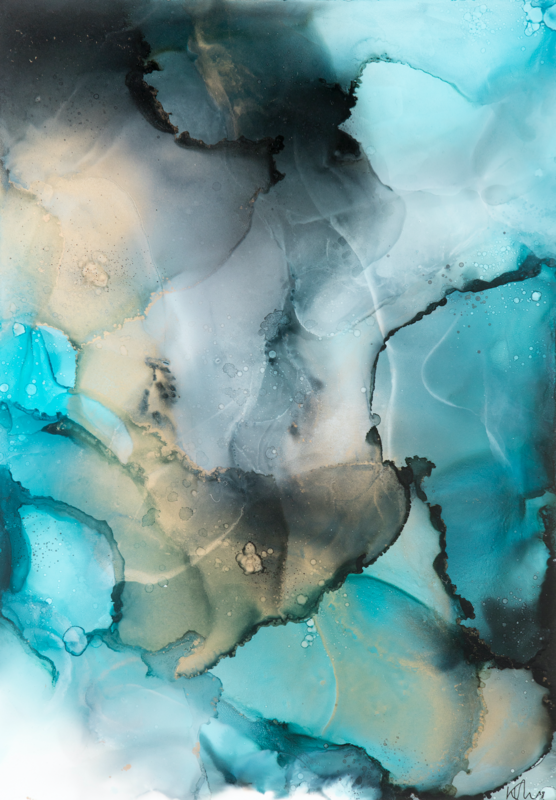 Projects and exhibitions
Details

Animal inks

01/11/2018

My current project of 'Animal Inks'. I have displayed at various places across York, including PICA Studios, York Spark, York Explore and York Medical Society. They will also be going on display at York Hospital next Year from Sept 2019 to Jan 2020 and possibly be displayed in Leeds at the Roundhay Park Gallery. The series is not yet complete...

[Read more]
Various, York
Details

York St John's Commission

05/08/2018

A commission from York St John's University to create 6 individual paintings for display in their student accommodation during viewings.

York St John's University, York
Details

Fashion Shoot

31/12/2016 — 07/01/2017

Fashion photo shoot done at Studio 66 in Leeds. This shoot was another series produced as a collective made up of 4 women, Make-up Artist - Freda Ellis, Photographer/Editor - Myself (Katrina Mansfield) and Events Managers/Producers - Dale Ellis and Sarah Launchbury.

Studio 66, Leeds
Details

King Arthur

01/05/2015

I was assistant to Scenic Artist Rohan Harris on the production of King Arthur at Warner Brothers Studio, Leavesdon, London. Together we painted the wall decorations for this room. All designs and images are property of Rohan Harris/Warner Bros.

Warner Bros. Studio, Leavesdon, London
Details

Boa

01/02/2015 — 31/03/2015

Scenic Art work done on a production of BOA at Trafalgar Studios in London.

Trafalgar Theatre, London
Details

Backstage

20/08/2012 — 17/10/2015

I worked backstage in the west end until recently. This is a series of photos from one of the shows I worked on. Mainly just snapshots of backstage life.

Novello Theatre, London
Details

Long Live the Kings

01/09/2010 — 08/01/2011

An exhibition of a series of 'Drag King' photographs displayed at Salvo's in Leeds. The images are of 'heterosexual' couples but the and and woman in each image is the same female model made up to look male/female. This series was produced as a collective made up of 4 women, Make-up Artist - Freda Ellis, Photographer/Editor - Myself (Katrina...

[Read more]
Salvos, Leeds, Leeds
Details