Maria Walker London, United Kingdom
Contemporary textile/mixed media artist exploring the human condition from a feminist perspective through large and small scale three dimensional artwork and site specific installations. MA in Fine Art University of Chester 2014 London/ Surrey Offers talks and workshops on Zoom and in person
Maria Walker is an artist who explores the human body and the experience of being human through her stitched work and sculptures. Her background in embroidery informs her contemporary practice, as textile process and technologies are forever present in her work. In particular stitch underpins much of her practice although the materials she uses to stitch can range from embroidering fine silks to metal wire. Cloth is no longer her only medium as she now uses a variety of materials to convey her message through her art.
Her initial interest in memory and narratives led her to recount stories of ordinary people in her textile work and installations using stitched text and images, and this has developed into a wide ranging art practice which has story telling and narratives at its centre.
After obtaining a MA in Fine Art she has developed her fine art practice and explores similar themes in her large and small-scale abstract sculptural work. Her art emerges from a combination of a process- led approach and relationship with materials, and her ongoing research and interest in the human condition. She plays with juxtapositions of objects and materials to tell stories through her artwork, which have been described as 'visual poetry'.
Her recent artwork explored concerns such as, memory, dementia, migration, the transience of life, dreaming and feminism.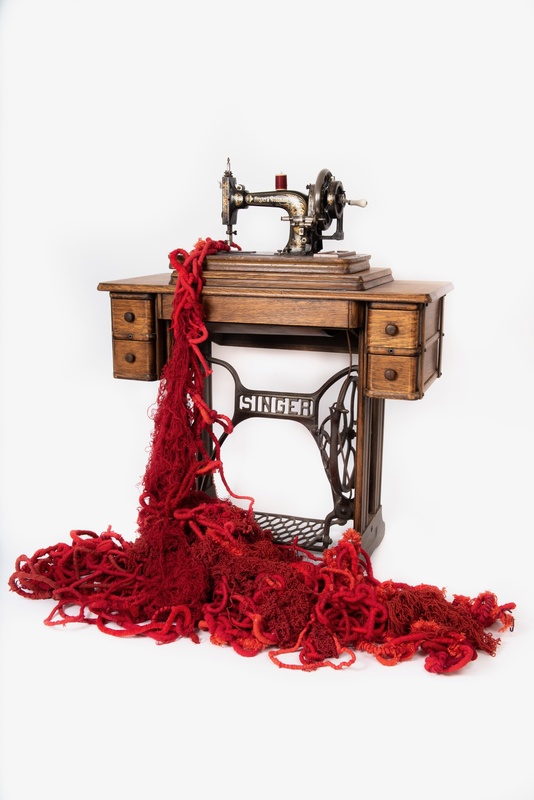 Projects and exhibitions
Details

Artist in Residence

15/06/2020 — 05/07/2020

A solo retrospective exhibition of my artwork during which time I was in residence in the Gallery photographing my work and identifying the various strands within it to create a new artwork in the gallery.

Robert Phillips Gallery, Riverhouse, Walton on Thames
Details

Saltaire Open House Trail

26/05/2016 — 30/05/2016

Mixed media sculpture/ site specific installation

Saltaire, Saltaire
Details

Weave fragments

31/03/2016 — 31/08/2016

Installation of artwork at Sunnybank Mills

Sunnybank Mills, Leeds
Details

Textile Mill Installation

01/08/2014 — 31/08/2014

Installation of my textile work in a disused textile mill

Textile Mill Manchester, Manchester
Details

Woodland Exhibition University of Chester

01/08/2013 — 18/08/2013

Installation of artwork in a woodland in Cheshire

Cheshire, Chester
Details

The Lightfoot Letters

01/08/2011 — 01/08/2017

A travelling solo exhibition of over 60 pieces of artwork I made over a number of years to tell the stories I found hidden inside a bundle of old letters from the 1920s The work was exhibited at the Brindley in Runcorn (2011), VAC Gallery, Northwich 2013, Waterside, Sale 2013, Stanza Festival ,St Andrews Scotland 2017, Llandudno Library, North...

[Read more]
n/a
Details