Natalie Breeze West Yorkshire, United Kingdom
I am Natalie Breeze Creative. I love things that are colourful, warm, uplifting and playful. I create mixed media / textile art in the form of canvases, panels, framed works, embroidery hoops and wall hangings. I paint. I produce statement jewellery and other decorative pieces using wire, beads and textiles. I design vibrant prints that I hope spark joy. I sing. I am putting together a cookbook.
I am a multi-disciplinary artist and designer maker, producing artwork, products and content under the banner of Natalie Breeze Creative.
After studying Fine Art, Graphic Art and Photography, I completed Foundation Art & Design at Leeds Arts University (formerly Leeds College of Art) followed by a degree in Fashion Design at Northumbria University. Since then, through curiosity and experimentation, I have acquired skills in various paper and textile crafts, jewellery making and print design and I enjoy finding interesting ways to combine materials and processes to create something new. I believe a multi-faceted and dynamic practise can be easily and successfully created as long as a common thread, or FEELING, runs though all work that is produced; I also feel that it is only by overlapping and mixing your unique combination of skills, interests and experiences, that you can truly start to create your most innovative and authentic work.
Inspired by colour and texture, I aim to create intuitive work that sparks joy, by being warm, uplifting and sometimes unexpected. It could be colourful, playful and energetic, or something more relaxed, calming and serene, either way, I hope that my small contribution can replace indifference and boredom with interest and inspiration; acting as an antidote to the hopelessness, despair and negativity that is seemingly pumped into our lives from all directions in the modern world. I feel that this is an important purpose, as stress and loneliness are on the rise and mental health continues to decline. With a keen interest in environmental issues, I try to use natural or recycled materials and eco alternatives where possible in my practice, as well as experimenting with creating a closed-loop system in some areas; saving 'waste' materials from the making of one piece, and using them to create something else that is beautiful and valuable in its own right. Additionally, I design my own knitting and sewing patterns and, in the future, would like to sell some of these as digital downloads; I also hope to license my surface pattern designs, whilst having my own range of digitally printed, eco-friendly sewn products.
Experience a life as unique as you are and be inspired to make your everyday magical - "Dazzle us with your shining light!"...
I believe that life is about finding out who you truly are and learning how to be THAT unapologetically. It's my brand's job to help people to express themselves vibrantly, by creating environments that truly reflect their personalities, whilst also encouraging them to create more of the experiences that they want to have. I am genuinely passionate about enriching lives and improving health through creativity in all its forms (it's not just about art or design - Natalie Breeze Creative does not discriminate!). Music, poetry, comedy and even cooking aren't off limits as avenues of self expression; these things, for me and many others, all have a hand in brightening up the world that we live in. I do what I do because I think that, alongside self care, engaging in creative activity and being mindful of our physical environment (be that what we put on our bodies or the space we inhabit), is extremely important to the way that we feel from day to day, which in turn affects our mindset and outlook, what we do, and therefore who we are and who we will become. In short - 'if you feel good, you do good'.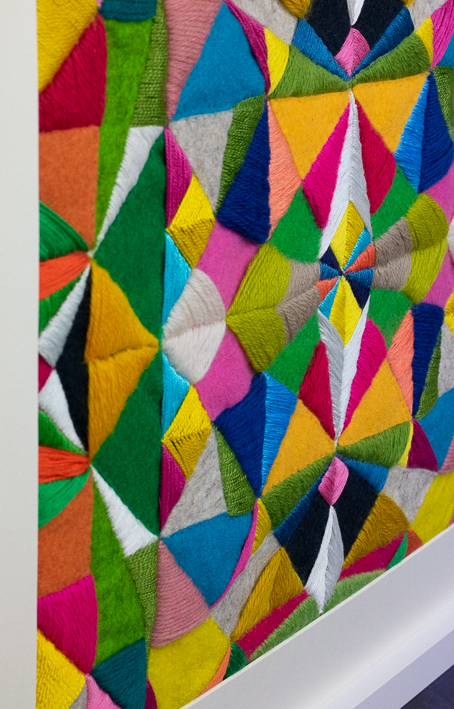 Projects and exhibitions
Details

Summer Exhibition

25/06/2022 — 14/07/2022

A group exhibition featuring 33 pieces of 2D and 3D artwork on the theme of 'Summer'.

Open Gallery, Halifax
Details

Reflection Exhibition

28/05/2022 — 18/06/2022

A group exhibition featuring around 35-45 pieces of artwork in any 2D or 3D medium on the theme of 'Reflection'.

Open Gallery, Halifax
Details

Contemporary Textiles Exhibition

04/05/2022 — 21/05/2022

A group exhibition of around 50 artists submitting work around the theme of Contemporary Textiles. Work ranged from wall hangings, to hand embroidery, freehand machine embroidered pieces and punch needle brain scans. I submitted a handmade beaded kumihimo necklace with a 'pendant' braided from left-over textiles.

Fronteer Gallery, Sheffield
Details