Rebecca Lyons Ireland
I am a Visual Artist based in the Southwest of Ireland. I work in the medium of Origami. I received my Masters in Creative Media (2015) from IT Tralee and Degree in Fine Art Sculpture (2002) from Crawford College of Art and Design. Between those dates I lived and worked in London and did a number of other short courses in Central St. Martins and Chelsea College of Art and Design.
My work in some way has always involved folding of materials. From making models for sculptural pieces in card that would later become metal sculptures. This was during my time at Crawford College of Art and Design and then I went into retail for a number of years. When I returned to Ireland from London I really wanted to get back to something creative and so did a Foundation in Media Course followed by a Masters in Creative Media. Although we had to work with technology I found myself working with my hands as much as possible making models and paper sculptures. My work is influenced by Postmodern Architecture and geometric shapes. However I like to create craft pieces in Origami of cards, decorations, framed artworks, animals, flowers etc. I regularly do Origami workshops with both children and adults. I also work with Tralee Chamber Alliance as the Arts and Culture Officer and run Art in the Park through this which is a group of local artists that hang their work along the railings of the Town Park in Tralee during the Summer months with an exhibition in Kerry County Museum in the Winter months.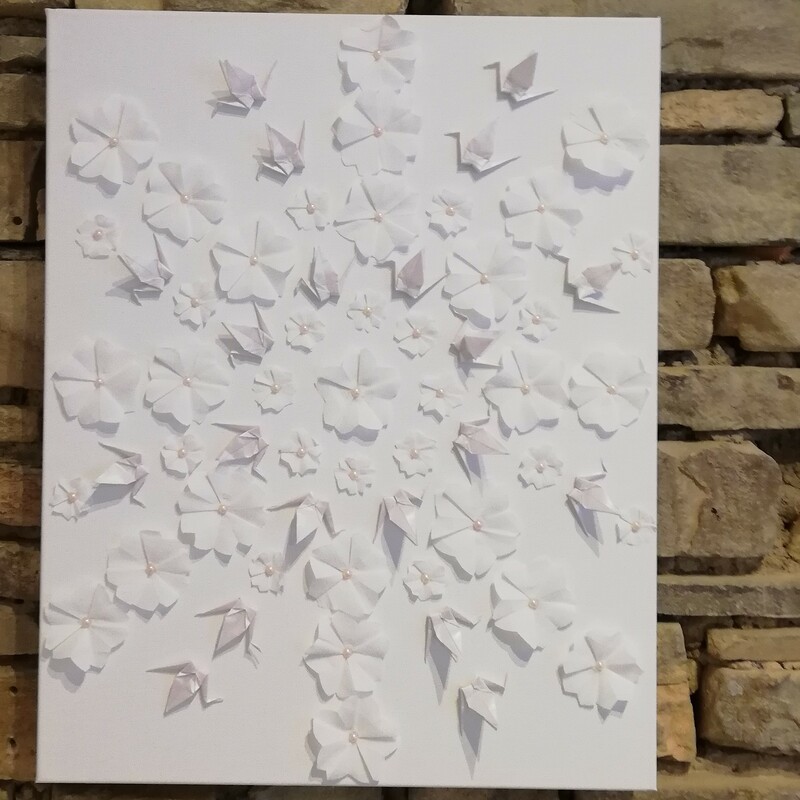 Projects and exhibitions
Details

Incognito

24/04/2020

This year was a bit different for the Annual Art Auction in aid of The Jack and Jill Foundation as due to Covid-19 it had to go online. First part was a resounding success when over 1,800 donated Artworks were sold online within 15 minutes. The second part will take place online on May 28th with I believe over 900 artworks going up for Auction.

online
Details

Boundaries- Real and Imagined

13/12/2019 — 10/02/2020

A group exhibition of artworks by Artists who created artworks on a large sheet of paper they received from the gallery. They had to respond to the title Boundaries. From the entries a number were selected. I created an Artwork called 'Lisbon Borders' influenced by a trip to Lisbon and all the beautiful tiles on the buildings many of which were...

[Read more]
Siamsa Tire Gallery, Tralee, Co. Kerry
Details

Christmas Market

08/12/2019

Christmas market with numerous stall holders.

John Mitchel's GAA Clubhouse, Tralee, Co. Kerry
Details

'The Kingdom of Kerry', Art in the Park - Off the Rails

28/11/2019 — 30/04/2020

Group exhibition of Artworks by members of Art in the Park who exhibited artworks based on our county Kerry. It could be any interpretation, medium of what Kerry meant to the Artist. I curated and arranged the exhibition and arranged the marketing and opening reception.

Kerry County Museum, Tralee, Co. Kerry
Details

Christmas Themed Workshops

16/11/2019 — 15/12/2019

Did 4 workshops on the Theme of Christmas with Children on Saturdays and with Adults on Sundays.

Syphon Coffee Bar and Lounge, Tralee, Co. Kerry
Details

Halloween themed Workshops

26/10/2019 — 30/10/2019

Hosted workshops on the theme of Halloween Origami on the 26th and 30th. Really fun workshops that were almost fully booked.

Syphon Coffee Bar and Lounge, Tralee, Co. Kerry
Details

The Secret Garden

20/09/2019

Culture Night event where I created an Installation piece of Origami Florals that were installed in the back room of this Coffee Bar.

Syphon Coffee Bar and Lounge, Tralee, Co. Kerry
Details

Cruthu Arts Festival

25/07/2019 — 28/07/2019

Exhibiting Artworks and Origami Crafts in a pop-up gallery space during the Arts Festival.

Old Dunnes Stores Building, Longford, Ireland.
Details

Cruinniu na nOg

15/06/2019

For National Children's Day I did a workshop for Children with the theme being birds, as that is what one of the attractions of the Wetlands is. Each child made a number of birds and then the hung them from branches that I brought so that they could take home a hanging mobile decor piece.

Tralee Bay Wetlands, Tralee, Co. Kerry
Details

Children's Festival at Listowel Writer's Week

02/06/2019

Invited to do Origami Workshop on the theme of The Wizard of Oz.

Listowel Community Hall, Listowel, Co. Kerry
Details

Art in the Park 2019

01/06/2019 — 21/09/2019

A group of local Artists exhibiting their Artworks along the Railings of the Town Park. I became the organizer through Tralee Chamber Alliance when I took a position as Arts and Culture Officer with the Chamber on a Tus Scheme.

Railings of Town Park, Tralee, Co. Kerry
Details

Creative Schools Programme

17/05/2019

I was invited to the school to teach 200 Secondary school students how to fold Origami Butterflies. The school was on the Creative schools Programme which the Arts Council backs to bring Artists to work on creative projects.

St. Edmund Rice College, Carrigaline, Co. Cork
Details

Bloomed at Feile na Bealtaine

02/05/2019 — 06/05/2019

An exhibition of my Origami Artworks and Crafts during Feile na Bealtaine Festival which occurs in Dingle each May Bank Holiday.

Sweet Pea Gift Shop and Gallery, Dingle, Co. Kerry.
Details

Incognito 2019

03/04/2019 — 18/05/2019

Charity Art Auction from 3rd - 7th of April in Dublin and in Cork City from May 17th - 18th. Each artist donates postcard sized Artworks with funds from the Auction going to The Jack and Jill Foundation.

Solomon Gallery and The Lavit Gallery, Dublin, Ireland. Cork City, Ireland.
Details

4th Annual Open Call Exhibition

15/03/2019 — 10/05/2019

Group exhibition of Artworks in response to the Art Centre's Open Call. Great exhibition for all ages, my 9 year old Son also exhibited.

Presentation Arts Centre, Enniscorthy, Co. Wexford
Details

Valentine's Art and Craft Fair

09/02/2019

I organized a number of Local Artists/ Makers to put on a craft market in the Bar.

Roundy's Bar, Tralee, Co. Kerry
Details

Lost Thing's

14/12/2018 — 01/02/2019

Group exhibition of Artists chosen Artworks who responded to the Title 'Lost Thing's', each artist having worked on the same sized canvas.

Siamsa Tire Gallery, Tralee, Co. Kerry
Details

Trasna 8

14/12/2018 — 12/01/2019

Group exhibition of small artworks. It was in a small exhibition space in the upstairs of the gallery.

Courthouse Gallery, Ennistymon, Co. Clare
Details

Christmas Craft fairs

01/12/2018 — 22/12/2018

I organized Craft Fairs each Saturday in December with 4 other local Artists/Makers and myself. I arranged the space in the bar and did marketing also.

Roundy's Bar, Tralee, Co. Kerry
Details

Art in the Park - Off the Rails

29/11/2018 — 08/04/2019

A group exhibition of members of The Art in the Park. An exhibition of works by local Artists.

Kerry County Museum, Tralee, Co. Kerry
Details

Feile an tSolais

02/11/2018

I did a Children's and Adult workshop at this gallery as part of Feile an tSolais - Festival of Light.

Olive Stack Gallery, Listowel, Co. Kerry
Details

Metamorphosis

21/09/2018

I did an Installation of 5,000 Origami Butterflies throughout the Bar. It was inspired by having positive mental health. This was for Culture Night.

Roundy's Bar, Tralee, Co. Kerry
Details

Cruthu Arts Festival

26/07/2018 — 29/07/2018

Exhibiting in a pop-up gallery space during the Art Festival.

Old Fabiani Shop, Longford, Ireland.
Details

Old Market Flea at Killarney Classic Car Show

17/07/2018 — 17/07/2017

Market of stall holders with vintage clothing, art, crafts etc. selling their work.

The Racecourse, Killarney, Co. Kerry
Details

Old Market Flea

08/07/2018

Outdoor Market of vintage, craft, art and food stalls selling their work.

Market Square, Killarney, Co. Kerry
Details

Origami Open

16/06/2018 — 29/09/2018

I entered some of my Origami Decor pieces for this group exhibition dedicated to Origami.

20/21 Visual Arts Centre, Scunthorpe, North Lincolnshire
Details

Art in the Park 2018

02/06/2018 — 25/08/2018

Local Artists exhibiting their Artworks on the Railings of the Town Park every Saturday during the Summer Months. Organized by Tralee Chamber Alliance.

Railings of Town Park, Tralee, Co. Kerry
Details

Cabinet of Wonders #6

07/04/2018 — 31/08/2018

A small group exhibition where I exhibited some of my Origami Sculptures in a glass Cabinet at the Arts Centre.

Linenhall Arts Centre, Castlebar, Co. Mayo
Details

Incognito

04/04/2018 — 08/04/2018

Art Auction in aid of The Jack and Jill Foundation. Each artist donates postcard sized artworks. These are sold at auction but the purchaser doesn't know who the Artist is until after the purchase.

Solomon Art Gallery, Dublin
Details

Old Market Flea

11/02/2018 — 12/08/2018

Selling my origami crafts and artworks in this vintage flea market every second Sunday of each month.

The Laurel's Hall, Killarney, Co. Kerry
Details

Christmas Market

02/12/2017 — 23/12/2017

Each Saturday in December I had a market selling my Origami crafts and Artworks. Many created with a Christmas theme .

Roundy's Bar, Tralee, Co. Kerry
Details

'I'm Listening' - Culture Night Event

22/09/2017

An installation of Origami work that I created for Culture Night. Inspired by the story of the 1,000 cranes and Sadako Sasaki and to say it is okay not to be okay when dealing with anxieties and other mental health issues.

Roundy's Bar, Tralee, Co. Kerry
Details

Cruthu Arts Festival

27/07/2017 — 30/07/2017

Exhibited in a lovely Pop-up space in Longford Town, an old House of historical significance. Opportunity for Artists to showcase their work to visitors to the festival and to sell their works.

Pop-up Space, Longford, Ireland.
Details

Incognito

21/04/2017 — 25/04/2017

Group exhibition of postcard sized Artworks donated to raise funds for the Jack and Jill Foundation through an Art Auction.

Solomon Art Gallery, Dublin, Ireland.
Details

All things

06/04/2017

Free Radicals Youth Theatre used my sculpture 'Fragmentation' in their stage setting of their play 'All Things'.

Siamsa Tire, National Folk Theatre of Ireland., Tralee, Co. Kerry.
Details

Art for Syria

20/11/2016

Cork City based project where artworks from Artists all over the world donated artworks which were displayed in shop windows around the city before being auctioned off in St. Peter's Church on November 20th 2016. All monies raised for charity to help people of Syria.

St. Peter's Church, Cork City., Cork City.
Details

Pink Mail Art Show

04/11/2016 — 23/11/2016

Mail Art exhibition from Artists all over the world celebrating the 23rd Annual Pink Week.

Warehouse Artists Lofts, Sacramento, California.
Details

Cinema - Offline Film Festial

12/10/2016 — 23/07/2016

Group exhibition of Artworks inspired by the Cinema.

The Chestnut Bar, Birr, Co. Offaly
Details

Cruthu Arts Festival

28/07/2016 — 31/07/2016

Pop-up exhibition of artworks in Longford Town.

Fabiani's Old Store Longford, Longford, Ireland.
Details

The Wake

15/07/2016

Masters in Creative Media Alumni Exhibition

The Ashe Hotel, Tralee, Co. Kerry
Details

Connect International Mail Art Exhibition

02/06/2016 — 06/06/2016

Curated by Limerick based artist Roisin Ni Chonaill for Kfest Arts and Music Festival, she created an exhibition within the festival of 61 artworks from International and National artists that were sent to her by mail.

Kfest 2016, Killorglin, Co. Kerry
Details

Aspect 2015

18/06/2015 — 25/06/2015

Masters in Creative Media students End of Year Exhibition.

Kerry County Museum, Tralee, Co. Kerry.
Details

Dot Dot Dot

29/01/2004 — 12/02/2004

Group exhibition of work from students on the BTEC in Fine Art Management Course.

Kensington and Chelsea College of Art and Design, London
Details

Degree Show

12/06/2002 — 24/06/2002

Degree Students of Crawford College of Art and Design end of course exhibition.

Crawford College of Art and Design, Cork City, Ireland.
Details

Diploma Show

06/06/2001 — 20/06/2001

Diploma Show for Crawford College of Art and Design Students who completed their 3 year Diploma Course in Fine Art.

Cork Opera House, Cork City, Ireland.
Details

End of Year exhibition for Portfolio Preparation Course

25/05/1997 — 31/05/1997

A group exhibition of students work completed during Portfolio Preparation Course.

Siamsa Tire, National Folk Theatre of Ireland Gallery., Tralee, Co. Kerry
Details