THE DnA FACTORY [MRSS] London, United Kingdom
THE DnA FACTORY [MRSS] are Dallas Sidaway & Angel Welch Ramsay. [B. 1967 - both] Artistic & life collaborators since 1990 in a vast range of disciplines including Sculpture, Painting, Collage, Photomontage, Textiles, Design & Realisation [Theatre, TV, Window, Interior], Illustration [Book & Magazine], Photography, Poetry.
Combinations of Found Object, Recycled Materials, Wax Sculpting, Mould-Making and Casting, mainly in traditional Resins and latterly Water Based Resins, Plaster and recently Cement. This is a form of Sculptural Collage as well as Assemblage, both in bas-relief and three dimensions in our endeavour to create Monumental Sculpture on an Intimate Scale. With installation work we favour the immersive with a touch of the theatrical often utilising lighting effects and neon.
Themes: Morality [Shifts], Alienation, Isolation, Sex & Sexuality, Genders, Society, Politics, Religion, The Positive, The Negative, The Ordinary & The Extra-Ordinary, Comedy & Tragedy, Life & Love & The Beauty Of It All.
THE DnA FACTORY [MRSS] are exhibited & collected in Europe, USA, Brazil, China, UK.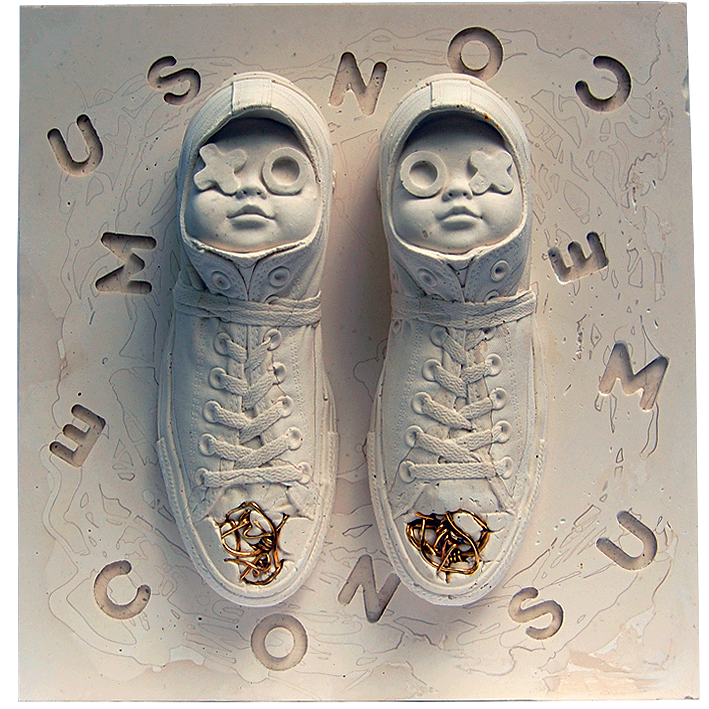 Projects and exhibitions
Details

RAMSGATE ARTS BARGE CHARITY AUCTION

22/11/2021 — 05/12/2021

FUNDRAISING ART AUCTION LAUNCHING ON MONDAY 22ND NOVEMBER, RUNNING UNTIL SUNDAY 5TH DECEMBER. FEATURING WORKS FROM THE MOST EXCITING VISUAL ARTISTS ACROSS THE UK, IN SUPPORT OF THE DEVELOPMENT OF AN ALL INCLUSIVE FAMILY-FRIENDLY COMMUNITY ARTS HUB TO BE PERMANENTLY MOORED ALONGSIDE HARBOUR PARADE IN THE HEART OF RAMSGATE'S ROYAL...

[Read more]
Harbour Parade, Ramsgate
Details

PULL UP TO MY BUMPER EXHIBITION

01/11/2021 — 07/11/2021

THE DnA FACTORY MRSS have two new 'upcycled' works, 'THE SILVER DREAM MESSAGE MACHINE [HANG ON TO YER HAT, WE'RE IN FOR A BUMPY RIDE]' and 'THE BIG GREEN MYTH MACHINE [SCREAM LOUDER IF YOU WANT TO GO FASTER!] included as part of the exhibition PULL UP TO MY BUMPER organised and curated by West Bank Gallery. The show features 20...

[Read more]
26 Leake Street, LONDON
Details

CHELSEA ARTS CLUB CHARITY AUCTION EXHIBITION

28/07/2021 — 03/09/2021

ANNUAL MEMBERS EXHIBITION AND AUCTION IN AID OF THE CHELSEA ARTS CLUB TRUST AND THE AGBI.

THE CHELSEA ARTS CLUB TRUST WAS FOUNDED IN 1990 BY ARTS CLUB MEMBERS TO ENCOURAGE ART AND DESIGN EDUCATION AND PROVIDE HELP AND SUPPORT FOR EMERGING ARTISTS AND DESIGNERS. THE TRUST PROVIDES BURSARIES, SCHOLARSHIPS, AWARDS, PRIZES AND MENTORING AND HAS...

[Read more]
CHELSEA ARTS CLUB, 143 OLD CHURCH STREET, LONDON
Details

POTEM [PARTS OF THE EGG MACHINERY] CABINET EXHIBITION

14/07/2021 — 05/07/2021

FIRST SHOWING OF A SERIES OF 22 LOCKDOWN WORKS CREATED THROUGHOUT 2020/21, P.O.T.E.M. A SCULPTURAL PRODUCTION LINE OF USING 'THE EGG' AS A SYMBOL OF INCUBATION WHILST HIGHLIGHTING THE FRAGILITY AND PRECARIOUS NATURE OF THE HUMAN CONDITION. THE POTEM'S EMPLOY CAST ELEMENTS MERGED WITH FOUND AND RECLAIMED OBJECTS.

CHELSEA ARTS CLUB, 143 OLD CHURCH STREET, LONDON
Details

10 GRAM CHALLENGE AT THE ROYAL SOCIETY OF SCULPTORS

05/07/2021 — 19/09/2021

MILWYN FOUNDRY HAS TEAMED UP WITH THE ROYAL SOCIETY OF SCULPTORS TO INVITE THEIR MEMBERS TO TAKE PART IN THE 10GRAM CHALLENGE. THE CHALLENGE IS TO PRODUCE A PIECE OF SCULPTURE OR OBJECT FROM A 10 GRAM PIECE OF SUPPLIED WAX TO BE DIRECT CAST INTO BRONZE. THE SUBJECT AND STYLE CAN BE ANYTHING THE ARTIST FEELS LIKE MAKING DURING THIS PERIOD OF...

[Read more]
Dora House, 108 Old Brompton Road, South Kensington, LONDON
Details

NEO-NORMAL-SEE EXHIBITION

12/04/2021 — 16/05/2021

NEW WORKS ON VIEW AND FOR SALE OVER TWO FLOORS, THE UPPER AREA FEATURES MEMBERS OF 'THE LOCKDOWN ARMY' + 'THE CONSUMER GAME' PLUS A SELECTION OF ASSOCIATED SMALLER SCULPTURES, THE LOWER FLOOR BUNKER ZONE HOSTS AN INSTALLATION 'EROSION APOSTLES'.

ALL WORK HAS BEEN CREATED THROUGHOUT THE LOCKDOWN FROM MARCH 2020 TO MARCH 2021 AND...

[Read more]
28-32 SHELTON ST, COVENT GARDEN, LONDON
Details