Annie Taylor Kent, United Kingdom
Maker of large soft sculptures with stories to tell. I create 2D and 3D illustrative and textile narrative based work from the realm of the fairy tale and childhood memory.
Illustrative textile work and stitched stories: I create large 3D soft sculptures that whisper their tales to me.
Made from calico or old bed linen, and often stuffed with recycled duvets; they are dyed with tea for age and painted with watercolour for softness, finished with embroidered details. Old familiar stories come out of the end of the needle altered, and generally rather Grimm. During the working process, I may carry a limb, or a head, around with me, stitching as I listen to live music, visit a friend, sit on the beach. They become part of my life. A companion, talking to me, telling their tale.
Watercolour is my preferred media for the bodies, with embroidery details. Much of the material I use is inherited and donated, and again this governs directions the work takes. As can a song lyric heard on the radio, a phrase caught on the air, or a sycamore seed spinning down to earth.
My recent work has been created from the linen cupboard's of friend's mother-in-laws (with permission I hasten to add) and the vibrant familiar M&S duvet covers of the 1970s live again.
I am the co-founder of the Profanity Embroidery Group, in Whitstable; organise and curate exhibitions and Open House events.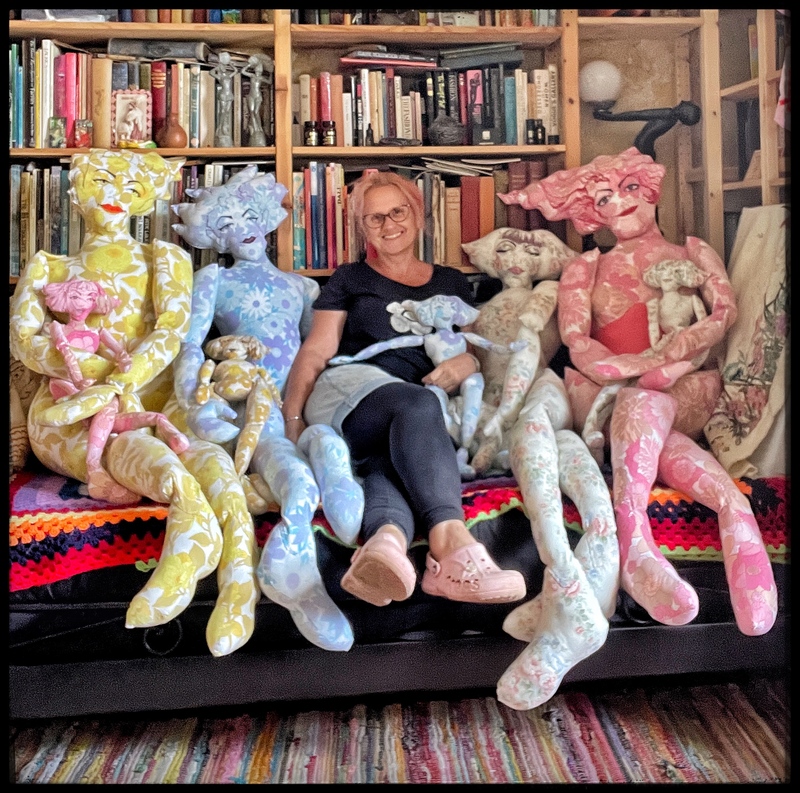 Projects and exhibitions
Details

Profanity Embroidery Group

14/02/2018 — 20/02/2018

Third Group exhibition from the Profanity Embroidery Group, for which I am Co-Founder, Director and Curator. The theme this time was Song Lyrics. Work was based on powerful songs incorporating profanities for emphasis, or misheard lyrics interpreted with humour. A diverse group of about 30 members, formed in August 2014.

Fishslab Gallery, Whitstable, Kent, UK
Details

Has She Nothing Better To Do

16/11/2016 — 22/11/2016

Solo show of my textile and illustrative work.

Fishslab Gallery, Whitstable, Kent
Details

Herding Cats

12/04/2014 — 21/07/2016

Under the name Herding Cats I organised and curated several group shows. Organising artists being rather like trying to herd cats.

The Pie Factory, Margate and Keam's Yard Studio Gallery, Whitstable, Margate
Details