Artcore and Hase29 International Residency Call for Derbyshire-based artists: Building Bridges
Deadline: 19/04/2023 | City: Osnabruck | Country: Germany | Artcore Gallery
Paid opportunity
Report this?
An opportunity for artists and creative practitioners in Derby! A two-week long international residency from 7 May to 22 May in Osnabruck, Germany. Artcore Gallery is pleased to announce its latest international opportunity for two Derby-based artists looking to build international relations and learn from cross-cultural experiences.
Historically, Osnabruck (in north-west Germany) stands on one of the most important trade routes of Europe. Geographically, the modest city is situated in the mid-north in central Europe with links all over Europe from mediaeval times to the present day. It is twinned with 5 cities, one of which is Derby. Derby has acknowledged this twinning by naming the most important space in downtown Derby as Osnabruck Square.  

Before the pandemic began, Artcore was working on developing links with Osnabruck to explore possibilities of cultural collaborations of different kinds between the two cities. We are delighted to partner with Kunstraum Hase29 for this project. This residency is for Derby artists (with a valid Schengen Visa) to understand the various links or points of references between the two cities and what binds them/can bind together. It is important for the artists to create artworks that become a bridge between the physical space of Derby Square in Osnabruck and the people who populate that space.

Artists can create a temporary sculpture that can be installed in Osnabruck during the Maiwoche music festival. These sculptures can be interactive—people walking about can contribute in various ways to the sculptures. It could also be that the sculptures respond to the different seasons in different ways and therefore reinvent themselves over a year. They could be disposable as well, disintegrating slowly over a period of time. Or, they could be functional—sitting or resting places for people. Or then, an installation of curious proportions! The possibilities are endless.

Artists can also explore a medium that they are familiar or comfortable with. If the selected artists would like to create a chalk painting on the street or if performance art is their thing, we are happy to support them! Artists can create video installations too or create visual stories digitally. The challenge is for the artists to create something that will be a bridge of understanding, empathy and goodwill. 

We are offering each artist
A chance to experience the Maiwoche festival in Osnabruck

A chance to experience Osnabruck's artistic culture through visits to galleries and museums 

Cash allowance of £500 for exhibition ready work

A studio space for the duration of the residency

An opportunity to exhibit the work produced during the residency on Derby Day

Airfare and Travel 

Food and Accomodation during the residency from 7 - 22 May

Your very own artist blog

A chance to deliver talks at the gallery

Mentoring support throughout the residency

An e-catalogue of the works you create during the residency

An option to deliver workshops or participatory projects

Publicity and marketing support
Residency Timetable
Application Deadline: 19 April midnight 
Announcement of Selected Artists: 21 April 
Residency Dates: 7 - 22 May 2023
Contact the curator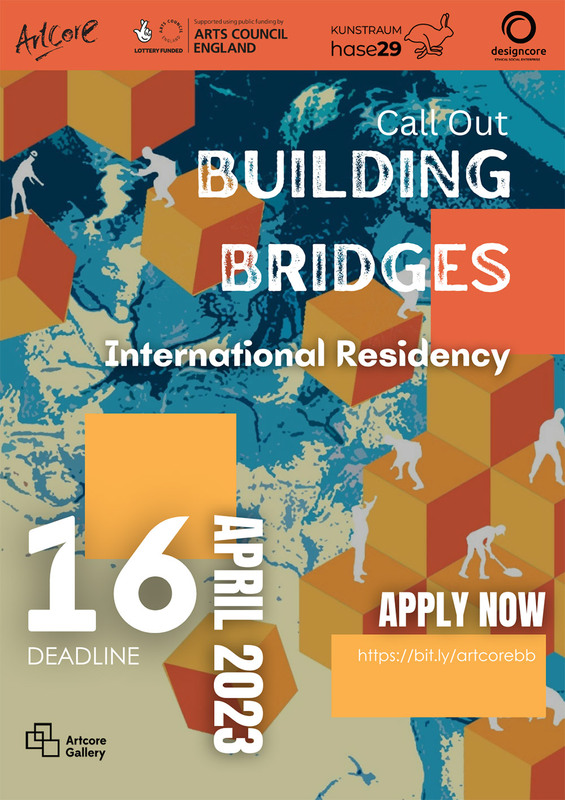 Who is eligible for this opportunity?
Derbyshire-based artists with a valid passport and Schengen Visa.
When is the deadline?
The deadline for this opportunity is on Sunday, 16 April 2023.
Are there payments to artists?
Yes, there is a bursary of £500 provided to the artist. Artcore will also be funding airfare, food, accommodation and any travel during the residency apart from the bursary.
What publicity will be provided as part of the opportunity?
Artcore will advertise this event on their social media and newsletters.
Do I need to be present?
Yes
You must have an account to send a message to the curator of this opportunity. Registering only takes a few moments. Once registered you'll be able to keep track of all of your submissions and get updates on upcoming opportunities.
Already have an account? You must log in to send this curator a message.
Subscribe to our newsletter
Get the latest CuratorSpace news, updates about new opportunities, upcoming deadlines, and art-related promotions.
Advertisement