Artizan Small Works Exhibition
Deadline: 31/03/2021 | Published: 24/02/2021 | Venue: Artizan Gallery | City: Torquay | Region: Devon | Country: United Kingdom | Artizan Gallery
Report this?
To relaunch our Lucius Street venue we're excited to announce the Artizan Small Works Exhibition.
This showcase of art will be entirely made up of works with dimensions less than 40x40cm with an upper price limit of £300, as we welcome back artists and audiences to our venues.

Whilst the recent UK announcement about reopening has not offered complete certainty, we plan to relaunch with this exhibition on the current planned date for easing of non-essential retail of April 12th with the exhibition running until 8th May. If there is any delay to reopening, rather than shortening the exhibition we plan to postpone it to November where it will be our celebratory exhibition to round off 2021.

Given the unfortunate start to the year, we believe this exhibition will offer us the chance to kick off with a vibrant and welcoming showcase, with small works offering an intimate and accessible subject, and hopefully the chance to reflect on the last 12 months.

Submissions
This is a selective call. 
Submissions are live from now until March 22nd and deliveries of work will be required by midday on 6th April if accepted. 
There is a one off £5 administration fee to submit up to 5 works.
Alternatively, you can forego this fee and instead donate a small postcard work. See Terms and Conditions, and art-hub.co.uk/postcards for more details
Successful artists will also be able to supply greetings cards for inclusion.
Works will be displayed across our Main Gallery and Courtyard Gallery.
Commission of 30% will be taken on all sales.
All sales contribute to our #ArtistSupportPledge work which sees us reinvest a portion of our commission in exhibiting artists. See art-hub.co.uk/artistsupportpledge for more details.
3D submissions can be made.
All applicants agree to our standard Terms and Conditions for Open Calls 

Dates

Submission Deadline: Extended to Midnight 31st March
Confirmation of Success: Midnight 25th March
Exhibition Dates: 12th April - 8th May (or November if postponed due to COVID)
Delivery Dates: Deadline for delivery is Midday 6th April
Collection Dates: A collection schedule will be confirmed for the week following the close of the exhibition
Opening Hours: It may be necessary for our opening hours to adjust between now and the exhibition, but we intend to open Saturdays and 4 week days (5 days/week) 11:00-17:00

Additional Offers
ARTHUB PROFILE – SEE ART-HUB.CO.UK/ARTISTS TO VIEW MEMBER PROFILES - £75/Year

ARTIZAN BURSARY SHOW 2022 – YOU CAN OPTIONALLY ALSO ENTER YOUR APPLICATION INTO CONSIDERATION FOR THE ARTIZAN BURSARY AWARD WHICH WILL AWARD A FULLY PAID SOLO SHOW IN 2022 TO ONE ARTIST. FOR FULL PRIZE TERMS AND CONDITIONS SEE https://bit.ly/3aND579 - £10

COVID-19
The COVID-19 global pandemic has required us to make some changes in the way we work to ensure the safety of audiences and partners. Below we briefly outline our commitment to safety as well as the contingencies in place if for whatever reason events relating to the pandemic impact the exhibition.

Artizan Collective CIC and Artizan Gallery venues and employees undertake all the required steps to remain COVID-19 Secure in line with the government's standards for retail premises and cultural venues. As well as implementing provisions which enable us to work safely with the public in a retail setting, this also applies to the way we work with artists to securely display and showcase their work and deliver supporting services. If you have any specific queries about how this is achieved or need to make us aware of special arrangements you may require, please get in touch.

KEY CHANGES TO EXHIBITIONS
COVID-19 Secure guidelines such as social distancing will apply to all our working practices and may impact delivery and collection procedures. As always, we will aim to be as flexible as possible to support the needs of artists, but some procedures will undoubtedly be more restrictive
Retail premises are required to manage their audiences to allow sufficient distancing within venues and as such there will be requirements to limit the total number of visitors in the venue at one time. This may also require us to mark a prescribed route around the exhibition that audiences will be obliged to follow.
Due to restrictions on large gatherings exhibition launch events cannot be guaranteed and the format of these may vary.

CONTINGENCY PLANNING
We do not foresee an eventuality where we have to cancel the exhibition but if for whatever reason this is necessary, we will endeavour to carry over submissions to future opportunities.

SHIELDING
Are you shielding? We want to do our best to support anyone to submit to the show so if you're shielding, get in touch to discuss options for how you can safely provide work for the show if selected.
Contact the curator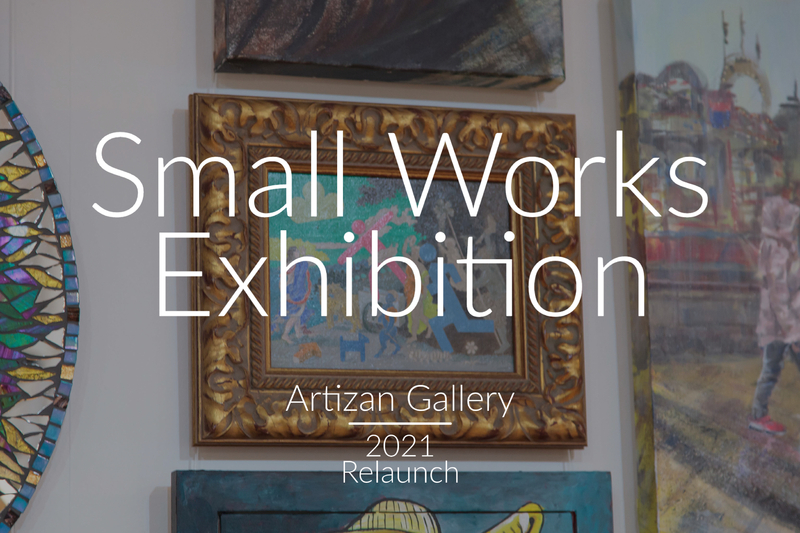 Who is eligible for this opportunity?
Anyone can apply for this opportunity
When is the deadline?
Submission Deadline: Midnight 22nd March
How many works can I submit?
5
When is the delivery date?
Delivery Dates: Deadline for delivery is Midday 6th April
When do I need to collect my work?
Collection Dates: A collection schedule will be confirmed for the week following the close of the exhibition
How much does it cost?
£5 administration fee or alternatively you can utilise our Postcard Donation Programme:

All selected artists who have chosen this fee option will be asked to donate a postcard work to the exhibition. This should be a small work, no larger than A4 and need not be mounted or framed in anyway. It might be a sketch, study, collage, print or experimentation but whatever form it takes you should be comfortable presenting it as a representative example of your work or process. However, the piece does not necessarily have to be similar to the work in your main submission.

We understand that this submission format is not suitable for people working in all mediums, particularly 3D artists, so do contact us to discuss suitable submissions.

Images of postcard works will need to be provided as part of your submission, and if selected will form part of a visual arts support campaign we will run as part of the event.
Are there payments to artists?
This is a commercial selling exhibition.
Is there a private view / opening?
We will attempt to host a COVID Secure launch event.
What are the exhibition opening hours?
Minimum 5 Days/week inclusive of Saturdays, 11:00-17:00

Weekday opening to be confirmed.
Does the location have disabled access?
Partial
Do I need to be present?
No stewarding is required.
What are the selection criteria?
All works must be no larger than 40x40cm with an upper price limit of £300
You must have an account to send a message to the curator of this opportunity. Registering only takes a few moments. Once registered you'll be able to keep track of all of your submissions and get updates on upcoming opportunities.
Already have an account? You must log in to send this curator a message.
Subscribe to our newsletter
Get the latest CuratorSpace news, updates about new opportunities, upcoming deadlines, and art-related promotions.
Advertisement