Creative Commissions in Lockdown
Deadline: 27/05/2020 | Published: 18/05/2020 | City: Sydenham, London | Region: London | Country: United Kingdom | James Hodgson
Paid opportunity
Report this?
Sydenham Arts are commissioning 2 innovative creative projects as part of our digital online programme, Sydenham Arts @ Home.
About Sydenham Arts
Sydenham Arts is a registered charity, delivering arts and cultural content to Sydenham, South London and beyond. We run a year-round programme of events in all disciplines, including theatre, live music, film, visual art, dance and spoken word. Our current 2020 programme has been put on hold, but we have quickly adapted to delivering online, through our new project- Sydenham Arts @ Home. Our goal is to bring new and exciting engagements with art to the people of Sydenham, and reflect the diversity and breadth of arts and culture throughout the area. We showcase the best artistic talent, whilst also opening people's eyes to new creative experiences.

What Are We Offering?
We will offer two commissions with a value of £600 each. This is the total amount of funding available for each commission, so when planning make sure you take all your costs into account (e.g. materials, equipment, time).

Ideally projects will not have started. However, if you have begun planning for a project, or it is in the very early stages and you feel it is relevant, we will consider such proposals.

Sydenham Arts will co-produce your project. You will receive support with any aspects you are unsure of, through regular meetings (using Zoom, or similar) to help develop the content and delivery of your project.

The chosen commissions will be supported with additional advertising support to reach wider audiences and provide exposure for the projects.

We are looking for Artists we can grow positive relationships with; future opportunities for collaboration may arise as a result of this process.

What are we looking for?
We will be commissioning two projects as part of our 'Sydenham Arts @ Home Presents…' series. The chosen projects will deliver artistic excellence, and encourage engagement and, where possible, interaction with audiences through digital platforms.

The projects should focus on our current situation, and what this 'New Normal' means for us, as a local community and as humans in the global community, both now, and beyond lockdown. We are deliberately not specifying what art forms applicants should use; applicants should lay out their primary artform in the application, and why they feel it will be most successful for their project.

We are keen for projects to address any of the following themes, relating back to the impact of Covid-19:
- The Environment
- Cultural Identity & Diversity
- Mental Health and Well-being

Projects can be designed for any age, but we encourage applicants to think about the groups that are most likely to engage, and enable as many people as possible to benefit from their project.

There must be tangible outcomes for each project. For example, R&D projects, or a series of workshops without a final 'event' or deliverable outcome will not be considered. However, we are flexible in terms of what these outcomes are; remember we will be looking at how much of a lasting impact projects will have on our communities and those that engage with them.

How Will We Choose Successful Applications?
If you follow the guidance above around what kind of projects we are looking for, you will give yourself the best chance of success. At this stage, we are looking to take forward and develop 2 proposals. We will base our decisions on:
- Quality of the proposed project; Artistic Merit, Previous Experience of Artist, Proposed Artistic/Creative Output
- Closest fit to Brief; Addresses themes and relates to our 'Current Moment', Audience Reach/Level of Engagement
- Realistic and Achievable; consideration shown in application to planning, cost, and delivery
- Enhances Sydenham Arts' current offer; projects should compliment and differ from current programming
- Diverse Perspectives; we encourage applications which explore different perspectives, including those who may not be as well represented in mainstream culture and the arts
- Supporting Local Artists; you do not have to be a resident of Sydenham or the surrounding area. However, some preference may be given to local artists, if projects fit closely with the brief and locality strengthens their application.

Completing the Application Form
The application form is designed to be quick and easy to fill in, so you can get your ideas to us as soon as possible. Don't worry if you have more to share with us - if your idea is of interest to us, you'll have more chance to share your ideas with us over a remote interview.

Please keep your answers short - the size of the text boxes in the application are designed to give you an indication of the maximum we expect you to write. Don't feel the need to fill them if you can make your point more concisely!

Selection Process and Key Dates
We aim to get chosen projects up and running as soon as possible. For this reason, we will be assessing applications as we receive them, and encourage all interested applicants to apply as soon as they are able. The application process is short and simple, and should not take too long to complete.

Application Deadline: WEDNESDAY 27 MAY, 5pm GMT - You should apply AS SOON AS POSSIBLE. We will read and assess all applications as we receive them, and may close this deadline early at our discretion. Apply by completing the form below along with any attachments you feel will support your application (Artist CV, examples of work, additional project info etc).

Interviews - Applicants whose projects we would like to hear more about will be required to attend an online interview via Zoom. We will contact every applicant within 2 weeks of their application to let you know if you have reached this stage. It is Sydenham Arts' policy to interview all disabled applicants who meet the basic requirement of commissions (see 'What we are looking for'). You should make any disclosure regarding disability in the 'Other Information' section of the application form. Any disclosure is at the applicant's discretion and will remain confidential.

Delivery of Projects – We aim to have commissioned both artists by 1 June. Projects should ideally complete within 4-5 weeks, although this is flexible depending on proposals received.

Good Luck! We can't wait to see what innovative ideas you come up with!

If you need further help in understanding the programme, require a large-print version of this application, or have any other access needs, pleased get in touch with James at james.hodgson@sydenhamarts.co.uk
Contact the curator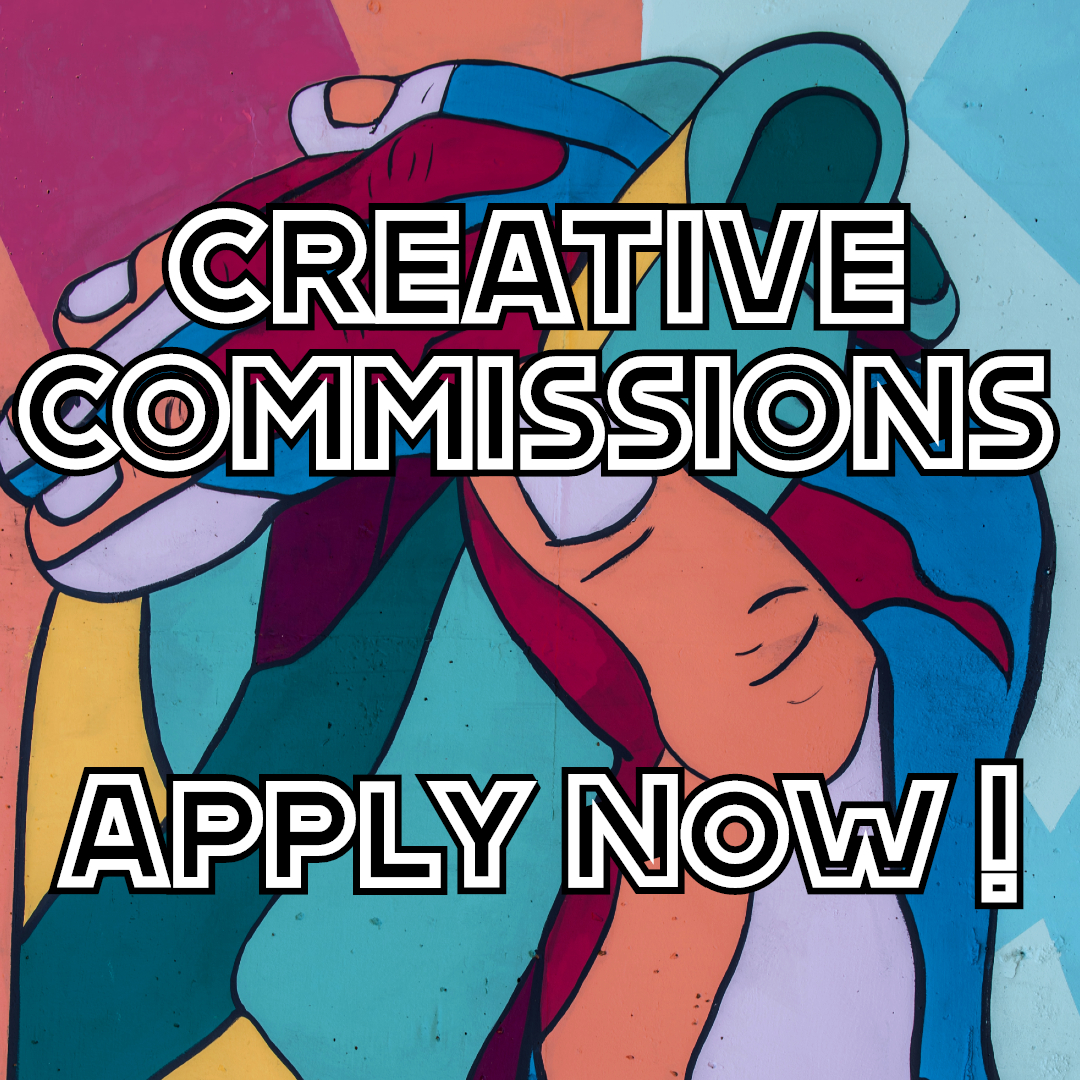 Who is eligible for this opportunity?
Anyone with a project idea that hasn't yet been started.
When is the deadline?
Wednesday 27 May, 5pm.
How many works can I submit?
One project, but could be for multiple outputs/works.
How much does it cost?
Applications to the commission are free.
Are there payments to artists?
Yes. Two commissions to the value of £600 will be awarded to successful projects.
Is there a private view / opening?
This depends on your project.
Does the location have disabled access?
N/A. All projects should think about their accessibility for disabled participants.
What publicity will be provided as part of the opportunity?
Promotion through Sydenham Arts media and website outlets, including paid promotional content.
How do you decide on proposals?
See full information on our selection process in the project description.
What happens if my proposal is chosen?
We will contact you for an interview (via Zoom) if you are successful.
What kind of proposals are you looking for?
We have deliberately not specified the artform, this is up to the applicant to specify.
What are the selection criteria?
See details of selection criteria in full project description.
You must have an account to send a message to the curator of this opportunity. Registering only takes a few moments. Once registered you'll be able to keep track of all of your submissions and get updates on upcoming opportunities.
Already have an account? You must log in to send this curator a message.
Subscribe to our newsletter
Get the latest CuratorSpace news, updates about new opportunities, upcoming deadlines, and art-related promotions.
Advertisement