English Riviera Winter Open 2022
Deadline: 23/10/2022 | Venue: Artizan Collective Gallery | City: Torquay | Region: Devon | Country: United Kingdom | Artizan Gallery
Report this?
We thought our 2021 annual Winter Open might be our last but excitingly we now know we're here to stay and so our 2022 English Riviera Winter Open is a real cause for celebration!
Running from November right up until Christmas Eve, this annual show is a proper countdown to Christmas as we fill our gallery walls and plinths with collections to entice seasonal shoppers. As with our Summer Open this year, artists have the opportunity to submit up to 8 works for showing, with both selected and reserved works going on display across our exhibition spaces..

Continue reading for full submission information and we hope to see your work in the show with us this Winter!

About Artizan Collective Gallery
Artizan Collective CIC is a not for profit Social Enterprise dedicated to the advancement of arts and culture in Torbay, supporting wider engagement and greater accessibility to arts for our communities, through the provision of opportunities, resources, spaces and networks for creatives of all practices in a sustainable and resilient manner.

Currently hosted at Fleet Walk in the Artizan Collective Gallery, the Collective is providing a vibrant creative hub delivering opportunities for artists and audiences living and working in the Bay, as well as contributing to the English Riviera's cultural tourism offer. The venue currently runs a year-round visual arts programme which supports artists of all disciplines and experiences, including students and emerging artists, by creating affordable exhibition opportunities, awards and bursaries. In addition, a programme of community workshops, artist studios, and production spaces are in development in partnership with other independent creatives and local cultural organisations.

Through this activity we aim to improve the perception of Torbay's cultural offer, showcasing and connecting the creative stakeholders contributing to the sector and signposting audiences from this prominent location, to the areas hidden gems.

The organisation currently consists of two directors and a small group of key stakeholders and partners who support and deliver work, as well as an invested community of artists and creatives. Artizan Gallery supports the work of Artizan Collective CIC through the sharing of resources and promotional activities.

Submission Information
Please read the below information carefully for full opportunity details.

Opportunities:
This is a selective exhibition, your fee and confirmation of terms entitles you to have your work judged by the selection panel for possible inclusion in the exhibition
Up to 8 works can be submitted
Works will have the opportunity to either be selected (these will be guaranteed to hang) or reserved (these will be requested for delivery and displayed in our studio gallery space; they may also be hung if space permits in the main space at our discretion)
All successful artists will be entitled to supply, in addition to their accepted work:

Up to three mounted and wrapped works for browsers or
Up to three additional small for sale products such as catalogues or artbooks, and
Greetings cards; either 5 copies of 3 designs or up to 15 original greetings cards

All selected works will be showcased for a period of 8 weeks during the height of the tourist season on the English Riviera
Exposure in the English Riviera's premier selective exhibition gallery
Opportunity for commercial sales of work
Features in exhibition print and digital promotional material delivered via the channels of the exhibition curators and partner organisations
Long-term exposure on the exhibition digital hub including micro-profile and the opportunity for additional features
Selected artists may be recommended to our partner services to have their work featured in additional online listings
Works under £200 will be promoted as part of our Artist Support Pledge work (see art-hub.co.uk/artistsupportpledge)
Exhibition Awards including the English Riviera Award (selected by a guest judge) and the Audience Favourite Award.

Work Sizes, Types and Dimensions
Works are classified as either:

2D Wall Display
3D Surface Display (not exceeding a height of 60cm)
3D Floor Display

Works of any medium are accepted
2D Works:

A single 2D entry will not exceed 60cm in any direction inclusive of framing
2D entries exceeding 60cm but not exceeding 1.5m in any direction can be submitted as two entries

3D Works:

A single 3D entry will not exceed 80cm in any dimension
3D entries exceeding 80cm but not exceeding 1.5m in any direction can be submitted as two entries
Small 3D works may be submitted as a series and be counted as one entry but you must contact the gallery before making your submission to confirm if your work qualifies for this
Jewellery and small items should be provided with secure display equipment and artists should consult with the gallery to ensure they are making sufficient provisions prior to submission.
A 3D work that is wall display should be submitted as a 2D Work
Where specific display equipment is required this must be specified
You may be requested to supply plinths or make additional provisions for display of your work where these are non-standard

Dates
Deadline for Entries: Midnight 23rd October
Confirmation of Entries: Midnight 24th October
Start Date: 12th November
End Date: 24th December
Launch Date: 11th November, 18:00-20:00
Delivery Week: 31st October - 6th November
Hang Week: 6th - 9th November
Delivery Deadline: 6th November 4pm
Opening Hours: It may be necessary for our opening hours to adjust between now and the exhibition, but we intend to open weekends and 3 week days (5 days/week) 11:00-16:00
Fees
Submission Fees: £10 for one entry, £15 for up to 8
Commission Fees: 35%
ALL FEES GO TOWARDS ARTIZAN COLLECTIVE'S CONTINUING WORK TO DELIVER OPPORTUNITIES FOR ARTISTS IN THE SOUTH WEST
Payments can be made here: https://www.art-hub.co.uk/product-page/english-riviera-summer-open-single-entry

Venue Address
Artizan Collective Gallery
Unit 5 Fleet Walk
74 Fleet Street
Torquay
TQ2 5EB
Full terms and conditions of entry: www.art-hub.co.uk/exhibitorsterms
Contact the curator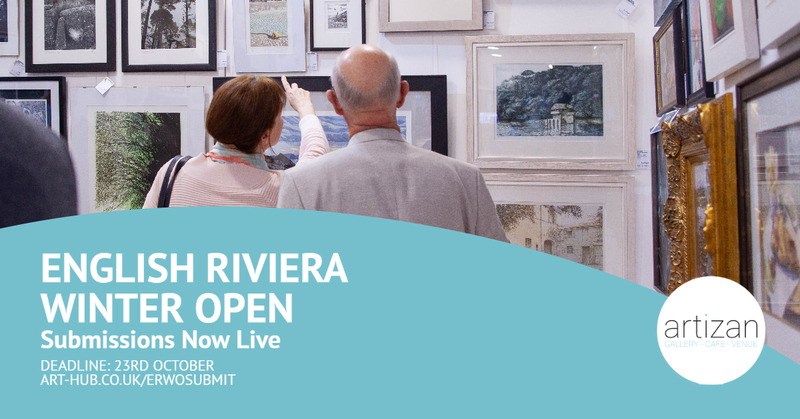 Who is eligible for this opportunity?
Anyone is eligible for this opportunity and we encourage artists of all ages, abilities and backgrounds to submit work.
When is the deadline?
The deadline for submissions is 11:59 GMT on 24th October
How many works can I submit?
You can submit a maximum of 8 works.
When is the delivery date?
Delivery Week: 31st October - 6th November
Hang Week: 6th - 9th November
Delivery Deadline: 6th November 4pm
When do I need to collect my work?
We will aim to be as flexible as possible with collection of work. If you feel the below details may prevent you from applying, please get in touch with us for assistance.

Collection of work will take place in the week following the close of the exhibition.
How much does it cost?
Payments can be made at the below links once you have made your submission:
Single Entry Payment £10: https://www.art-hub.co.uk/product-page/erwosingle
Multiple Entry Payment £15: https://www.art-hub.co.uk/product-page/erwomulti
Are there payments to artists?
Artists will have the ability to sell their work. Commission of 35% is taken on all sales with a percentage of this donated to Artizan charities and causes.
Is there a private view / opening?
Launch Date: 11th November, 18:00-20:00
What are the exhibition opening hours?
It may be necessary for our opening hours to adjust between now and the exhibition, but we intend to open weekends and 3 week days (5 days/week) 11:00 - 16:00
Does the location have disabled access?
Yes.
What publicity will be provided as part of the opportunity?
Extensive promotion is carried out as part of the exhibition across a broad range of online, social and print platforms. We welcome enquiries if you require more information.
Do I need to be present?
There are no stewarding requirements associated with this exhibition. However, we are open to promoting "meet the artist" days, demonstrations and other activities that can be managed safely.
How do you decide on submissions?
Submissions are judged by the Artizan Team based solely on the content of your submission.
What happens if my proposal is chosen?
If your submission is accepted, you will be required to meet all deadlines in the call. You will receive an artist's pack with full details of your responsibilities and how to support the exhibition.
What kind of works are you looking for?
This is an unthemed open and any works can be submitted.
Are there conditions of entry?
Full Terms and Conditions can be found here: www.art-hub.co.uk/exhibitorsterms
You must have an account to send a message to the curator of this opportunity. Registering only takes a few moments. Once registered you'll be able to keep track of all of your submissions and get updates on upcoming opportunities.
Already have an account? You must log in to send this curator a message.
Subscribe to our newsletter
Get the latest CuratorSpace news, updates about new opportunities, upcoming deadlines, and art-related promotions.
Advertisement