Filming and Foraging screening: Open Call
Deadline: 18/05/2023 | City: Online | Region: Cornwall and Isles of Scilly | Country: United Kingdom | Joanna Mayes
Paid opportunity
Report this?
Joanna Mayes and The Sustainable Darkroom, invite artist filmmakers to submit analogue films that open new perspectives on the relationship between foraging and sustainable filmmaking.
Drawn to these weighty processes and methods of working, we want to hear from you if foraging is part of your relationship with analogue filmmaking. Whether that be foraging for footage, chemistries, processes or for your film subject.  

Selected films will be shown online through Joanna Mayes' website for two weeks to coincide with the Filming and Foraging symposium, where we will delve into the use of foraging in analogue filmmaking and cinema. Additional in person screenings will be sought once the programme is selected.

Key Dates:
·  Submission deadline: 18th May 2023
·  Selected films announced: 3rd June 2023

·  Screening and symposium: 15th - 29th June 2023

Submission requirements: 
·       a 150-word abstract about your film submission.
·       name and email address, the film's running time and details of the analogue film medium/s used.
·       a link to your film on Vimeo or YouTube, with a password if protected. To facilitate the selection process, please give permission to download.
·       two film stills.
The running time of films should be a maximum of around 5 minutes. Films may originate from anywhere in the world. The films will be screened digitally.

How to submit:  Submission is by Vimeo or Youtube link via CuratorSpace, with accompanying applications details.

Artist Fee: We offer £25 honorarium per chosen film.

Selection process: Films will be chosen by Joanna Mayes, Kayla Parker (University of Plymouth) and  Hannah Fletcher (The Sustainable Darkroom).
The Filming and Foraging project is made possible by kind support from Arts Council England. The film call and symposium is delivered in partnership with Sustainable Darkroom and Mayes Creative.
Contact the curator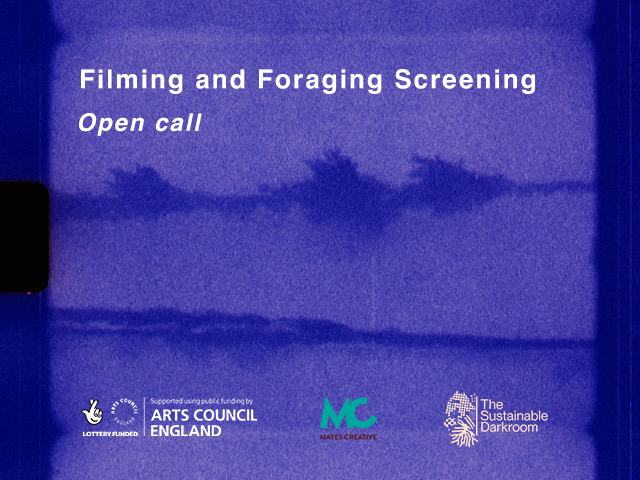 How many works can I submit?
There is no limit on the amount of submissions except the length of films must be up to 5 minutes.
How much does it cost?
There is no submission cost
Are there payments to artists?
We offer an artist fee of £25 per chosen film.
What kind of proposals are you looking for?
We are looking for film work that opens new perspectives on the relationship between foraging and analogue filmmaking. The project aims to open an exchange around new modes of sustainable filmmaking and different approaches to moving image practices in the region and beyond.
Is the screening only online?
Selected films will be screened through Joanna Mayes' website for 2 weeks to coincide with the Filming and Foraging symposium. In addition to the online screening, we are hoping for an additional physical screening, with details TBC.
You must have an account to send a message to the curator of this opportunity. Registering only takes a few moments. Once registered you'll be able to keep track of all of your submissions and get updates on upcoming opportunities.
Already have an account? You must log in to send this curator a message.
Subscribe to our newsletter
Get the latest CuratorSpace news, updates about new opportunities, upcoming deadlines, and art-related promotions.
Advertisement