Grief Letter
Deadline: 31/03/2022 | Published: 07/01/2022 | Country: United Kingdom | Natalia Millman
Report this?
"Grief Letter" is an ongoing community-based project where people can share their personal experience of loss and grief in a form of a letter. Each letter will be included in the art installation, helping to promote grief support.
This concept grew out of artist's own experience of loss, coping with grief and finding light ahead. The process of writing has long been proven to have healing properties. Writing down and materialising thoughts helps release tension, organise mental chaos and decipher traumatic triggers.

Writing the letter addressed to the deceased is a powerful way of diving into subconscious, processing memories, closing some chapters, asking for forgiveness or advice, express anger or regrets or just put your thoughts down without overthinking.

Launch of the Grief Letter project during Vanishing Point, solo exhibition by Natalia Millman in October 2021 at the Crypt Gallery, London.

Please submit this form to to request the Grief Letter pack.

To take part in "Grief Letter", please write a letter to someone you have lost or are grieving, on the paper provided, using black ink pen.
 ·        There is no minimum word count.
·         Address it to someone who you have lost or grieving.
·         Letter can be unsigned/anonymous.
·         Return the letter in the envelope provided when you finish.

If you would like to hear on the progress of this project, please get in touch!

Spreading the word among your friends, your local community and on social media about Grief Letter Project will help reach many people who are can benefit from it.
Contact the curator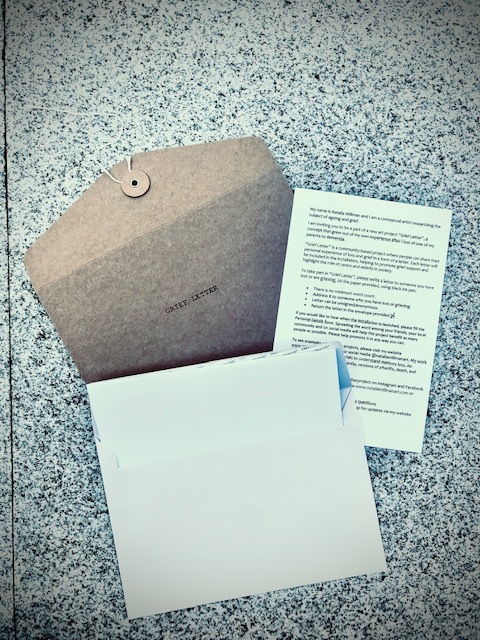 Who is eligible for this opportunity?
anyone
You must have an account to send a message to the curator of this opportunity. Registering only takes a few moments. Once registered you'll be able to keep track of all of your submissions and get updates on upcoming opportunities.
Already have an account? You must log in to send this curator a message.
Subscribe to our newsletter
Get the latest CuratorSpace news, updates about new opportunities, upcoming deadlines, and art-related promotions.
Advertisement