Haus-a-rest Zine and Instagram - Issue 4 - The Conceptual Art Issue
Deadline: 09/08/2020 | Published: 07/07/2020 | City: N/A | Jenna Fox
Report this?
Open cal for submissions to Issue 4 of Haus-a-rest Zine and Social media platform
We are seeking submissions for Issue 4 of the Zine and instagram (and other social media) pages.
This month's topic is Conceptual art ...
Noun ...
Art in which the idea or concept presented by the artist is considered more important than the finished product, if any such exists.
If your work is all about the idea we would love to include you. If you are the biggest thinker, maker of ideas and all round super star, the one that creates work where we all go, "ah, that's so clever, so cool and I wish I had thought of that", then we want you to submit and share your brilliance.
You will need to submit:
1) A good quality image.
2) Three lines of text to explain your concept,  why you made the piece and any obstacles you had to overcome.
3) Your Instagram name so we can tag you.
Good luck.
Contact the curator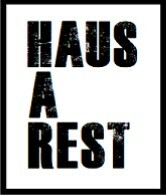 Who is eligible for this opportunity?
Anyone.
When is the deadline?
9/08/20
How many works can I submit?
One.
How much does it cost?
Free.
Are there payments to artists?
No.
Is there a private view / opening?
No.
What publicity will be provided as part of the opportunity?
Social media. FB, Linked in, Instagram.
What happens if my proposal is chosen?
We will contact you.
You must have an account to send a message to the curator of this opportunity. Registering only takes a few moments. Once registered you'll be able to keep track of all of your submissions and get updates on upcoming opportunities.
Already have an account? You must log in to send this curator a message.
Subscribe to our newsletter
Get the latest CuratorSpace news, updates about new opportunities, upcoming deadlines, and art-related promotions.
Advertisement