Humanism II - Physical Show in Greece!
Deadline: 25/06/2022 | Published: 16/05/2022 | City: Chios | Country: Greece | The Holy Art
Report this?
We are now accepting submissions for our physical exhibition 'HUMANISM II'. Artists from all countries are welcome to submit their works in any medium. (painting, photography, printmaking, video art, installation, films, sculpture, mixed media, illustration, etc). The theme of the exhibition is OPEN.
Any artist from any background can submit any of their work. There is no charge to submit your application, please feel free to share your work with us to review. A fee (£200 per artist or £120 per video artist) is chargeable to the artist once they have been selected for the exhibition.

Please note that we keep 0% commission from any sold work. 100% of funds go to the artist.

For purchases of works, we direct the buyers to the artists. If buyers wish to purchase straight from our gallery, we will charge 5% on top to cover bank fees.

Artists are advised to send their cards for us to display in the gallery or prints of the original works for sale at no extra cost.

EXHIBITION DATES: 22 - 27 July 2022

LOCATION: Maria Tsakos Cultural Foundation, 51 Michail Livanou str., 82100 Chios, Greece

To apply, please send:
A brief bio about the artist/artwork (120 words max, preferably written in the 3rd person)
Your website and social media (if this is applicable)
* Please note that the exhibition will be available as a virtual tour exhibition once the physical exhibition is over, accessible on our website (https://www.theholyart.com/)

FEES
Physical Gallery
£200 per artist, not per artwork
£120 per video artist
PRIZES:
1st Prize - 3 x day holiday (incl. flights and accommodation in Europe) Mystery Destination
⁠
2nd Prize - Participation in Physical Group Exhibition in London⁠
⁠
3rd Prize - Participation in Physical Group Exhibition in London⁠

Deadline: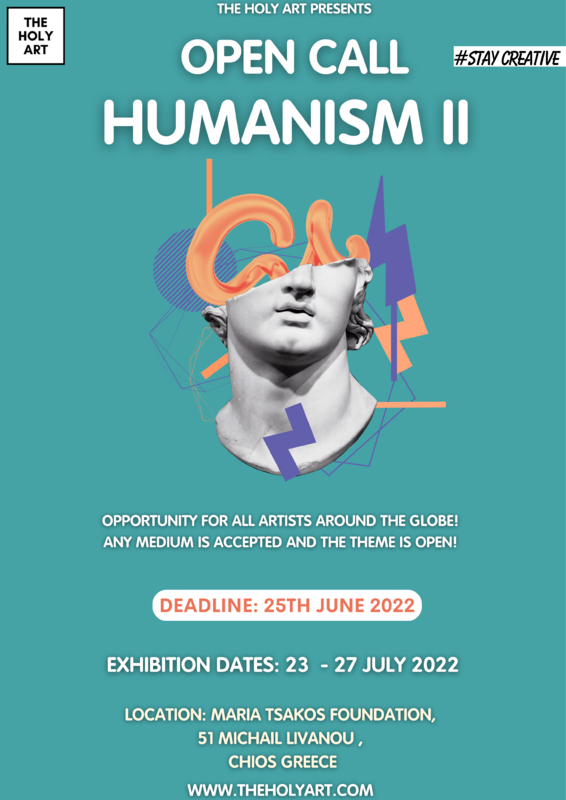 When is the deadline?
25th June 2022
How many works can I submit?
Up to 5
When is the delivery date?
Up to the 22nd of July 2022
When do I need to collect my work?
Up to 3 days after the show ends. We can advise for courier pick ups!
How much does it cost?
£120 for video work or any screen based works.
£200 for any other medium
Is there a private view / opening?
Yes!
How is the event going to be promoted?
We will be promoting the event locally with leaflets in 3 stores in central locations of the main city of the island.

On top of that we are actively advertising in an audience of 20.000 email subscribers and over 42.000 Instagram followers.
What sort of traffic are you expecting and why is the Maria Tsakos Foundation a special venue?
We are expecting a very busy opening night with great foot traffic for the rest of the days as this is peak time during the touristic season in Greece.

The Tsakos family has been one of the most established maritime names and they have kindly collaborated with us in order to present this very unique show with a number of artists from across the world!