Hybrid Digital/Physical Commission for Community Takeover Street Party
Deadline: 17/07/2022 | Published: 30/06/2022 | Venue: Shire Hall | City: Gloucester | Region: Gloucestershire | Country: United Kingdom | Apllied Live Art Studio
Paid opportunity
Report this?
Are you a Gloucester area based artist interested in testing new approaches to working with people and technology? Are you looking to address topics that relate to accessibility, social equity and digital spaces? We are offering one artist or digital technologist £1000 to deliver a digital project during the Westgate Street Community Takeover Street Party on the 10th of September 2022.
'Phygital' Project Commission Callout 
Westgate Street Community Takeover Street Party 

Calling Gloucester-based creatives interested in exploring how social engagement can happen simultaneously in blended physical and digital spaces.

This can be an event, a workshop, a DIY making space, a community intervention, or any other idea that invites people to engage in art and technology in an accessible and meaningful way that demonstrates there are new ways of working together that combine the best of being in-person and online. Moving into a post-pandemic future we want to think of innovative ways of working that use some of the digital tools we have become accustomed to and increased accessibility for those homebound, with the need to reconnect in person and create live participatory work. How can we address both these aspects creatively?

How to Apply
Applications are welcome from creative practitioners interested in blurring the line between working with participants in real life and online, and with experience working collaboratively with community members and non-artists. For accessibility, applications are accepted in a range of formats including audio recording, video and writing. 

Applications should include: 
Links to a portfolio, social media and/or artist website

Information about your proposed idea about how you would approach a blended participatory process?

Who do you intend to work with and how?

What technology do you expect to use?
Closing date: Sunday 17th July 2022 midnight
Contact the curator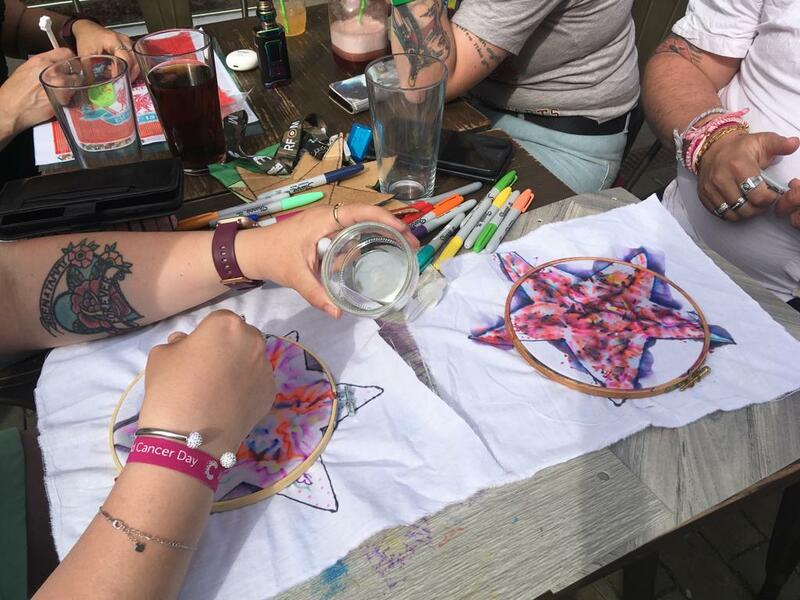 What is the timeline of delivery?
Closing date for applying: Sunday 17th July 2022
Selected applicant announced: Friday 22nd July 2022
Project delivery date: Saturday 10th September 2022, live event day
£1,000 commission award is inclusive of artist fee and expenses. Accessibility needs can be arranged in addition to this award.
What is expected of me?
This commission is for someone interested in and experienced in working with participants and with basic digital technology. You will be creating a work that integrates people both online and in-person simultaneously, specifically for the Westgate street party on the 10th of September. Your art-making will be central and this is about blended making, not about streaming a workshop or a class. Think creatively!
Who would be supporting me?
You will be supported by the Applied Live Art Studio Creative Producer, Rebecca Thomson. You will also have marketing support and you will be expected to produce basic marketing material. You will report to an evaluator at the end of your project to feedback on the learnings.
What's the point?
After this period of lockdowns and moves to working online artists are slowly exploring working in person again. How can we maintain some of the benefits of working online with the energy of the live workshop space? We want to learn how to best support artists and the people they work with to face the future with basic technologies at hand. We also want to ensure that the Westgate Street Takeover street party is as accessible as possible and that there is an opportunity to participate in the party for those unable to attend in person.
How does recruitment of participants work?
Artists applying may have pre-established connections with participants who could take part. Recruitment of participants is possible in collaboration with the core team. Participants do not have to have any knowledge of digital technology to participate, the artist will lead on this.
How do you select the artists?
Selection criteria include:
1. Feasibility: How much does ambition match practicalities? What communities do they want to work with and are they already connected?
2. Innovation: How strong is the project idea? Is blended art central to the work and unique?
3. Phygital Focus: Does the proposal incorporate a blended model at its core? Does the applicant have knowledge of basic digital technology?
4. Equality, Diversity and Inclusion: Does the proposal have an equitable level of participation? Does it address accessibility needs?
5. Track Record: Do the artists have the experience to work independently and deliver the commissions?
Who's the team?
Lead Artists: R.M. Sánchez-Camus & Amy Freeman
Community Producer: Katrina McGonagle
ALAS Production: Rebecca Thomson
Project Producer: Milan Govedarica
Does the location have disabled access?
Yes, the event is outdoors
Do I need to be present?
You will be expected to deliver your piece at the live event 10th September
You must have an account to send a message to the curator of this opportunity. Registering only takes a few moments. Once registered you'll be able to keep track of all of your submissions and get updates on upcoming opportunities.
Already have an account? You must log in to send this curator a message.
Subscribe to our newsletter
Get the latest CuratorSpace news, updates about new opportunities, upcoming deadlines, and art-related promotions.
Advertisement