Leeds based musicians for experimental sound workshop!
Deadline: 08/11/2021 | Published: 12/10/2021 | City: Leeds | Region: West Yorkshire | Country: United Kingdom | Griet Beyaert
Report this?
Do you play/create music and find yourself going back to the same rhythms and sounds? Are you looking to shake things up? Come and join me for a visually immersive experimental sound session with people from randomly different styles and genres.
The focus is on play, experimentation and collaboration between people from various backgrounds, musical heritage and level of skill in a space that is transformed with projections. The only requirement for participating is that you are based in Leeds and have a reasonable command of an instrument or your voice and an open mind. I'd love to bring together a really diverse group, from a sitar to a synth and everything around it and in between.

It's a chance for anyone interested in sound and music-making to engage in a new and experimental way whilst in a safe space, to take new things away with you and grow in what you do. 

Who am I?
I'm an artist working with glass, sound, video and programming. I'm based at Patrick Studios in Leeds. I've worked collaboratively a lot, especially since 2015, creating large immersive glass/video installations. From there I started to explore sound using my glass sculptures. I've found that working collaboratively can really draw things out that are much harder to achieve when you practice alone. That is why I want to set up these sessions, to play with people coming at it from many different angles. 

Who is this for? 
Leeds based Musicians: Anyone (adults only atm) playing music of any style and in control of their instrument / voice. Please be aware projections will be used during the session. If you're in doubt whether this is suited for you, do get in touch with your concerns, I'm more than happy to talk you through it.
You do not need to be a professional musician to take part, although you can be, but you do need to be in control of your instrument. If you're in doubt please drop me a line.
Leeds based VJs: check out details and apply through https://www.curatorspace.com/opportunities/detail/cave-session-experimental-sound-session/5877.
When? 
Monday 29th November 2021:  6pm - 9pm, we'll be playing approx. 90 min

What's involved?
With a group of approx. 6 people we'll get together in a space transformed through light and projections. We'll be playing together using various simple exercises and patterns, imagine an experimental jam session. This isn't so much about trying to make a particular sound, this is about experimenting, playing and collaborating with people across styles and genres, learning from each other.

What's the cost?
This session has been funded by Leeds Inspired and so is currently free to you.

How do I apply?
Add your submission with a link, a description or a short video of what you do (so I can make sure we have a really diverse group) through CuratorSpace.

Closing of applications:
Monday 8th November 2021 - midnight

What happens next?
Places are limited so after closing of applications I will confirm your place. If you weren't successful for this session you'll have the option of remaining on the list to be notified of future sessions before they are advertised. 
Contact the curator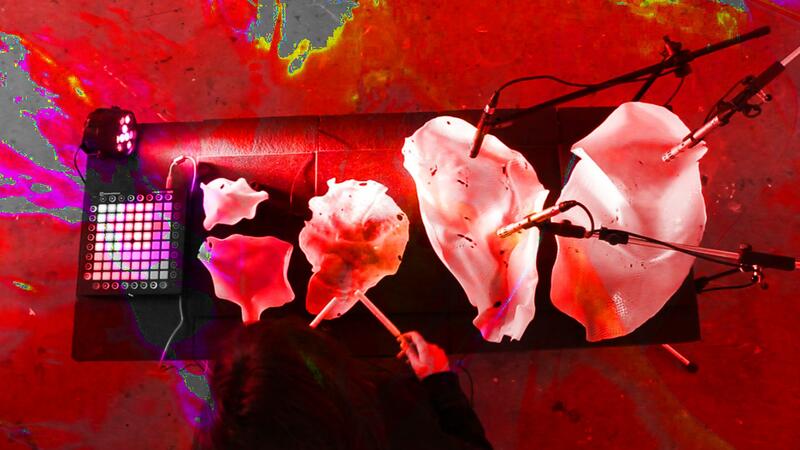 Who is eligible for this opportunity?
Anyone playing music and based in an LS postcode.
When is the deadline?
8th November 2021 - midnight
How much does it cost?
This workshop is funded by Leeds Inspired and so is currently free to you.
Does the location have disabled access?
The venue has wheelchair access.
What happens if my proposal is chosen?
You will be notified within 10 days of applications closing.
What kind of proposals are you looking for?
I'd like a really eclectic group, so any type of music is welcome.
You must have an account to send a message to the curator of this opportunity. Registering only takes a few moments. Once registered you'll be able to keep track of all of your submissions and get updates on upcoming opportunities.
Already have an account? You must log in to send this curator a message.
Subscribe to our newsletter
Get the latest CuratorSpace news, updates about new opportunities, upcoming deadlines, and art-related promotions.
Advertisement