Midlands Printmakers Open 2016
Deadline: 22/10/2016 | Published: 09/08/2016 | Venue: Arts & Crafts at Malt Cross | City: Nottingham | Region: Nottinghamshire | Country: United Kingdom | Megan Bonser
Report this?
Arts & Crafts at Malt Cross invite all Midlands based printmakers to submit work for our new exhibition Midlands Printmakers Open 2016.
It is free to apply, and we are accepting both digital and traditional prints from students, emerging and established artists, to produce a show of ambitious print practices celebrating the region's talent. 

This means we are open to all forms of printmaking: from digital, risograph, screenprint, letterpress and lino, to woodcut, drypoint, etching and lithograph. Our Midlands based judges Leicester Print Workshop will curate the show in our underground gallery space, for a month-long exhibition. 

Organisations from across the Midlands will also be offering a selection of prizes;

⇒ Arts & Crafts at Malt Cross: £300.00 commission to produce a new solo show in the Henderson Gallery.
⇒ Dizzy Ink & School of Print: Co-produce a run of limited edition risograph prints.
⇒ Green Door Printmaking Studio: Workshop voucher for a printmaking course.
⇒ Handmade Nottingham: Three months rent free selling in the shop, with 35% commission being taken by Handmade Nottingham.
⇒ Ideas On Paper: 4 x £10.00 vouchers to be used in store
⇒ LeftLion: A feature in LeftLion.
⇒ Leicester Print Workshop: £100.00 voucher to spend at Leicester Print Workshop.
⇒ Pop Press: Co-produce a run of 40 letterpress prints, of which the selected printmaker will receive 20 to sell.
⇒ Surface Gallery: Solo exhibition in Surface Gallery's Project Space.
⇒ Van Haulin: £100 voucher towards a transport job, or jobs, which can be used within 18 months.

Some important things you need to know before you submit:
You must be 18 or over,  living, working or studying in the Midlands. The Midlands is defined as Derbyshire, Leicestershire, Rutland, Northamptonshire, Nottinghamshire, Lincolnshire, Herefordshire, Shropshire, Staffordshire, Warwickshire, Birmingham, Coventry, Dudley, Solihull, Wolverhampton, Walsall, Sandwell and Worcestershire. 
Submissions are only accepted via curatorspace.
You can submit up to two prints to be judged. Up to two images per artwork can be submitted, however one must be an overview, and the other a close up.
All work needs to of been made within the last 12 months.
No CV or Artist Statement is required.
Selected work needs to be available to be dropped off or posted (if selected) arriving between 27th October  - 1st November, along with its hanging requirements. We cannot pay for additional materials, or return postage
All work needs to be available to buy, with us taking just 30% commission.
Exhibition opens 9th November - 11th December.
Selected work needs to be collected between 13th -15th December.
Contact the curator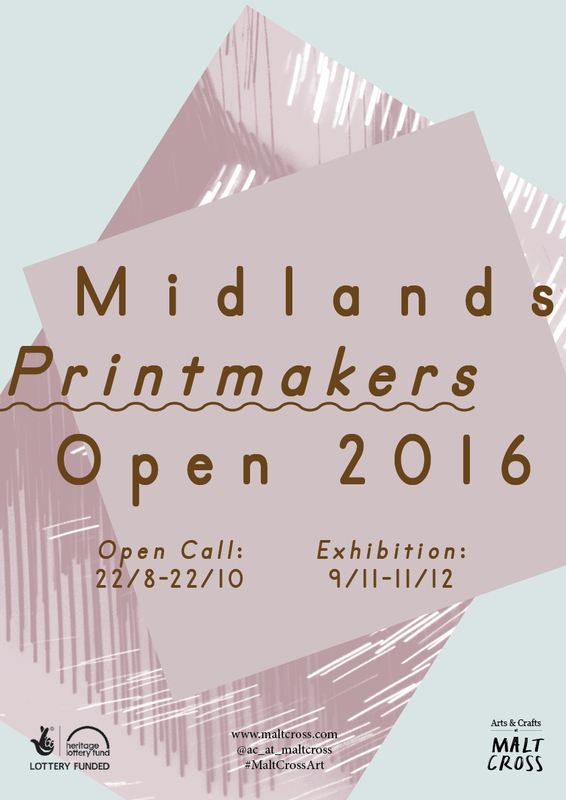 How much does it cost?
Nothing!
Is there a private view / opening?
Yes. 10th November. Time to be confirmed via an event on our Facebook Page, Arts & Crafts at Malt Cross
Does the location have disabled access?
Disabled lift from ground floor.
You must have an account to send a message to the curator of this opportunity. Registering only takes a few moments. Once registered you'll be able to keep track of all of your submissions and get updates on upcoming opportunities.
Already have an account? You must log in to send this curator a message.
Subscribe to our newsletter
Get the latest CuratorSpace news, updates about new opportunities, upcoming deadlines, and art-related promotions.
Advertisement