MonART II
Deadline: 11/11/2023 | Venue: Fox Yard Studio | City: 6 Old Fox Yard, Stowmarket IP14 1AB | Region: Suffolk | Country: United Kingdom | Kevina Badoye
Report this?
Open Call for artists: MonART II - Digital Art Show
Dates: 17 November to 6 December 2023

Deadline for submissions: 11 November 2023

After the successful edition of our first MonART, we are looking for paintings, sculptures, short films, video art, photography and more. If selected, your art will be part of our digital show MonART II.

As part of the "Lingering Memories" exhibition, your work will be displayed digitally on a 46" monitor in our art gallery from 17th November to 6th December 2023.

The theme is open and you can upload up to 10 works. A platform for showcasing and promoting your artworks via Art Magnitude.

Submitting your work is free of charge.

Images of your work or links to your video should be added to your application.

Selected works then need to be emailed to us and we also use the WeTransfer.com portal.  Files need to be in high resolution and images in jpg format and appropriately named.

A fee of £12 per selected artwork is requested if your art piece is chosen for the show. 

Our aim is to promote your work and artist name, so that your art practice gains public visibility.

Location:
Fox Yard Studio
6 Old Fox Yard 
Stowmarket
Suffolk
IP14 1AB


Contact the curator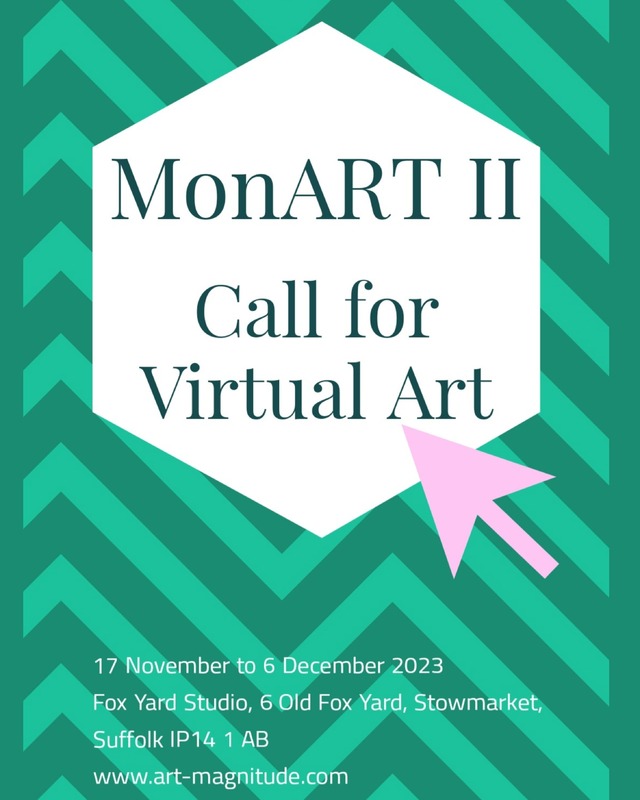 When is the deadline?
18th September 2023
How many works can I submit?
Up to ten works
How much does it cost?
£12 per selected artwork
Is there a private view / opening?
Friday 17th November, 7-9 pm
What publicity will be provided as part of the opportunity?
All artworks will be featured digitally on a screen and each selected artist will be promoted through Instagram posts via our platform Art Magnitude.
You must have an account to send a message to the curator of this opportunity. Registering only takes a few moments. Once registered you'll be able to keep track of all of your submissions and get updates on upcoming opportunities.
Already have an account? You must log in to send this curator a message.
Subscribe to our newsletter
Get the latest CuratorSpace news, updates about new opportunities, upcoming deadlines, and art-related promotions.
Advertisement