Open call for WRITERS - Issue 7 of Haus-a-rest Zine, the topic is "Mental Health"
Deadline: 16/11/2020 | Published: 19/10/2020 | Jenna Fox
Report this?
The Mental health Issue - Several studies over the years have shown a link between various mental health problems and having a creative brain. Many artists and creatives have famously struggled with their mental health.
Mental Health  - Issue 7 - November 2020

This month we want to see how your mental health influences your creative writing or arts practice.

Has creating and writing about your thoughts been the way you deal with what is inside your head.  Is creativity how you make sense of difficult times?

Is your artist practice a cathartic process where you can find solace? How do you convey your mental state within your work? Is it serene and a place you return to or a snapshot in time that acts as a timeline on your mental well-being? 

However you write we are interested in reading it, be that through blogging,  prose, essay, poem, or spoken word, we are very excited to read. about your ideas and interpretations.

We want your thoughts, opinions, musings, and ideas to challenge us. What is your interpretation?  Do you have suggestions for further reading or exhibitions that touch on this subject?

You will need to submit:
1) 500  - 1000 words.
2)  A short bio.
3) Your Instagram name so we can tag you.
4) Do you wish to join our mailing list Y/N?
5) An optional photo of yourself or an appropriate image that relates to the subject.

Your work will not be accepted if you do not provide all of the four required items.

If accepted your work will be featured in the Zine, Instagram, and FB for a least one month.

Follow us on:
Instagram: @haus_a_rest
https://www.facebook.com/haus.a.rest
https://haus-a-rest.squarespace.com
Twitter: @Haus_a_rest
Contact the curator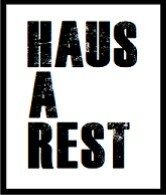 Who is eligible for this opportunity?
All artists, writers, bloggers... If you have an opinion then tell us!
When is the deadline?
16th November 2020
How many works can I submit?
3 maximum
How much does it cost?
Nothing
Are there payments to artists?
No
Is there a private view / opening?
No
What publicity will be provided as part of the opportunity?
Online zine, blog and facebook / multiple platform exposure.
You must have an account to send a message to the curator of this opportunity. Registering only takes a few moments. Once registered you'll be able to keep track of all of your submissions and get updates on upcoming opportunities.
Already have an account? You must log in to send this curator a message.
Subscribe to our newsletter
Get the latest CuratorSpace news, updates about new opportunities, upcoming deadlines, and art-related promotions.
Advertisement