Open Call Commissions for new work at The Bowes Museum
Deadline: 29/03/2018 | Published: 06/03/2018 | Venue: The Bowes Centre at The Bowes Museum | City: Barnard Castle | Region: Durham | Country: United Kingdom | Matthew Read
Paid opportunity
Report this?
The Bowes Centre for art, craft and design, in collaboration with Durham Creatives invites proposals for the development of site responsive work through experimental and developmental practice . Up to 10 commissions are available, each worth up to £2,250. Creative work on commissions will begin in April 2018. The programme will conclude with an exhibition of ideas, held at The Bowes Museum, winter 2018/19.
The Commission
Applications are invited from artists, designers and makers to respond to, reflect, or interpret the historic collections of the Bowes Museum, its buildings and immediate environment.
For inspiration, many of the museum's collections and archive material are now available at  http://bowes.adlibhosting.com/search/simple.
Your proposal should communicate an intent to develop ideas through investigative developmental and experimental practice. 
Successful applicants will have until October 2018 to deliver their projects.  They will submit a final body of work that represents the development of their ideas.  This may include sketchbooks, maquettes, experimental practical work, reflective journals, artist's statements and video etc. All suitable mediums will be considered.*  The body of physical work should fit into a showcase void approximately 1200 x 600 x 600 mm.  There may be opportunities to negotiate the installation of other types of work such as sound based work, projections and larger objects etc.
We are particularly interested in hearing from those working or studying in the North.
A display of the work generated by this call will form an exhibition of ideas at The Bowes Museum; winter 2018.
*When applying, keep in mind the practicalities and health and safety implications of displaying your work in an historic museum environment.  Applications that propose working with material that may endanger the museum and its collections, members of the public or staff or damage the reputation of the museum will be rejected.
Programme Support
Commissioned artists will participate in a two-day residency and professional and project developmental workshops delivered by Durham Creatives. The residency will take place on Tuesday 8th and Wednesday 9th May 2018.  During the residency, participants will investigate the Museum's collection, discuss and develop their ideas and meet the team.
As your project progresses, to support applicants and explore how they might contribute to the success of the exhibition, Durham Creatives will provide further professional development workshops on Thursday September 13th and Monday October 15th 2018.  This will be an opportunity to consider how you might create new audiences and commercial opportunities for your practice.
Successful applicants will be expected to attend both the residency and the professional development days.
The exhibition of ideas is expected to run from November 2018 until January 2019. Work will be delivered by artists for installation during week beginning Monday 29th October 2018. A private view will be hosted on Thursday 8th November and work will be deinstalled at the end of January 2019. Successful applicants will be expected to attend the private view.
Expectations
As a successful applicant, you will be expected to:
·       Fully document and communicate your work to the Director of The Bowes Centre for record-keeping, evidence of activity and wider dissemination.
·       Spend the equivalent of one day working with the Director of The Centre in developing public facing activity.  This is likely to consist of exhibiting developmental work as described above.  Talking to members of the public and non-specialist groups about your work.  Participating in the making of digital content relating to narrative, materials, philosophies etc.  This is likely to be in formats such as video, written and photographic output for wider dissemination.
·       Spend the equivalent of one day working with the Director of The Bowes Centre and other employees in developing educational content derived from your work.
       Develop Digital content that will contribute to The Bowes Centre port-folio of makers.  This output may be used mutually in terms of artists, makers and designers developing their own digital presence and port-folios.
·       Participate actively and willingly in all promotional activity relating to this call.
Making an application
Applications are open until 5pm, Thursday 29th March 2018.  An advisory panel working with the Director of The Bowes Centre and Durham Creatives will select up to winning 10 applicants who will be invited to join the programme. Notification of the final decision will be made on Curatorspace by 6th April 2018. Successful applicants will be asked to sign terms of acceptance.
Payment
Grant payment will be made by bank transfer in two stages.  50% following receipt of a signed letter of acceptance, and 50% following delivery of the body of work to The Bowes Museum.
The Bowes Centre
The Bowes Centre is a new initiative based at The Bowes Museum, building on the Museum's long and respected association with commissioning and displaying contemporary art and craft.
The Centre provides physical and digital environments that engender creative activity in Art, Craft and Design for wider individual, societal and educational benefit. It is particularly interested in supporting new, emerging and developing talent and will deliver in-house and outreach educational programmes that aspire to engage with diverse local, regional, national and international groups and communities.
Durham Creatives
Durham Creatives is a professional development project which supports artists and creative practitioners who want to make money from their talents and to start or grow businesses. Over the last five years the project has supported over 500 creative practitioners to commercialise their work.
The Bowes Museum
The Bowes Museum is one of the most prestigious venues in the north of England. Opened to the public in 1892, the French château inspired build is hosting amazing collections that its founders John and Joséphine Bowes have lovingly acquired in their travels around Europe in the 19th century. The Bowes Museum displays world-class collections of European fine and decorative art, textiles, ceramics, silver and metals, archaeology and toys that can be found today in the galleries. Highlights include works by renowned artists such as Canaletto, Goya, El Greco, van Dyck and Turner, and the Museum's iconic Silver Swan automaton. To complement these collections, The Bowes Museum offers an ambitious and lively exhibition programme featuring a number of distinct features appealing to a wide range of audiences such as contemporary art and design often bringing objects of national and international significance to the North of England.
For more details visit: www.thebowesmuseum.org.uk
Additional Information
Applicants whether successful or not agree by implication of their submission to respect the brand, reputation and property of The Bowes Museum and The Bowes Centre.  This will involve regular communication via the Director of The Bowes Centre (and staff) and adhering to museum protocols particularly in relation to outward facing activity.
The Bowes Centre reserves the right to reject any or all submissions, and to extend or cancel the call at its discretion.
All correspondence must take place via the Curatorspace portal unless specifically stated otherwise.
Ensure the credit line you wish to be used in association with your work is stated clearly in your application.
COPYRIGHT AND INTELLECTUAL PROPERTY
The applicant, whether successful or not agrees that The Bowes Centre, The Bowes Museum and Durham Creatives may feature any part of their submitted proposal and any subsequent work associated with this call and commission in marketing, educational and promotional material and any other activity The Bowes Centre or The Bowes Museum sees fit without notice or credit.
All work will remain the physical and intellectual property of the applicant. 
The Bowes Centre may announce the winner through its social media output, blog and/or website.  The Bowes Centre may promote the process of open call and associated activity through its social media output, blog and/or website.
For successful applicants, all work must be delivered to and removed from the site within an agreed timeframe at their own cost.  Any uncollected work will be disposed of without compensation.
Neither The Bowes Museum nor The Bowes Centre takes any responsibility for the safe keeping, safe handling or storage of work.  If the artist wishes to insure their work they must do so through an independent third party.
Successful applicants must make all related and relevant work freely available for the exhibition of ideas.
Due to public liability and professional indemnity, artists will not be allow to participate in the display installation or deinstallation of their work beyond its delivery and collection. 
DEADLINE
Applications to be submitted by 5pm, Thursday 29th March 2018
Applications will be automatically acknowledged on receipt by Curatorspace.
Successful applicants will be notified by 5pm, Friday 6th April 2018.
Contact the curator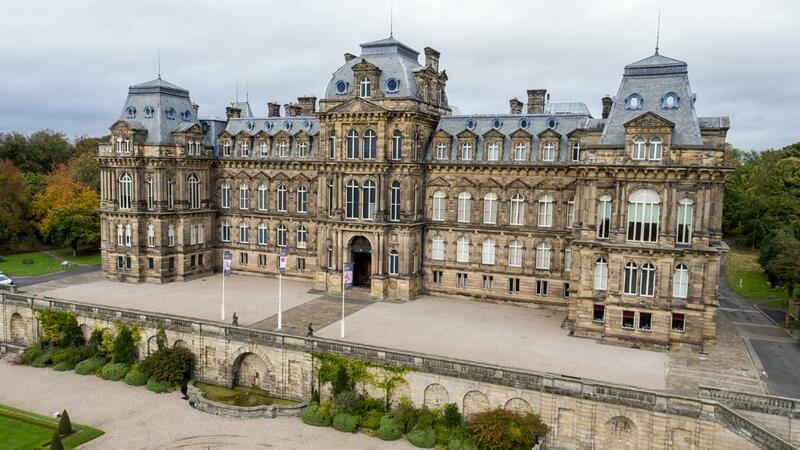 Who is eligible for this opportunity?
artists, designers, makers
When is the deadline?
5pm, Thursday 29th March 2018
How many works can I submit?
up to three proposals per applicant
When is the delivery date?
29th October 2018
When do I need to collect my work?
January 2019 (TBA)
Are there payments to artists?
Yes. Each commission is worth up to £2,250
Is there a private view / opening?
Yes, Thursday 8th November 2018
What publicity will be provided as part of the opportunity?
Web and social media promotion. exhibition catalogue .
Do I need to be present?
Yes, for certain events.
How do you decide on proposals?
Advisory panel reporting to the Director of The Bowes Centre
You must have an account to send a message to the curator of this opportunity. Registering only takes a few moments. Once registered you'll be able to keep track of all of your submissions and get updates on upcoming opportunities.
Already have an account? You must log in to send this curator a message.
Subscribe to our newsletter
Get the latest CuratorSpace news, updates about new opportunities, upcoming deadlines, and art-related promotions.
Advertisement