OPEN CALL for Sound/Interactive Artists for IN-SONORA 12
Deadline: 08/04/2021 | Published: 08/03/2021 | City: Madrid | Country: Spain | Maite Camacho
Report this?
IN-SONORA is opening a new call for sound and interactive projects, in the format of an installation, event, sound piece, audiovisual, workshop, conference and TikTok residency.
IN-SONORA is an association that supports and gives visibility to artistic and experimental proposals related to interaction and/or sound, from the broad and multidisciplinary point of view. Since 2005, IN-SONORA has coordinated activities, as well as an international and biennial showing in the city of Madrid.

This call is open to installations and sound/interactive objects, experimental events, sound pieces, video, virtual residencies, debates and presentations, workshops.
Contact the curator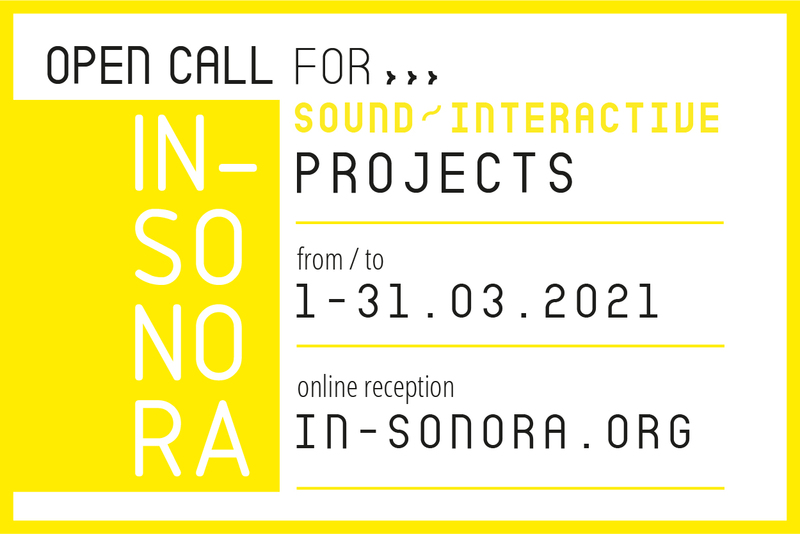 Who is eligible for this opportunity?
Any person of age and of any nationality
When is the deadline?
Application deadline is 8th April 2021
How many works can I submit?
As many as you want (each work must have its own application)
When is the delivery date?
March 2022 (dates TBD)
You must have an account to send a message to the curator of this opportunity. Registering only takes a few moments. Once registered you'll be able to keep track of all of your submissions and get updates on upcoming opportunities.
Already have an account? You must log in to send this curator a message.
Subscribe to our newsletter
Get the latest CuratorSpace news, updates about new opportunities, upcoming deadlines, and art-related promotions.
Advertisement