Open Call for Submissions for the Collective Marvelous Artists Book Series No: 2
Deadline: 21/03/2021 | Published: 01/03/2021 | Country: Turkey | Marvelous Art Gallery
Report this?
Open Call for Submissions for the Collective Artist Book Series.
Marvelous Art Gallery is proudly presenting a selection of their work. They are widely recognized for a unique artistic process and have traveled all over the world to create original, innovative fine art. Owing to unforgettable cultural encounters, great teachers and personal ambition, these talented artists seek to spread artistry on an international scale. 

We have an Art Gallery, Art Magazine and Art Book. We are now accepting art submissions for our Collective Art Book Series No:2 of our Book "Marvelous Artists". We have free entry but only participation artists will pay a small participation fee. We are giving 4 pages to each artist. This book will be open for Worldwide Shipping through Amazon. You can see our Marvelous Artist's Book Collective Art Book Series No.1 from here: https://www.amazon.com/dp/B08XGSTL41 

Artists are welcome to submit works in any medium: painting, drawing, writing, sculpture, ceramics, printmaking, photography, textile, installation, mixed media, digital art. 

Visual Art Guidelines: We will accept art in JPEG, PNG or TIFF formats. Artwork must be 300 dpi colorful or black and white. All artwork must be at least 8.5'' x 11''.

Written Guidelines: We accept submissions in DOC, DOCX, and RTF formats. For poetry, up to four poems, one per page. 

Submissions are free. But if our Jury selects your works, then we have a small participation price to publish your work, which is 30€.
Contact the curator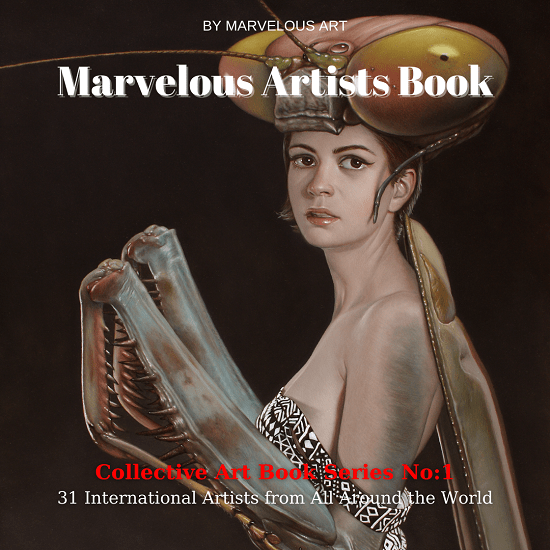 You must have an account to send a message to the curator of this opportunity. Registering only takes a few moments. Once registered you'll be able to keep track of all of your submissions and get updates on upcoming opportunities.
Already have an account? You must log in to send this curator a message.
Subscribe to our newsletter
Get the latest CuratorSpace news, updates about new opportunities, upcoming deadlines, and art-related promotions.
Advertisement