Ilkley Arts Open Exhibition 2023
Deadline: 07/05/2023 | Venue: Ilkley Manor House | City: Ilkley | Region: West Yorkshire | Country: United Kingdom | Ilkley Arts
Report this?
Submissions are invited by Ilkley Arts, an artist-led charitable organisation, for its first Open Exhibition: 'Take Time'. The exhibition of works selected by our invited panel will be held at the historic Grade 1 listed Ilkley Manor House in Autumn 2023. Submissions are particularly welcome from new and emerging artists and artists whose work has not previously been shown in Ilkley. No fee is payable for submission.
[IN/ON/OVER/OUT OF] TIME . . . 
Submissions are invited in response to these words and all that they may conjure. Interpretations may be as elastic as time itself, drawing on the poetic, reflective, musical, scientific, linguistic, historic, political and purely personal.

Submissions will be considered in any of the following media: painting, drawing, sculpture, photography, printmaking, artists' books, text and poetry, textile art, mobiles, live performance, assemblages, collage and work made from found materials or objects. 

The exhibition will be curated to reflect the often overlooked element in the making of art: the time invested by the maker; and it will provide a space in which visitors might be allowed time to pause and reflect on their viewing.

Our selection panel includes: Clare Alton-Fletcher (Chief Executive at West Yorkshire Print Workshop), Jane Kay (Creative Director at The Gallery at Sunny Bank Mills), Martyn Lucas (Artist and Curator at Turnpike Gallery) and Joanne Tinker (Artist and Gallerist at Tinker Gallery).

Submission for this exhibiton is FREE. If your work is selected, there is a participation fee of £25. The submission process is organised in this way so that it is accessible and affordable for all artists to apply, without the risk of wasting money in the event their submission is unsuccessful. You can make up to three submissions.

HOW TO SUBMIT:
Key dates and the procedure for submission are set out in detail below:

Key Dates: 
Submission deadline: 7th May 2023
Selected Artists notified: 23rd June 2023
Payment of Participation Fee by Selected Artists: 30th June 2023
Delivery of selected works (ready to exhibit): 5th - 9th and 12th Sept 11am-4pm
Exhibition Opening and launch party: Sat 16th Sept 
Exhibition open to the public (weekends): Sat 16th Sept – Sun 15th Oct 
Collection/return of unsold works: 16th - 17th & 19th - 21st Oct 11am-4pm


TERMS OF SUBMISSION

1. General
1.1 Submission implies acceptance of these terms and conditions as final and binding. 
1.2 Submission must be made via online submission only via Curatorspace. Submissions in other forms will not be counted.  
1.3 Ilkley Arts cannot respond to individual questions regarding submissions. 
1.4 Any decision by Ilkley Arts in respect of all matters concerning this Open Call will be final.

2. Submission Process
2.1 Submissions must be received by midnight on the closing date (7th May 2023). Any submissions received after this will not be counted
2.2 Artists may submit up to three pieces of work
2.3 Any work which comprises more than one part must be clearly identified as one work on the Submission Form
2.4 No fee is payable for submission
2.5 Selected Artists will be required to pay a non-refundable Participation Fee of £25 within seven days of notification of selection. 
2.6 No responsibility is accepted for entries which are lost, corrupted, incomplete or for any failure to capture entry information. 

3. Eligible entries 
3.1 Submissions are open to artists working in painting, drawing, sculpture, photography, printmaking, artists books, text and poetry, textile art, mobiles, live performance, assemblages, collage and work made from found materials or objects 
3.2 Submissions should be representative of the artist's current practice; it is recommended that any works submitted should have been made within the last three years
3.3 Reproductions of original works (including but not limited to giclee prints) cannot be submitted
3.4 Submissions will be accepted from the UK only. Artists are required to have a UK bank account in order for any money from the sale of work to be transferred to them
3.5 Submitting artists must be 18 or over

4. Restrictions
4.1 The following are inadmissible and will not be put forward for consideration by the Selection Panel:
4.1.1 any work which exceeds 244cm on its longest dimension or which exceeds 50kg in weight when packed
4.1.2 any work which contains noxious or toxic substances or substances with flammability below 50°C
4.1.3 any work requiring use of a power supply (including but not limited to film work, sound work, headsets and light boxes)
4.1.4 any interactive work that requires physical handling
4.1.5 any work which might pose a risk to the public or to artwork handlers or to Ilkley Arts
4.2 The Western Gallery at The Manor House is located on the first floor of the building and the gallery is currently inaccessible for  anyone unable to negotiate stairs
4.3 Ilkley Arts reserves the right to rule any Submission as inadmissible before proceeding to the Selection Panel

5. Photography of work 
5.1 Artists must include at least one photograph of the complete artwork including border and / or frame in their Submission and may include up to four photographs
5.2 Artwork must be photographed straight on with no obstructions or covering 
5.3 For 3D work it is recommended that photographs of the work be taken from more than one angle
5.4 High resolution images are recommended as low-quality images may hinder chances of success 
5.5 File names must include the name of the Artist and the title of the work

6. Delivery and Collection of Work
6.1 Selected Artists will be responsible for the delivery and collection of the works on time to and from the exhibition venue (see Key Dates above). Further details of delivery and collection arrangements will be given on notification of selection.

7. Sale of work 
7.1 If artworks are offered for sale any work which is sold will be subject to a charge of 25% commission payable to Ilkley Arts which will be deducted from the price paid by the buyer
7.2 The price included on the submission form is the total price payable by the purchaser and includes the commission and taxes for those artists who are VAT registered
7.3 If work is not intended for sale, it should be marked NFS on the submission form

8. Intellectual Property
8.1 By submitting work, the artist confirms that they hold all intellectual rights to the work. 
8.2 The copyright for submitted artworks remains with the Artist at all times. 
8.3 By submitting work, the Artist consents to their work being shared by Ilkley Arts and Ilkley Manor House Trust on their respective social media platforms and for other promotional purposes. Full credit and links to artists profiles will be given where possible
8.4 By submitting work, the Artist consents to Ilkley Arts and Ilkley Manor House Trust publishing their artwork on their respective websites for publicity around the exhibition

9. Suspension and Amendment 
9.1 Ilkley Arts reserves the right to suspend, cancel or modify the Open Exhibition at any time and for any reason
9.2 Ilkley Arts reserves the right to amend any of the Key Dates at any time. 
Contact the curator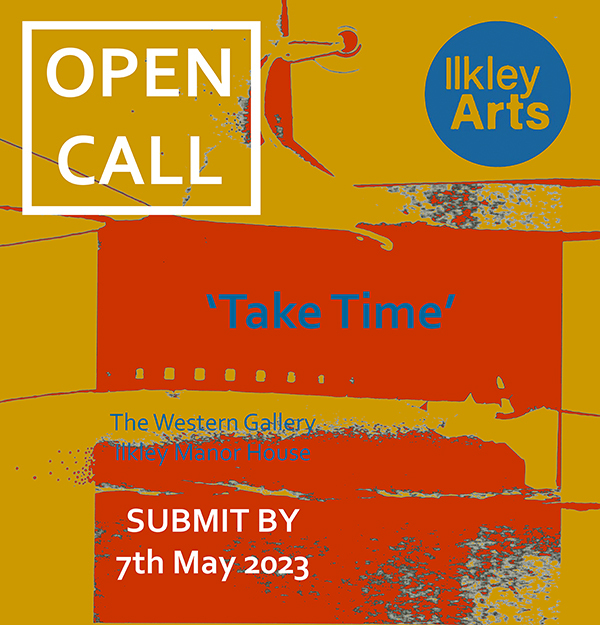 Who is eligible for this opportunity?
All artists over the age of 18 years and based in the UK
When is the deadline?
Submission deadline is midnight on 7th May 2023
How many works can I submit?
Up to three works can be submitted
When is the delivery date?
Delivery dates will be from 5th to 9th and on 12th September 2023 between the hours of 11am and 4pm
When do I need to collect my work?
Collection of unsold work will be on 16th and 17th October and from 19th to 21st October 2023 between the hours of 11am and 4pm
How much does it cost?
There is no submission fee. A participation fee of £25 will be payable by each of the artists whose work is selected for the exhibition
Is there a private view / opening?
There will be an opening event on 16th September with an opportunity for networking between exhibiting artists and invited guests
What are the exhibition opening hours?
Opening hours at the exhibition venue are 11am to 4pm (weekends only)
Does the location have disabled access?
Unfortunately, the Western Gallery at The Manor House where the exhibition will be staged is currently accessible only via a staircase, so can only be accessed by those able to negotiate the stairs
What publicity will be provided as part of the opportunity?
Publicity will be mainly via the social media platforms and websites of Ilkley Arts and Ilkley Manor House, with exhibitors asked to share publicity via their own networks as well. A press release will be drawn up for local media. Local gallerists will be invited to the exhibition.
Do I need to be present?
Exhibitors are not required to attend, though their attendance where possible is encouraged as it draws more visitors and also provides valuable networking opportunities
What happens if my proposal is chosen?
Artists whose work is selected for exhibition will be notified of their success and next steps via the Curatorspace platform on 23rd June 2023
What kind of proposals are you looking for?
Varied and imaginative responses to the theme, which is set only as a loose starting point and to assist in curating a cohesive exhibition
What are the selection criteria?
The selection panel will be looking for work which is considered, well executed and well presented
You must have an account to send a message to the curator of this opportunity. Registering only takes a few moments. Once registered you'll be able to keep track of all of your submissions and get updates on upcoming opportunities.
Already have an account? You must log in to send this curator a message.
Subscribe to our newsletter
Get the latest CuratorSpace news, updates about new opportunities, upcoming deadlines, and art-related promotions.
Advertisement