Queer Death Society. A mixed media and genre zine.
Deadline: 12/12/2021 | Published: 03/10/2021 | Queer Death Society (QDS)
Report this?
We're a zine dedicated to queering assumptions about death, dying & mourning. We care about queer bonds & unsettling norms. We do art, essays, poems, photos, interviews, experiments, obituaries, ideas & trash. Give us what you've got for our second edition.
Not sure where to start? Think of 'queering' as tool to ask difficult and trangressive questions and to centre queer lives, communities and contexts.

Your contribution might be asking questions about, for example, whose lives are treated as valuable (think black lives matter) or how living matter actually decomposes? It might be challenging ideas about the 'right' time to die or the 'right' way to grieve a death of someone or something. It might be commemorating the loss of loved ones and asking what death means for inter-species relationships and ecological systems. It might be tackling sexism and racism in the provision of palliative care or in funeral services. It might be sharing different ideas about an after or eternal life. It might be all these things and more.

Check out of the first edition of QDS for inspiration.
We want to know what matters to you.
We want to be surprised and moved.

Please use the submission form to send us what you've got as either an image, word doc or pdf.

We'd love to know a bit more about your contribution and you, so please provide this information.

We're DiY, non-profit & volunteer but we offer £30 for 4 contributions by black artists and other artists of colour and minoritised ethnicities.
Not sure it's a fit? Contact us & ask.

Find & follow us at instagram.com/queerdeathsociety
Contact the curator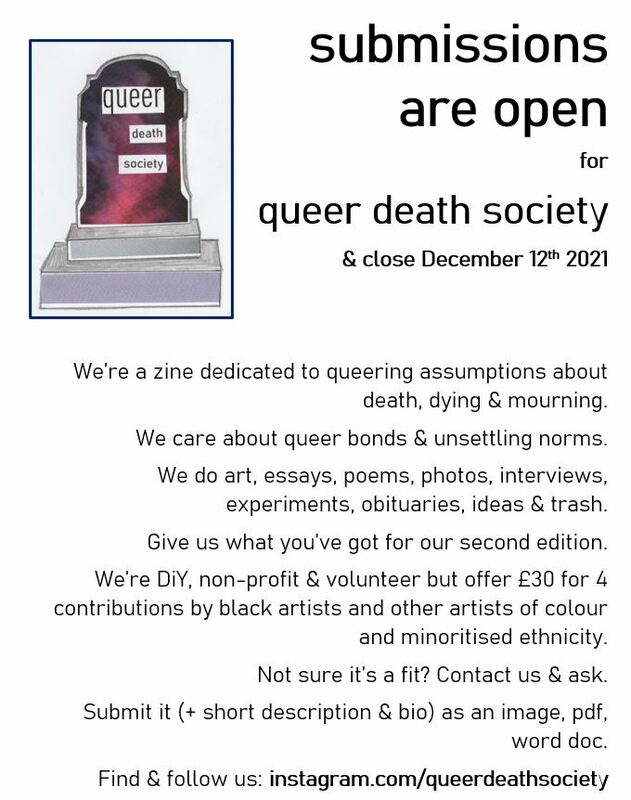 Who is eligible for this opportunity?
Anyone anywhere. We hope that 'queer' - as an attitude, practice and/or identity - resonates with you or your art collective/group.
When is the deadline?
December 12th 2021
How many works can I submit?
5
When is the delivery date?
2022
Are there payments to artists?
Queer Death Society offers £30 for 4 contributions by black artists and other artists of colour and minoritised ethnicities.
What publicity will be provided as part of the opportunity?
Promotion on Instagram and also via relevant networks.
You must have an account to send a message to the curator of this opportunity. Registering only takes a few moments. Once registered you'll be able to keep track of all of your submissions and get updates on upcoming opportunities.
Already have an account? You must log in to send this curator a message.
Subscribe to our newsletter
Get the latest CuratorSpace news, updates about new opportunities, upcoming deadlines, and art-related promotions.
Advertisement