The Future Project Open Call
Deadline: 05/08/2016 | Published: 01/07/2016 | City: Redruth | Region: Cornwall and Isles of Scilly | Country: United Kingdom | Cat Bagg
Report this?
Inland Art Festival is seeking applications from artists based in the South West for a key strand in our 2016 programme. We are searching for up to 20 artists producing contemporary art across a variety of medias. This strand of the festival will celebrate and expose the variety of arts practice in the South West.
As well as the opportunity to be part of a fully marketed programme showcasing significant and emerging artists, there will be a Peoples' Choice award selected by the festival audience from a shortlist created by the opencall panel. The recipient of the Peoples' Choice will receive a residency and exhibition at Back Lane West in 2017, funded by Inland Art Festival. All selected artists will be paid an exhibiting fee of £50 in line with the Paying Artists campaign recommendations. In addition to this, the festival will insure the works whilst on display and pay for postage/courier/transportation to and from Redruth - please see our FAQs for the terms and conditions of this.
FESTIVAL CONCEPT
The Future Project is just that... an exploration of the future! This could be real or imagined, focussed on Redruth or exploring wider scenarios from architecture and environment to family and education; it could even introduce weird and wonderful utopias and alternative worlds.
We are looking for work in any medium which imagines the possible or impossible, introduces new ideas and values, to help us create a myriad of future visions during the festival. 
ABOUT THE FESTIVAL
Inland will animate the town of Redruth for three days in October, bringing diverse communities together. We have an ambitious free programme which showcases internationally acclaimed and emerging regional art. Delivering screenings, performances, interactive installations in unexpected locations and events from family workshops to talks for practitioners.
FESTIVAL VENUES
Inland Art Festival makes use of empty buildings, community hubs and established art spaces in the centre of Redruth. This makes for an intriguing festival experience but means that some venues will not be confirmed until October, therefore the festival team cannot confirm where selected works will be hung before the festival. Where there are particular requirements for how a work is shown, artists should make these clear at the application stage and the Inland team will work with selected artists to make sure works are shown in a context the artist is happy with.
THE SELECTION PANEL
2016's selection panel is made up of practicing artists and curators who are critically engaged in the development of contemporary art in the South West and beyond. The Panel represents regional and national institutions as well as independent artists and self organised agencies.
Sara Matson is exhibitions and displays curator at Tate St Ives.
Blair Todd is Deputy Director and Exhibitions Curator of NPO Newlyn Art Gallery & The Exchange.
Naomi Frears is an artist based in St Ives.
Cat Bagg and Rosie Thomson-Glover are directors of Field Notes, a projects organisation based in Cornwall.
Jane Lowry and Patrick Lowry are directors of Back Lane West residency and project space in Redruth. 
Alice Mahoney is an artist and active member of CMR artist organisation, Redruth.
THE SUBMISSION PROCESS
Please read our FAQs and fill out a submission form, attaching up to three examples of your work. Once all submissions are received the selection panel will meet to select work for the final show.
KEY DATES
Submissions will be accepted between 1st July - 5th August 2016

Artists' notification: 5th September 2016

Delivery of work: 10th October 2016

Festival Dates:  21st - 23rd October 2016

Collection of works: 24th - 28th October 2016
Contact the curator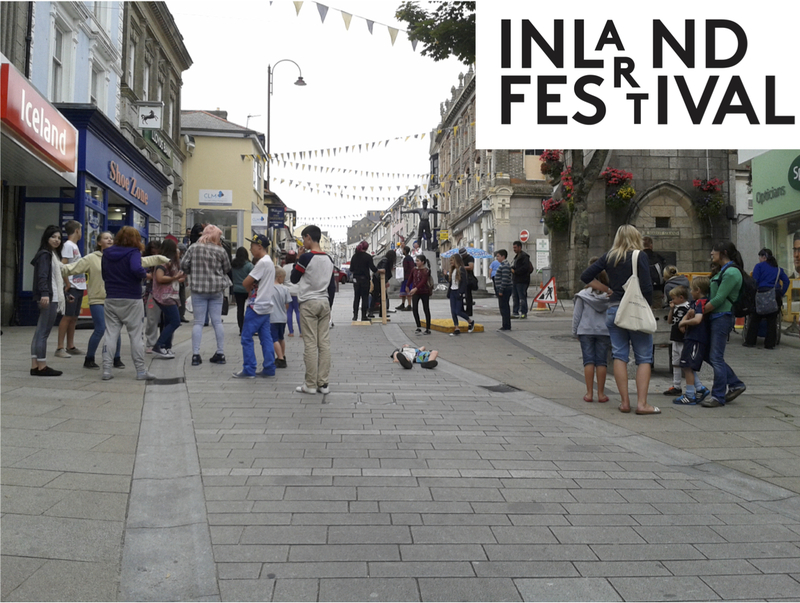 Who is eligible for this opportunity?
Artists based in or with strong links to the South West of England
When is the deadline?
05/08/16
How many works can I submit?
Up to 3

If you want to submit works in different media you will need to make a separate application for each one (maximum 3 applications).
When is the delivery date?
10/10/16

Artists are responsible for the safe packing and transportation of their works to and from the festival. The festival will endeavour to pay for all postage/courier fees involved in the transportation of work but have a limited budget for this purpose and reserve the right to refuse works which we can not cover the costs for at any stage in the proceedings.
When do I need to collect my work?
24/10/16 - 28/10/16

No work can be stored by Inland after October 28th.
How much does it cost?
There is no submission fee
Are there payments to artists?
There is £50 for all selected artists
What publicity will be provided as part of the opportunity?
Inland Art Festival welcomes 4,000 visitors to Redruth and has a media reach of over 100,000.

By submitting work to this exhibition, the artist grants permission for images of their work to be used in the promotion and documentation of the festival, online and in print. Only images by provided by artists selected for the festival will be used. No images of artist work will be sold to external parties, and the copyright remains with the artist.
How do you decide which artists are selected?
The panel will meet to discuss each application and its relevance to the festival theme, before collectively deciding on successful applications.
Are there any restrictions on the type of work that can be shown?
There are no size or media restrictions for submissions, however it is the artist's responsibility to provide adequate install fixings and instructions for the installation and care of their work. For 2D pieces framing is preferred. For framed work, mirror plates are preferred. Clip frames are not acceptable - unless integral to a piece.
Do artists need to install their own work?
The festival team expects to install and de-install works selected for the open call. There is no budget available to pay individual artists to install works, however if you would like to be on site to install this can be arranged.
You must have an account to send a message to the curator of this opportunity. Registering only takes a few moments. Once registered you'll be able to keep track of all of your submissions and get updates on upcoming opportunities.
Already have an account? You must log in to send this curator a message.
Subscribe to our newsletter
Get the latest CuratorSpace news, updates about new opportunities, upcoming deadlines, and art-related promotions.
Advertisement