The Silence of Growing Things
Deadline: 11/10/2023 | City: Bangalore | Country: India | Artcore Gallery
Paid opportunity
Report this?
An opportunity for artists and creative practitioners in the UK! A 10 day international residency opportunity from 4 - 13 January, 2024, in Bangalore, India. Artcore Gallery and 1 Shanti Road are pleased to announce their latest international residency opportunity for 2 artists looking to build international relations and learn from cross-cultural experiences.
This residency will be held in Bangalore, officially referred to as Bengaluru, and frequently dubbed the "City of Gardens." Bangalore was originally developed as a Cantonment Town by the British due to its pleasant climate, elevated location and proximity to the influential kingdoms of Mysore and Hyderabad on either side.

Over time, it came under Mysore's administration. Since gaining independence in 1947, Bangalore has served as the capital of the Karnataka State in South India. It has steadily risen in prominence, particularly as the IT capital of India and a hub for exceptional academic institutions. The city boasts an international airport and an excellent connectivity within India and globally.

As a colonial outpost, Bangalore has a very interesting history in terms of the development of its structured and well laid-out gardens. The chief designer was Mr. Krumbiegel, a German who had moved to England when he was just out of his teens and an intern at the Kew Gardens in the 1890s. When the Maharaja of Baroda visited Kew Gardens during a visit to England, he requested the Kew Garden management to suggest a promising and qualified horticulturist whom he would employ in Baroda. The young Krumbiegel was recommended and he came to Baroda soon after.

The Maharaja of Baroda had a smaller summer palace at Ooty, a lovely hill station in the Nilgiri Hills in southern India. His close friend, the Maharaja of Mysore had his summer retreat nearby. Krumbiegel had created innovative gardens at the Baroda Maharaja's Ooty palace as the weather was extremely conducive to European floral varieties. The Maharaja of Mysore was very impressed and asked his friend to 'lend the gardener' to him. So Krumbiegel went to Mysore and then to Bangalore where he found the climate and soil such that he could experiment with a free hand. He continued to stay in Bangalore and passed away in India in 1950.

Suresh Jayaram, art historian, writer, and director of 1 Shanti Road Residency, has a close association with the two vast gardens that Krumbiegel and his associates helped grow and develop — Cubbon Park and Lalbagh. His research in this area has been in-depth and conducted over many decades. It has resulted in a comprehensive book, Bangalore's Lalbagh, A Chronicle of the Garden and the City. He will be the local guiding resource for the residency artists. He lives at 1 Shanti Road where resident artists will also stay and work during the course of the residency.

To know more about 1 Shanti Road, please follow this link: http://1shanthiroad.com/about-2/ 

What is Artcore looking for in the artists applying for this residency?
The residency, titled "The Silence of Growing Things," is open to artists who have a particular interest in subjects related to Post-colonial themes, Botanical History, and the Landscape as conceptual concepts.

The Lalbagh and Cubbon Park botanical gardens are conveniently located within walking distance of 1 Shanti Road. This provides artists with the opportunity to visit these gardens for sketching, capturing reference photographs, engaging with local residents, understanding their perspectives and connection to the gardens, and observing the environmental challenges that the city faces. Additionally, Bangalore boasts a thriving contemporary art community, offering numerous opportunities for artists to connect with fellow creators. Notably, 1 Shanti Road is a lively hub frequently visited by artists throughout the day.

All participating artists are expected to bring their own art supplies, paper, and sketchbooks tailored to their specific needs.

We are offering each artist
A chance to experience South Indian art and culture

Airfare

A studio space and accomodation for the duration of the residency

A cash bursary of GBP 500 towards the visa application, internal travel and food expenses in Bangalore 
Artists will complete the residency in Bangalore and then travel back to the UK  where they will work in their own studios to prepare for their exhibition at Artcore Gallery, Derby. At Derby, they will be offered 
An opportunity to exhibit at Artcore Gallery around April 2024.  Each artist will receive an adddtional bursary of GBP 500  towards the exhibition.

Your very own artist blog

A chance to deliver talks at the gallery 

A catalogue of the works you create for the exhibition

An option to deliver workshops or participatory projects 

Publicity and marketing support
Residency Timetable
Application Deadline: 11 October 
Announcement of Selected Artists: 18 October  
Residency Dates: 4 - 13 January 2024
Exhibition Dates: April 2024 (TBC) in Artcore Gallery, Derby, UK


Contact the curator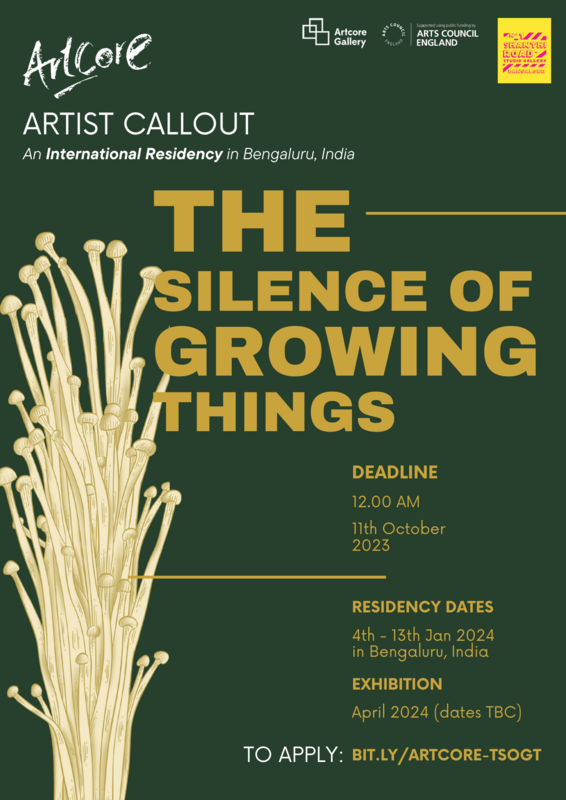 Who is eligible for this opportunity?
This opportunity is eligible for artists living in Derby, Derbyshire, and UK.
When is the deadline?
The deadline for submission is midnight on Wednesday, 11 October 2023.
Are there payments to artists?
Each artist is awarded a cash bursary of GBP 500.
What happens if my proposal is chosen?
If your proposal is chosen, the next step would involve an interview.
You must have an account to send a message to the curator of this opportunity. Registering only takes a few moments. Once registered you'll be able to keep track of all of your submissions and get updates on upcoming opportunities.
Already have an account? You must log in to send this curator a message.
Subscribe to our newsletter
Get the latest CuratorSpace news, updates about new opportunities, upcoming deadlines, and art-related promotions.
Advertisement