The Station Gallery 2024 - JANUARY CANCELLATION SALE!
Deadline: 20/11/2023 | City: Richmond | Region: North Yorkshire | Country: United Kingdom | The Station
Report this?
Limited discounted opportunities to exhibit at The Station in 2024. The Station is a vibrant creative space; a cinema, a café, a gallery, and a place to shop, in Richmond, North Yorkshire, gateway to the Yorkshire Dales.
The Station is a community hub where people can get together and create memories; a place where film, food and art are enjoyed in the unique setting of Richmond's lovingly re-imagined station buildings.  A place to catch up over coffee; see an exhibition; watch a film; try new things; shop for local produce and gifts; or share a meal with family and friends.

We have now have some January 2024 availability to exhibit at The Station Gallery - the rest of the year remains fully booked so this could be your only chance to exhibit with us until 2025!

The Mezzanine and the Platform galleries are now available 18th - 31st January 2024.  To reflect the short notice, we are offering these dates at 25% discount on the regular hire fee (10% commission on all sales still applies, and the discount does not apply to additional services).  Mezzanine Gallery hire for this period will be £360 (reduced from £480), and Platform Gallery hire will be £280 (reduced from £375).  Available to new booking only - existing bookings cannot be transferred to these dates.  

• The Mezzanine Gallery – our light-filled first-floor exhibition space has the benefit of being visible from the ground floor and sharing in the atmosphere of the centre of the building, whilst also having its own sense of stillness. Original stone walls alongside light, plastered walls and proximity to the Victorian ironwork ceiling make for a stunning visual impact on the mezzanine level.
• The Platform Gallery – with the distinctive stone floor of the original station platform, The Platform Gallery is the hub of The Station which provides an inviting welcome for visitors to our unique venue. The wall space consists of original stone walls and some smooth plastered areas.
Each gallery space can also benefit from a maximum of 2 display cabinets and 2 print browsers, alongside the plentiful hanging space.

10% commission charged on all sales.

In the first instance, please complete the initial expression of interest form following which we will contact you with availability and to discuss further.  


Contact the curator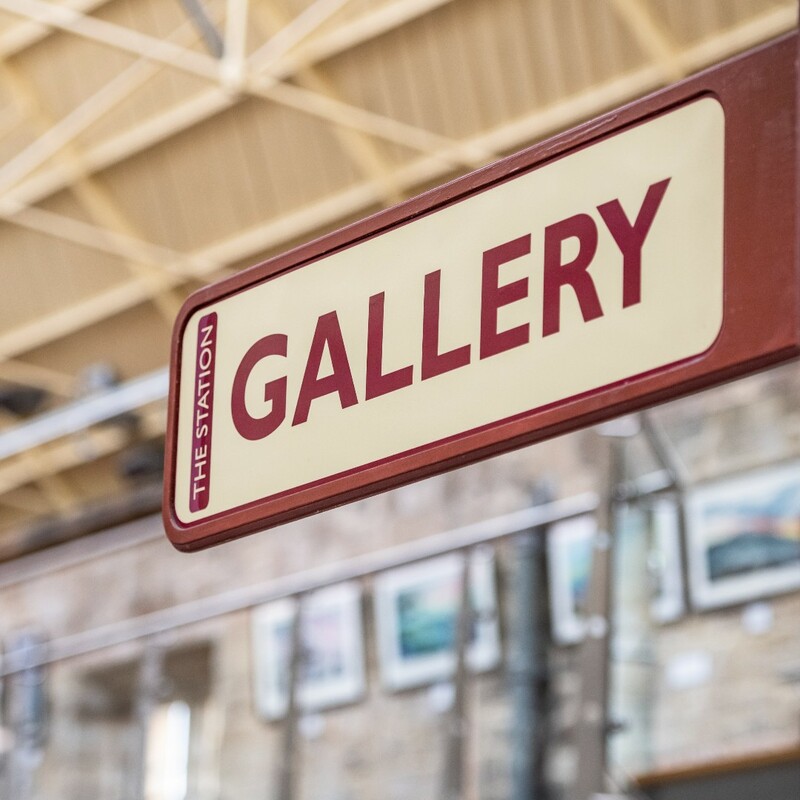 Who is eligible for this opportunity?
All artists of 2D and 3D art that can be hung on walls or displayed in a cabinet.
When is the deadline?
9am on Monday 20th November
Does the location have disabled access?
Yes
What publicity will be provided as part of the opportunity?
Yes
Do I need to be present?
To install and remove your exhibition, not during. Work is to be installed on your start date (a Thursday) between 9am – 3pm. Removal of work is on the final Wednesday of your booking, between 9am – 3pm. Exceeding these time periods may incur a surcharge of £75. No storage is available at The Station.
Collective exhibitions – if you require a large space to collate multiple artists' work you must book an additional room rather than block the walkways in your hired gallery space. Please contact the Gallery Manager in advance of your exhibition if this is the case - additional fees apply.
You must have an account to send a message to the curator of this opportunity. Registering only takes a few moments. Once registered you'll be able to keep track of all of your submissions and get updates on upcoming opportunities.
Already have an account? You must log in to send this curator a message.
Subscribe to our newsletter
Get the latest CuratorSpace news, updates about new opportunities, upcoming deadlines, and art-related promotions.
Advertisement