Wales Artists' Book fFair Llyfr Artistiad Cymru
Deadline: 07/07/2023 | Venue: Hafon yr Avon | City: Newtown, Powys | Region: Montgomeryshire | Country: United Kingdom | Amy Sterly
Report this?
New Artists' Book Fair in Wales! We are starting an annual artists' book event in Newtown for artists to sell their work. We are starting small with only 20 tables, so get your request in early! This inaugural fair will be running over the weekend of September 2/3 and will include some demonstrations and workshops.
Wales and the borders have many wonderful book artists and we want to give them the opportunity to showcase their work as well as artists from further afield.  We also want to encourage more visitors to the area to find out about what book art is and get involved in the creative process and all the possibilities that artists' books can be! This opportunity is supported by the Cultural Freelancers Wales fund.

About the Venue
The Wales Artists' Book Fair Llyfr Artistiad Cymru will be upstairs at Hafon yr Avon in Newtown. Hafon yr Avon is a new community centre located on the bank of the river Severn, next to the Back Lane car park. It is a green and welcoming gateway to Wales and next to the Oriel Davies Gallery, where we will have space to host workshops. The room is spacious and has disability access and is family and dog friendly. There will be places to relax and a balcony overlooking the park.
https://opennewtown.org.uk/hafan-yr-afon/

This year the event will coincide with the Newtown Food Festival which will take place around the town hall grounds next to the venue! So this will ensure a good crowd for the fair.
https://www.newtownfoodfestival.org.uk/home

Criteria
This new Artists' Book Fair will be open to individual artists, groups and small publishers who create high-quality artists' books or zines using printmaking, textile or paper-based techniques. We will not accept mass-produced published works as we want to champion the art of the handmade book. 

Please fill out the online application form with as many details as possible. Any social media links are welcome to view your work.

Successful applicants will sell their work directly to the public with no commission fees. There will be workshops and demonstration opportunities, so please let me know if you would like to take part. Details will follow for the successful applicants.

Stand plan and prices
There will be 20 tables available, all evenly placed around the room. Some will have wall space behind, let me know if you need extra space. The tables are small at 160 x 60 cm so keep this in mind when thinking about the display. Tables are only £20 per pitch.
Publicity
We will be printing leaflets which I will send out to you and distribute locally, as well as banners and posters for the local area. I will make a small map/catalogue about all the exhibitors which be given to visitors when they arrive. 

We will contact local and national papers with the event and advertise in the Artists' Book Newsletter and other arts publications. And of course, we will be inundating the social media strands with the event and sending the successful applicants the links.

Application procedure
Please fill out the application form and please read all the terms and conditions. Successful applicants will be notified shortly after the deadline and they will be instructed to pay by BACS or cheque. An invoice will be sent with the bank details.

4 weeks before the event we will send out any other information you need as to directions, access needs and any other details.

On arrival, you will also receive an info pack with exhibitor badges, local event info and a ticket for free tea/coffee and cake.

Fair dates and times
Saturday and Sunday 2nd and 3rd of September 2023 
Artist arrival 9am - 9:30am to set up
Fair open to the public from 10am to 4pm
Sunday take down 4pm - 5pm
For any other questions contact the curator Amy Sterly via Curatorspace.


Contact the curator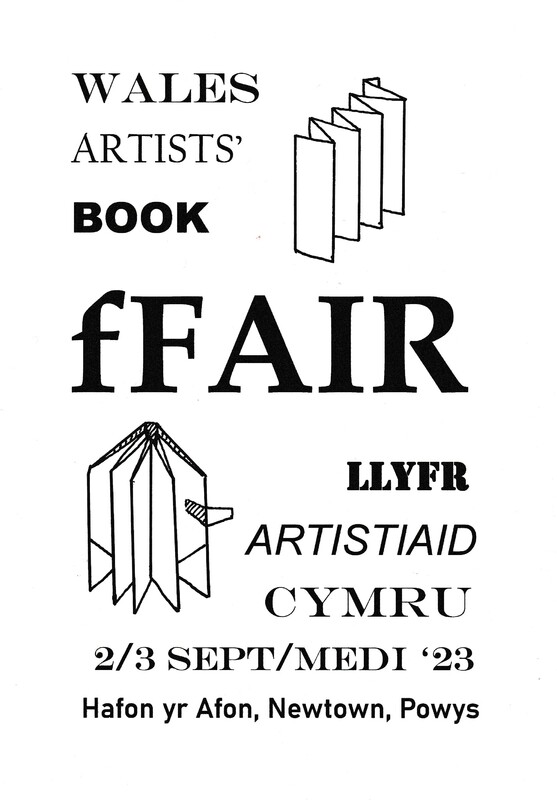 Who is eligible for this opportunity?
Any artist who makes handmade books or zines, in multiples or unique works in any materials.
When is the deadline?
07/07/2023
How many works can I submit?
Please send up to 4 images.
How much does it cost?
£20 a table
What are the exhibition opening hours?
10 to 4 Sat/Sun
Does the location have disabled access?
Yes
What publicity will be provided as part of the opportunity?
Yes
Do I need to be present?
Yes
What happens if my proposal is chosen?
You will have to pay for the table and be present during the full weekend to sell your work.
What are the selection criteria?
Artists from around Wales and the borders will get priority, but also any high quality work from around the UK will be considered.
You must have an account to send a message to the curator of this opportunity. Registering only takes a few moments. Once registered you'll be able to keep track of all of your submissions and get updates on upcoming opportunities.
Already have an account? You must log in to send this curator a message.
Subscribe to our newsletter
Get the latest CuratorSpace news, updates about new opportunities, upcoming deadlines, and art-related promotions.
Advertisement