Young Artists Collective Residency & Development Programme, East Midlands
Deadline: 30/01/2022 | Published: 11/01/2022 | Artcore Gallery
Paid opportunity
Report this?
We have an exciting opportunity for artists to join Artcore's young professional development programme as part of the artist collective, YAC. This opportunity is aimed at East-Midlands-based artists aged 16-25, and supports development through skill-sharing, artist talks, collaborative making and mentoring.
Application Deadline: Sunday 30th January 2022
Responses sent to Artists: Tuesday 2nd February 2022
Development programme timeline: Monday 7th February - Saturday 2nd April 2022

About YAC
Young Artists Collective, freshly formed in the heart of Derby, are a collective of emerging artists who want to bring young artists from Derbyshire and the East Midlands together and support them in their early arts careers, as well as blossom their creativity collaboratively. As part of Artcore, we strive to create a space of mutual support, critical engagement, open discussions and playfulness. 

Together we want to connect and respond to the issues surrounding emerging artists in the industry and provide the support to broaden their skills and artistic practice in a fun and experimental way.

About the Development Opportunity & Residency
Throughout the residency, you will be based in the Cabin, a small kiosk in Osnabruck Square, Derby. During this time, you will take part in weekly mentoring and group discussions, skill-shares, CV/Portfolio reviews, and an opportunity for you to present your collaborative project in an exhibition which will open to the public on 11th March 2022.

Throughout the residency, you will have the opportunity to respond to our current Artcore programme theme for the next few months, which focuses on migratory stories, shared histories, support and care. The residency also takes place during LGBTQ+ History Month, so there will be opportunities to respond to our programme focusing on these themes. This residency also requires you to join Young Artist Collective for a minimum of 3 months.

What you will receive as part of this opportunity:
A bursary of £100 per artist for production costs and materials 
A research and development budget of £150 for the collective to engage in opportunities e.g artist talks, workshops, skills development and resources 
Gain confidence and skills working collaboratively with a creative peer group. 
Access to support, mentoring, networking and development opportunities.
Use of a shared studio and exhibition space 
Artists work will be featured and promoted on Artcores website and social media platforms. 
Guidance and support to access further residencies, funding applications and development opportunities 
Support with developing a professional online presence to encourage a sustainable artistic career. 

All artists that submit an application to this open call will be considered for Young Artist Collective.
To find out more visit www.artcoregallery.org.uk
Contact the curator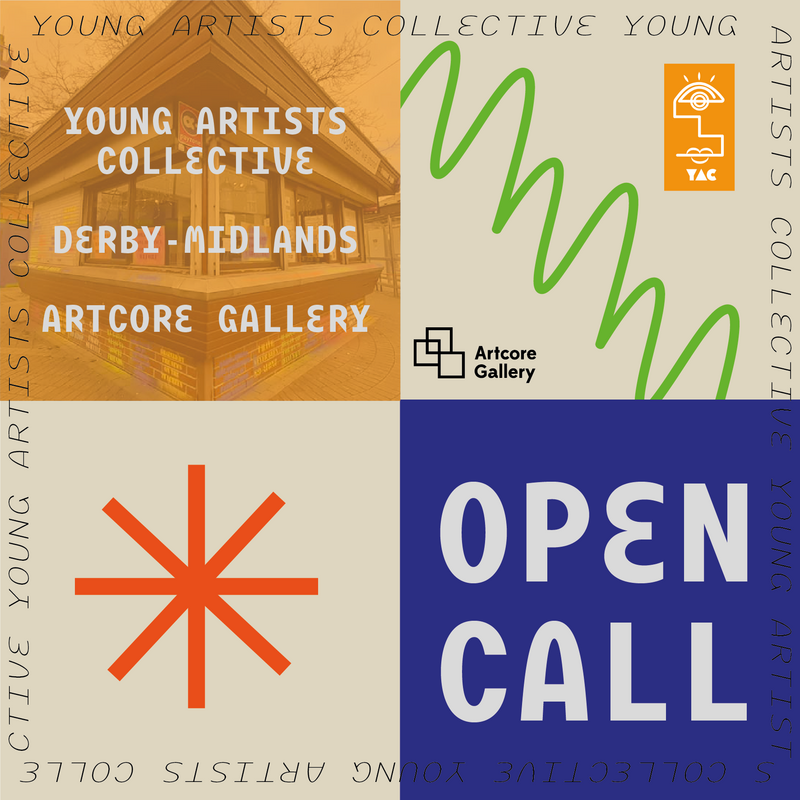 Who is eligible for this opportunity?
Anybody aged between 16 and 25 and based in the East Midlands.
When is the deadline?
Sunday 30th January, 2022.
How many works can I submit?
3 images, videos, or links to work.
When is the delivery date?
The residency begins on Monday 7th February, and ends on Saturday 2nd April. The artists can continue to be part of YAC for as long as they like after a minimum of three months.
When do I need to collect my work?
Saturday 2nd April.
How much does it cost?
It is free.
Are there payments to artists?
Yes, each artist will receive £100 towards production and materials, as well as £150 between the collective for workshops, artist talks and other skill shares.
Is there a private view / opening?
Yes, on Friday 11th March.
What are the exhibition opening hours?
Monday - Saturday, 11am - 4pm
Does the location have disabled access?
Please contact us for further details.
What publicity will be provided as part of the opportunity?
A description on our website, posters on the Cabin, social media promotion, a feature in our newsletter.
Do I need to be present?
Yes, COVID restriction permitting. This opportunity requires a commitment to join the Young Artist Collective.
How do you decide on proposals?
A panel of artists, curators and current collective members will review the applications.
What happens if my proposal is chosen?
You will be informed by email.
You must have an account to send a message to the curator of this opportunity. Registering only takes a few moments. Once registered you'll be able to keep track of all of your submissions and get updates on upcoming opportunities.
Already have an account? You must log in to send this curator a message.
Subscribe to our newsletter
Get the latest CuratorSpace news, updates about new opportunities, upcoming deadlines, and art-related promotions.
Advertisement