A Bodily State of Noise an incredible event of sound, visuals and performances
Deadline: 10/07/2022 | Published: 30/06/2022 | Venue: Matchstick Piehouse | City: London | Region: London | Country: United Kingdom | Marina Cortes
Report this?
Are you a multimedia designer or video artist working with arts visuals/graphics? Wanna meet/enjoy with performers, sound artists, visual artists, writers etc? Wanna participate in an incredible event of sound, visuals and performances on the 26th July in London at Matchstick Piehouse? Marina Cortes and Valeria Biondo from Goldsmiths University of London would like to include you in our event as part of a Bodily State of Noise.
Our co-curation brings together a diverse range of artists within sound, video, installation and cultural production practices that use noise as a theoretical and or material framework to discuss models of identity-construction and power relations often exemplified in the exploration of sonic warfare, noise militarization and information processing.

The project incorporates a digital archival website with interviews, essays and podcasts, a zine or monthly publication, and live events. The project's launch is a live event with DJs and known musicians and performers, vendors and visuals. WE ARE LOOKING FROM YOU a visual graphic piece for the event juxtaposed with music. We might be able to pay you depending on sales on the event.

A Bodily State of Noise takes the shape of a research archive compiling exchanges and discussions happening as a larger public programme. The inclusion of multiple collaborators across different academic and artistic fields is essential in understanding  A Bodily State of Noise as the conceptual basis of noise as a socio-political agent that shapes systems of representation and paradigms of power and information consumption rather than simply an aesthetic/sensorial form.

Hence, a need for a collaborative discourse analyzing the structural form in which noise affects every bit of our lives was the premise for the creation of the project. How can noise, instrumentalized in shaping restrictive and violent regimes of control and power imbalance, create alternative futures? 
Contact the curator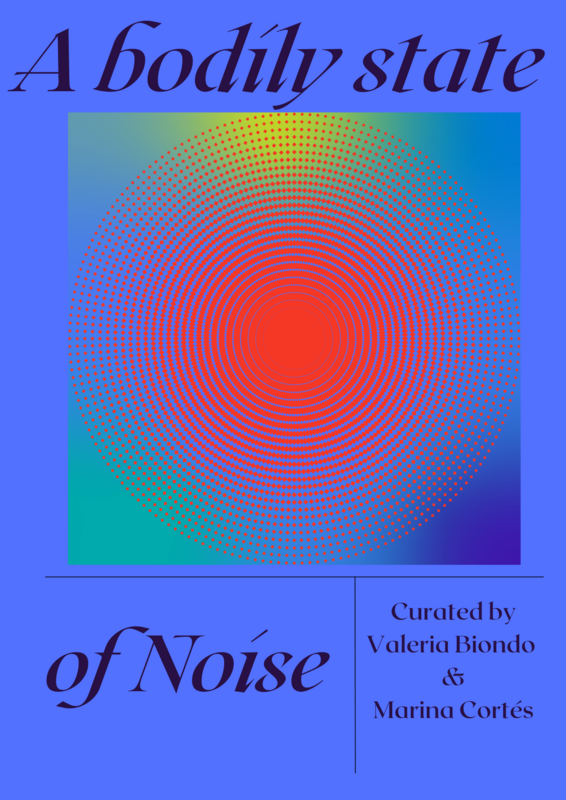 Who is eligible for this opportunity?
Anyone
When is the deadline?
10th July
How much does it cost?
nothing
Are there payments to artists?
Depends on the sales, so I dont have a final answer yet.
Is there a private view / opening?
yes the date
What are the exhibition opening hours?
19.OO-23:30
Does the location have disabled access?
yes
What publicity will be provided as part of the opportunity?
We will be featured in several press and a lot of social presence.
Do I need to be present?
no. if you dont want/need to
What happens if my proposal is chosen?
You will be notified and a chat will be initiated
What kind of proposals are you looking for?
Multimedia graphics/video graphics are meant to accompany sound art etc but that can also be creative and innovative with being immersive in the audience space (feel free to go 2D, 3D, multimedia installation etc...)
You must have an account to send a message to the curator of this opportunity. Registering only takes a few moments. Once registered you'll be able to keep track of all of your submissions and get updates on upcoming opportunities.
Already have an account? You must log in to send this curator a message.
Subscribe to our newsletter
Get the latest CuratorSpace news, updates about new opportunities, upcoming deadlines, and art-related promotions.
Advertisement