ARTIST OF THE MONTH - OPEN CALL
Deadline: 27/03/2023 | City: London | Region: London | Country: United Kingdom | ART from HEART
Report this?
OPEN CALL TO MULTIMEDIA ARTISTS WORLDWIDE. Submit NOW for an opportunity to get featured for a Month!
Every month, we are looking to showcase on our website the next 4 Artists of the Month whose artworks are inspired by environmental and/or social issues (i.e. nature, upcycling, equality, diversity, human rights, women, etc).

Artworks are selected based on aesthetics, technical skills, intent, creativity, originality, and overall artistic ability.

The competition was created to showcase and promote the work of artists. The winners are featured in our website, Newsletter, social media platforms and considered for any upcoming curatorial projects. We are interested in the diversity of ideas and styles.

WE WANT TO SEE YOUR WORK!

Most mediums accepted from artists worldwide!

Deadline: 27th of the month

Fee: £10 per Submission, up to 5 artworks or video
Submission fees
The following submission fees apply to this opportunity.
Artist of the Month - Stantard Fee - 10.00 GBP
The appropriate fee will be payable using a debit or credit card after the first submission has been completed. If the submission fee allows you to submit more than once, you will be able to make further submissions after the first. Contact the curator if you have any questions about the opportunity or the submission fee, or email help@curatorspace.com if you have any questions about the payment process.
Contact the curator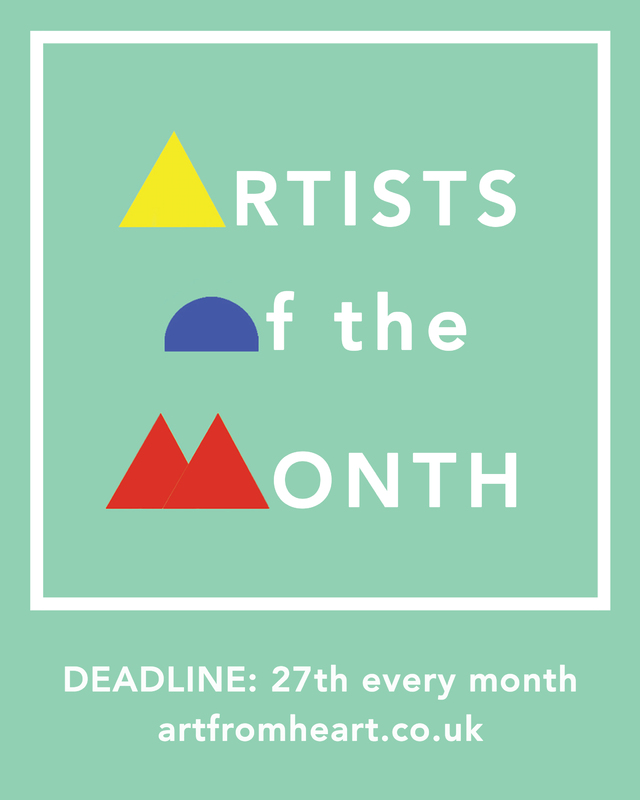 Who is eligible for this opportunity?
UK-based and International multimedia artists
When is the deadline?
27th of every month
How many works can I submit?
5 artworks
How much does it cost?
£10 for 5 artworks
What publicity will be provided as part of the opportunity?
Social media & website promotion
Where will my work be shown?
Online
You must have an account to send a message to the curator of this opportunity. Registering only takes a few moments. Once registered you'll be able to keep track of all of your submissions and get updates on upcoming opportunities.
Already have an account? You must log in to send this curator a message.
Subscribe to our newsletter
Get the latest CuratorSpace news, updates about new opportunities, upcoming deadlines, and art-related promotions.
Advertisement