OPEN CALL VIRTUAL EXHIBITION : THE DIVINE FEMININE
Deadline: 21/02/2022 | Published: 11/12/2021 | Venue: Virtual exhibition | City: London | Country: United Kingdom | ART from HEART
Report this?
We are inviting UK-based and International multimedia Artists to submit to our upcoming Virtual Art Exhibition The Divine Feminine - A celebration of the feminine energy within us and Nature!
"The Divine Feminine is a sacred energy from the divine spirit that connects with the body, with nature, and with the cycles of creation and transformation. Is the creative and life-giving energy within all of us that gives form to that which we care about and put our energy into."-Gabriela Herstik, Goddess Energy. 

The concept of "masculine" and "feminine" energy has been used in many different mystical practices throughout history to describe two synergistic forces that exist within every person, regardless of gender expression. "Masculine" energy is often thought of as being active and outward-oriented, and "feminine" energy receptive and inward-focused. That said, it is important to clarify that Divine femininity is within us all!

We live in a society that often appears to value thinking over intuition; taking action over being receptive; and focusing our energy outward rather than inward— but sacred femininity allows us to challenge that status quo. Embracing your divine feminine energy is about finding strength in your own softness and challenging society's idea of what it means to be empowered.

There is no right or wrong way to connect with this sacred part of your consciousness, so use your creative medium to start exploring and share with us your creative vision of your Divine Feminine Energy!

We look forward to seeing how artists interpret this theme in any way possible. 

Prizes
Virtual Art Exhibition 12 - 31 March 2022
Public Choice Award 1st Winner £150 cash
Public Choice Award 2nd Winner £100 cash
Public Choice Award 3rd Winner VAA Membership

All mediums accepted from artists worldwide!

Each entry costs £10 per artwork submitted.

You can enter up to four artworks. Every entry plants a tree! 
Submission fees
The following submission fees apply to this opportunity.
Divine Feminine Submission Fee - 1 work - 10.00 GBP
Divine Feminine Submission Fee - 2 works - 20.00 GBP
Divine Feminine Submission Fee - 3 works - 30.00 GBP
Divine Feminine Submission Fee - 4 works - 40.00 GBP
The appropriate fee will be payable using a debit or credit card after the submission has been completed. Contact the curator if you have any questions about the opportunity or the submission fee, or email help@curatorspace.com if you have any questions about the payment process.
Contact the curator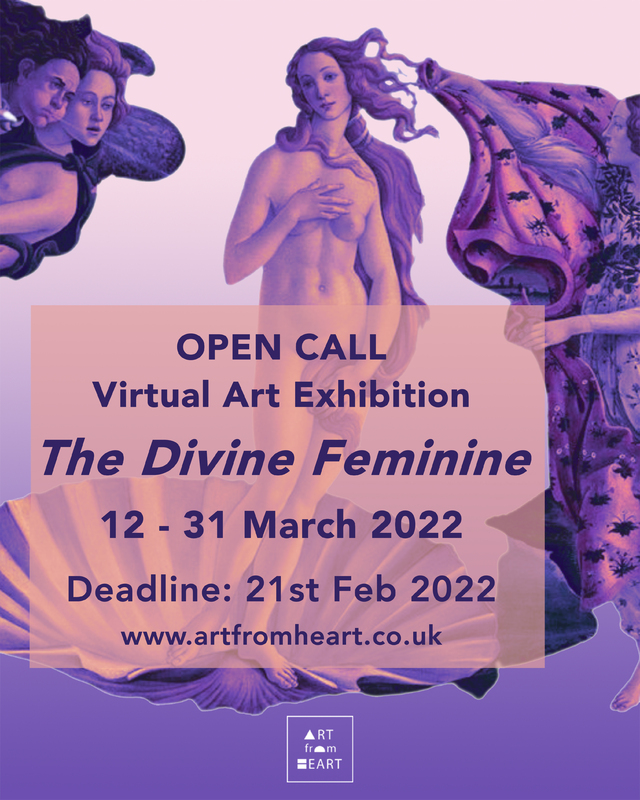 Who is eligible for this opportunity?
UK-based and International multimedia Artists
When is the deadline?
21 February 2022
How many works can I submit?
Up to a maximum of 4 artworks. Please complete a separate submission form for each artwork
How much does it cost?
£10 per artwork submitted
What publicity will be provided as part of the opportunity?
Social Media and website promotion
Where will my artwork be shown?
Art from Heart website
What are the selection criteria?
Artworks are selected based on aesthetics, technical skills, intent, originality, and overall artistic ability.
We are interested in the diversity of ideas and styles in response to The Divine Feminine Theme.

​
You must have an account to send a message to the curator of this opportunity. Registering only takes a few moments. Once registered you'll be able to keep track of all of your submissions and get updates on upcoming opportunities.
Already have an account? You must log in to send this curator a message.
Subscribe to our newsletter
Get the latest CuratorSpace news, updates about new opportunities, upcoming deadlines, and art-related promotions.
Advertisement