OPEN CALL VIRTUAL EXHIBITION : CHROMA
Deadline: 24/06/2022 | Venue: Virtual exhibition | City: London | Country: United Kingdom | ART from HEART
Report this?
We are inviting UK-based and International multimedia Artists to submit to our upcoming Virtual Exhibition CHROMA - Celebrating the Colours of Pride!
The Exhibition Chroma is inspired by the UK-based International Queer Literary & Arts Journal publishing and promoting the work of Lesbian, Gay, Bisexual and Transgender writers and artists. It was founded in 2004 and supported by Arts Council England, but changes in funding arrangements meant the journal stopped getting published in 2010.
Chroma is an exhibition about the colours of the Rainbow flag celebrating diversity, inclusion, and the spectrum of human sexuality and gender. We invite artists to submit artworks that have ONE prominent colour of the rainbow flag. Submissions of artworks containing rainbows are welcome too! 
Let's create a colourful exhibition in support of the LBGTQIA+ community! 
Prizes
Virtual Art Exhibition 15 - 29 July 2022
Public Choice Award 1st Winner £150 cash
Public Choice Award 2nd Winner £100 cash
Public Choice Award 3rd Winner VAA Standard Annual Membership

All mediums accepted from artists worldwide!

Each entry costs £10 per artwork submitted. You can enter up to four artworks. Every entry plants a tree! 
Submissions Deadline : 24 June 2022
Online Exhibition Dates : 15-29 July 2022
Submission fees
The following submission fees apply to this opportunity.
CHROMA - Submission Fee 1 Artwork - 10.00 GBP
CHROMA - Submission Fee 2 Artworks - 20.00 GBP
CHROMA - Submission Fee 3 Artworks - 30.00 GBP
CHROMA - Submission Fee 4 Artworks - 40.00 GBP
The appropriate fee will be payable using a debit or credit card after the first submission has been completed. If the submission fee allows you to submit more than once, you will be able to make further submissions after the first. Contact the curator if you have any questions about the opportunity or the submission fee, or email help@curatorspace.com if you have any questions about the payment process.
Contact the curator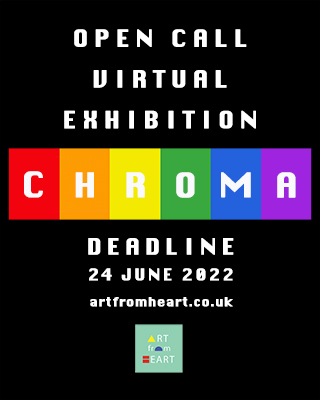 Who is eligible for this opportunity?
UK-based and International multimedia Artists
When is the deadline?
24 June 2022
How many works can I submit?
Up to a maximum of 4 artworks. Please complete a separate submission form for each artwork
How much does it cost?
£10 per artwork submitted
What publicity will be provided as part of the opportunity?
Social Media and website promotion
Where will my artwork be shown?
Art from Heart website
What are the selection criteria?
Artworks are selected based on aesthetics, technical skills, intent, originality, and overall artistic ability.

​
You must have an account to send a message to the curator of this opportunity. Registering only takes a few moments. Once registered you'll be able to keep track of all of your submissions and get updates on upcoming opportunities.
Already have an account? You must log in to send this curator a message.
Subscribe to our newsletter
Get the latest CuratorSpace news, updates about new opportunities, upcoming deadlines, and art-related promotions.
Advertisement