SMALL HOUSE GALLERY - OPEN CALL (2023/24)
Deadline: n/a | City: London and Online | Region: London | Country: United Kingdom | Eldi Dundee
Report this?
Small House Gallery is a contemporary art curation project for a series of dolls houses currently located in a private residence in South London. The project (or parts of it) occasionally travels to other spaces, galleries or studios, mainly London and commutable surrounds, but it does sometimes go further afield (eg. Small House Cottage was on tour to Northumberland in Spring 2022, Whitstable Biennale Satellite in Summer 2022, and NE Lincolnshire to Turntable Gallery, Grimsby from Autumn 2022 onwards).
The original Small House Gallery (est 2016) is a large miniature art gallery in a 1:12 scaled three storey dolls house with white walls, grey floors and electric swivvel spot lights. (1:12 scale means 1 inch in the dolls house equates to 1 foot in a lifesized house.)

Small House Two is the same make and style with an additional floor (basement) and the possibility of using a converted 'roof terrace' level above the attic. (4-5 storeys' worth of exhibition space in total to play with). It's white and grey inside and has the same mains lighting as Small House One.

Small House Cottage is a 1:12 scaled house, but it's an altogether different offer. It's two sided, with two storeys, and eight-nine rooms plus two room-like stairwells (10-11 separate spaces to fill - it's like having two houses in one). It's vintage, handmade, and pre-decorated with large-print wallpaper and 'carpeting', a built-in kitchen that can't be moved or removed, and chimney breasts in two of the rooms. It would suit experimental, site-specific installation of works that sit harmoniously (or antagonistically) in this very particular miniature space.  There is no lighting as there's nowhere to hide the wiring. It would also suit battery-operated micro-light sculputres/ installations and /or videos on small-screen devices (supplied by the artist). 

We want some mavericks to propose some kickass shows for one or both sides of this house, without permanently changing or damaging the structure or decor. 

It's the most challenging of the houses to curate and to photograph, but it's the most fun and satisfying because you really have to coax a good show out of it and when it comes together, it's a mini triumph for everyone involved.

Dale Wells of Turntable Gallery, Grimsby is going to be doing some small renovations to it in advance of his own Small House Cottage exhibition 'Sackgassen' and will be co-curating an exciting cutting edge micro programme for the Cottage from his base in NE Lincolnshire. (Please note: If this is the house you want to propose for, your application will be viewed by Eldi Dundee, Dale Wells, and Turntable's co-curator Darren Neaves.)

See: https://smallhousegallery.uk/the-houses

SHC definitely doesn't suit all works - the other two houses are more traditional, better lit, and really, everything looks good in them.

Regardless, proposals of 3D works are preferred for exhibitions in SHG1 and SH2, or at least a good balance of floor- and wall-based works. Having said that, we have had some lovely 2D shows in there, so send in a preview of what you want to show, and let's take it from there.
---

Artist proposals from emerging and more established fine artists working across all disciplines are welcome.  Artists of underrepresented identities of any and all kinds are expressly welcome.

This opportunity will suit artists who work in miniature, or want to depart from ususal practice and experiment with small scale. Maquettes for large works are also welcome, if they fit. We encourage video on mobile phones and tablets, and micro light intallation work, too. Not as interested in scaled down repros of bigger works, but can be persuaded if the concept/presentation is arresting enough. Original artworks preferred.

Before you make a proposal, make sure you check out our website for pictures and dimensions!
https://smallhousegallery.uk/the-houses

COSTS:
£5  to SUBMIT a PROPOSAL for a show.
£25 (minimum) if SELECTED.
(Message for payment details)
(£3 submission fee for genuine concessionary need, please)
(£15 concessionary showing fee if selected - please only choose this option if there is genuine need)

(If money is a barrier, even at the concessions level, let's talk anyway. We may be able to offer a discretionary bursary place if a previous artist purposely overpaid in order to facilitate this very thing!)

Thanks for your time and energy, and we wish you the best of luck!
Make a submission
Contact the curator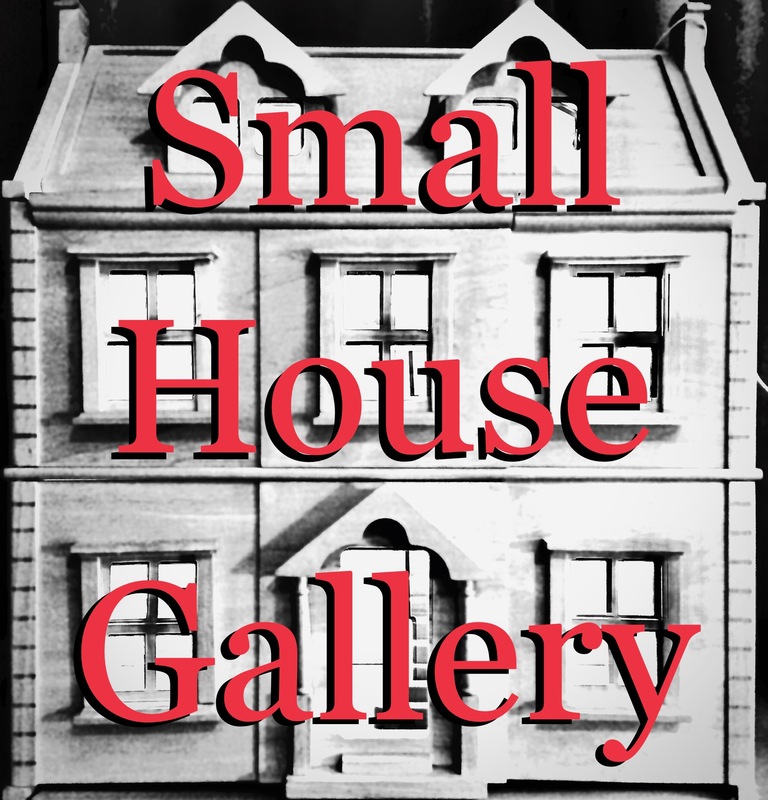 Who is eligible for this opportunity?
Artists who work in miniature, want to show small scale versions of their larger works, or depart from their usual art practice and experiment with making small.
When is the deadline?
There isn't one, as such, but occasionally it becomes necessary to close the call-out temporarily to work through the backlog of applications or tend to current projects.
How many works can I submit?
As many as you like that you think might fit within the dimensions of the proposed Small House Gallery gallery. (It's unlikely all will be accepted or shown. Sometimes less is more, and sometimes more is more.)

(The submission form itself will only allow up to 10 images though, so be inventive and strategic to submit more.)
When is the delivery date for artworks?
TBC once show dates are agreed upon.

For works being sent from within the UK, 2 - 4 weeks prior to your start date is usually enough. It depends on how complex the work's requirements are and whether you would be there in person to help install and photograph your work or not.

For works from outside the UK (EU or further afield), more time could be required for customs clearances - 2 months minimum to be safe to ensure things go smoothly and it doesn't affect other shows in the programme.
When do I need to collect my work?
Negotiable. There is no room to store your works long term, so preferably you would arrange for your work to be collected within 2 weeks of your show ending. It may be possible to pick it up before your show finishes, if it's a wholly online exhibition, and not physically in the public eye.

You may choose to donate it to SHG's permanent collection! Some artists do choose this option, or some works are ephemeral and expressly designed to be binned after the show.

NB: Anything left with us for more than a month without prior agreement will be automatically join the SHG permanent collection - it will be kept, sold, traded, gifted or disposed of at our discretion.

If you want your work returned to you, please pick it up, arrange for someone to get it for you, or pay to have it posted/shipped back to you, or onto a collector - you must provide (and/or provide for) suitable packaging, packaging instructions if necessary, and cover any and all additional postage costs such as insurance, import/export duties, whatever is applicable in your circumstances.
How much does it cost to take part in a SHG show?
We truly wanted to keep the project completely free to artists, and managed to do so for the first 6 months of Small House's lockdown revival.* The issue with that is that it was not free to the people involved behind the scenes - a passion project fuelled by voluntary economic exploitation on the part of the curator in the name of art and community. It led to burn out, so that's not possible anymore.

The tips/donations model didn't work (and it felt even more crappy). And relying on commissions from occasional small scale art sales to keep the lights on was totally unrealistic. (40% of £0.00 is still zero, after all.)

We're asking for a token fee per application to respect how much time and energy does into reviewing them, plus communicating with artists about their proposals and discussing the possibility of a show, if it comes to that.

And if it does come to an artist being offered a show, £25 is the equivalent of an hour's wage for the curator. Considering each show gets at least 15-25 solid curation/admin hours from conception to takedown - often double or triple that, depending - that's actually quite a good deal. Especially when every time a light bulb in one of the houses blows, it costs £3.50-5 out of pocket to replace. Bonkers but true.

COSTS:
£5 (£3 concs) to SUBMIT a PROPOSAL for a show.
£25 (£15 concs) (minimum) if SELECTED.
(Message for transfer options/details)

We want to keep the fees low so that selected artists who are truly struggling will not be barred from showing with us.

IF YOU CAN AFFORD TO PAY MORE, PLEASE DO.
We're leaving it to you to decide what amount 'more' comes to.
Any additional money you can afford to put into the project can then be used to help another artist who would otherwise be barred from applying to exhibit their work.

We want to keep art alive in our lives and connect with other artists around the world, promote their work to new audiences, expose them to new opportunities. And we need to pay the rent, utilities and all the unexpected expenses that arise for the project along the way. We'll have to trust people not to take advantage of our good intentions for this low fee honour system structure.

GALLERY COMMISSION:
We will put the collector in touch with the artist directly (unless the artist expressly asks otherwise).
We expect that if the artist makes any sales as a result of their work being seen in one of the Small House Gallery spaces, on our website or via any social media outlets, or even by word of mouth about their SHG show, that they will pay a 40% commission to Small House Gallery for all the effort that goes into mounting as appealing and accessible a show as is within our means to produce, in our ever evolving 'house style'.

Accepting to do a show with us implies agreement by the artist to honour these terms.
We'll have to trust one another to do the 'right thing'.
Are there payments to artists?
No. *

* (Unless it is an exhibition sponsored or funded by an outside body that provides artists with a stipend, but this hasn't happened yet.)
Is there a private view / opening?
Short answer, no.

In SHG's current private residence, it impractical to have strangers traipsing through, and that's more to do with unfriendly neighbours than anything else. However, when Small House Gallery itself travels to other real-life-sized gallery spaces, it may be possible to negotiate a private view / opening / finissage with them. (If you're offered a show with Small House Cottage for instance, you can have all of that at Turntable Gallery, Grimsby!)
What are the exhibition opening hours?
As it's mainly an online space, it's open all hours (unless the website is temporarily down for maintenance).

Small House Cottage now being the exception - it isn't up and running at Turntable Gallery yet, but when it is, you'll be able to check their website and socials for their opening times.
Does the location have disabled access?
Partly N/A because it's online mainly.

It sometimes does travel to other spaces that do have disabled access (it was at Shonibare Studios' Guest Projects space back in 2017 for example, which is completely wheelchair friendly) but in its current residence, unfortunately not, as there are several stairs.

We will be showing at APT Gallery, Deptford in April 2024, and that is fully wheelchair accessible, thankfully.
What publicity will be provided as part of the opportunity?
There is no advertising budget to speak of, nor a team to help with marketing.

You can expect it to be shared on SHG's Facebook and Instagram pages 1300+ followers and growing (organically, without pushing), which you are encouraged to share among your own social networks, social media platforms, and on your own website and your CV.

Awareness of SHG shows are normally spread organically via word of mouth, and sometimes random tag searches that lead people unexpectedly to happen upon this curious little small-scale art gallery and curation project.
Do I need to be present?
Not at all.

There may be points after Covid, if the Small House Gallery is asked to exhibit in another gallery space (such as APT Gallery, London, in April 2024) , that you may be asked to help invigilate your own work, depending on the space's set up. But that would be discussed ahead of time and as/or when an opportunity to show elsewhere presents itself.

Also, it may be possible for you to set up your show yourself if you want to, but it will be contingent on pandemic regulations at a given time. At the time of writing (January 2023), it's seems to be ok.
How do you decide on proposals?
Good question which there isn't really a solid answer for.

Installation of your work can't destroy the structure or surfaces of Small House Gallery, so that needs to be taken into account. (Unless you're willing to pay in advance for the fully renovated replacement to the same standards, which at the time of writing is £1000 for SHG1 and £1500 for SH2. For SHC, that would need to be discussed between the artist, the owner, and the co-curators)

No work that is discriminatory in any way against any group of disadvantaged people will be accepted.

What gets accepted beyond that criteria is going to be subjective, based on personal tastes of the curator(s).

But perhaps most importantly, it will also will need to work on a practical/logistical level. No date clashes for instance, or too much of the same kind of work too close in the programme.
What happens if my proposal is chosen?
You will be contacted and we will try and negotiate mutually agreeable dates for the show, discuss expectations and possibilities, which works will go in and how they might be shown, how to get the works to the Small House Gallery and how to retrieve them at the end of your show.

Remember there is a showing fee for successful applicants, and there is a gallery commission on sales.

As soon as you agree to show with us, agreement to our terms in implied, and you'll be asked to pay a minimum fee of £25 to cover a fraction of the admin and labour involved, and if you can afford to pay more, it would be greatly appreciated by us, and by the artist here and there who will have their fees lowered or waived if they find even the £15 concessionary fee inaccessible.
What kind of proposals are you looking for?
Quirky, innovative, playful, surprising, smart, witty, compelling, visually and conceptually interesting, mind bending/stretching, awe inspiring, beautiful or not so beautiful, miniature expressions of art in any medium, that works well in the space and doesn't cause permanent damage to the structure or surfaces of the Small House Gallery (with the caveat of paying for the total replacement and renovations in advance).

We're a bit partial to 3D and 4D works right now: sculpture, mixed media, installation, assemblage, altered readymades, video and micro light installations, but we're wide open to all other mediums. Try us!
You must have an account to make a submission using CuratorSpace. It's free and only takes a few moments. Once registered you'll be able to keep track of all of your submissions and get updates on upcoming opportunities.
Already have an account? You'll need to log in to make a submission to this opportunity.
You must have an account to send a message to the curator of this opportunity. Registering only takes a few moments. Once registered you'll be able to keep track of all of your submissions and get updates on upcoming opportunities.
Already have an account? You must log in to send this curator a message.
Subscribe to our newsletter
Get the latest CuratorSpace news, updates about new opportunities, upcoming deadlines, and art-related promotions.
Advertisement